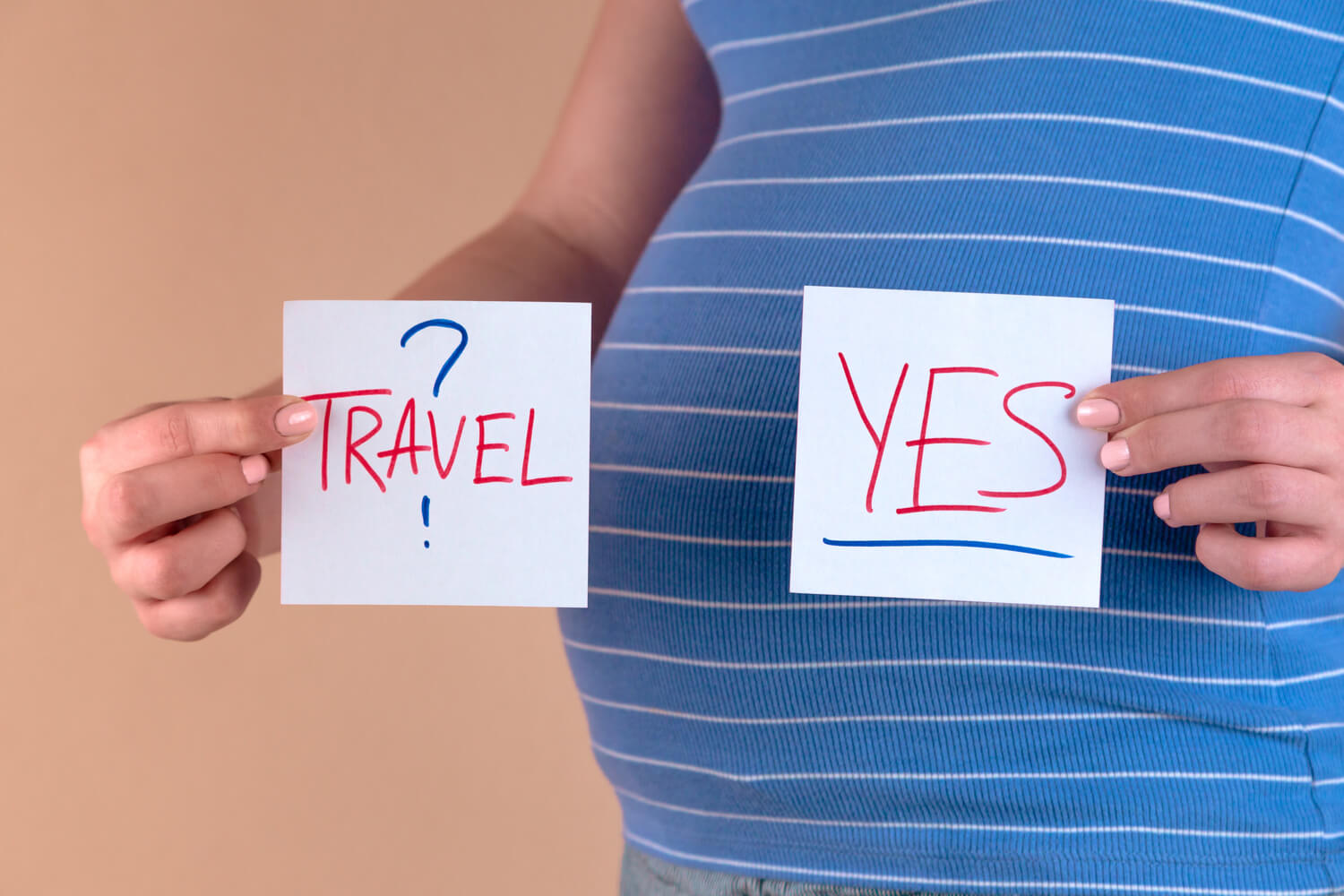 Generally speaking, if you have an uncomplicated pregnancy, traveling during pregnancy is not a big concern. Pregnant women can travel for leisure or for work, provided they get a green signal from their doctor about their and the baby's safety.
Traveling breaks the monotony of life and fills one with rejuvenation. Therefore, it is considered highly joyful by many pregnant women. Find out everything about Traveling During Pregnancy – Precautions and Safety Tips
In This Article
Traveling In the First Trimester Of Pregnancy
The initial months of pregnancy are the times when you experience many health issues. Nausea, vomiting and fatigue are more pronounced in the first trimester of pregnancy and these can make your travel a problematic experience. The risk of miscarriage is also highest in first trimester of pregnancy.
It is best to avoid long-distance traveling by road, and by plane in the first trimester, as it can cause inconvenience to you and the developing fetus. However, if you think that you can manage and are fairly stable in your pregnancy, then you could consider traveling provided the doctor is okay with the same.
Journey During the Second Trimester Of Pregnancy
The second trimester is the most permissible time unless accompanied by any serious complication. Things have settled down considerably in the second trimester and the chances of having a miscarriage are considerably lower. The phase of morning sickness and nausea will also be over for many, so traveling may come as a good break. Hence, if you are in the second trimester and wish to travel, consult your doctor and go ahead!
Traveling In the Third Trimester Of Pregnancy
You can travel in the third trimester. However, if you are having some issue with an amniotic fluid such as oligohydramnios or polydramnios, do not travel. Mothers with placenta previa should also avoid travel. Many airlines do not allow women to travel after 36 weeks of pregnancy, so do check out the rules before booking a ticket. If there is some emergency condition like polyhydramnios,  and you have to travel, make sure you follow the safety tips.
Road Travel During Pregnancy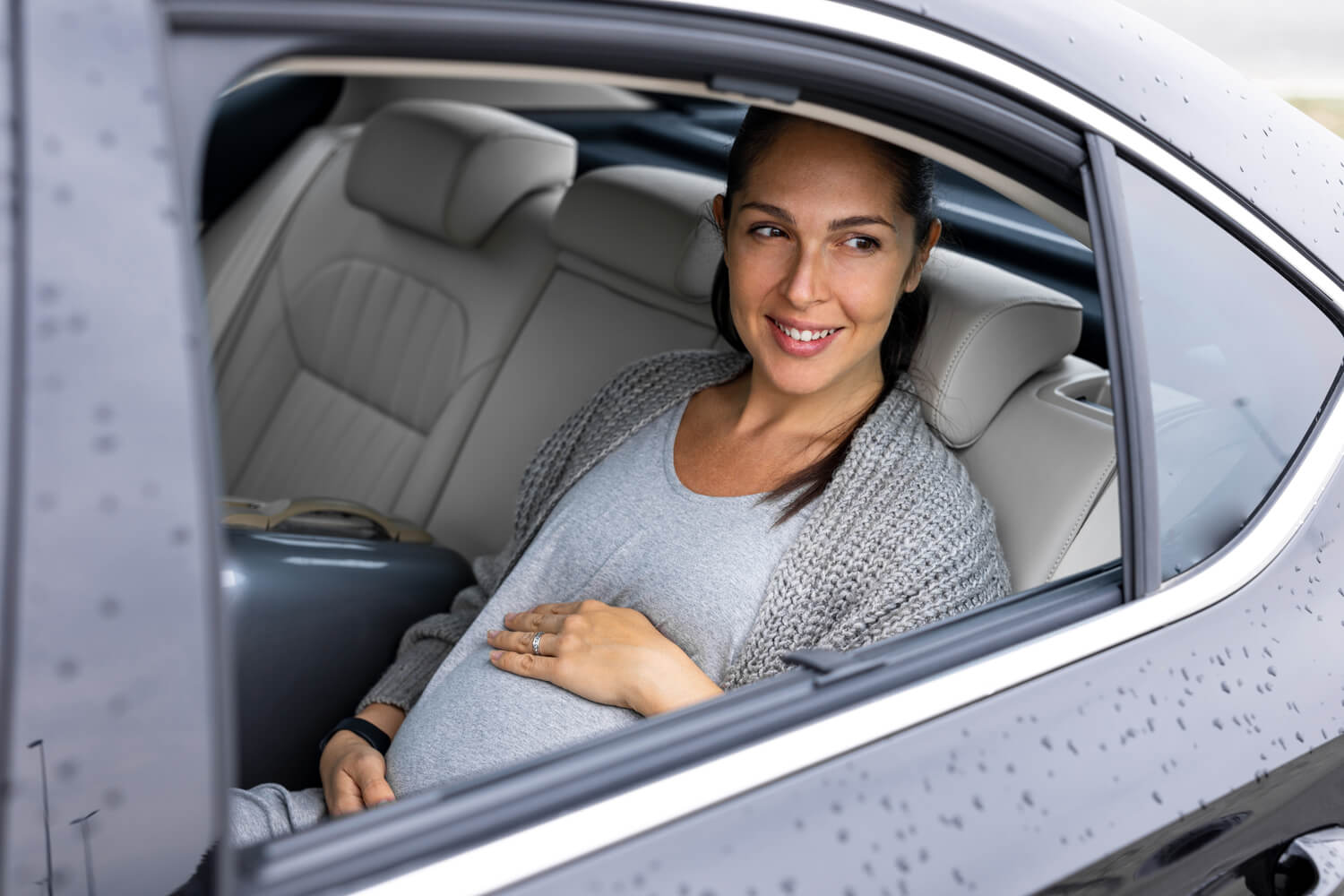 Some people prefer traveling by road as they find it convenient to stop every now and then to freshen up or have snacks at the roadside dhabas. There are a few constraints in road travel as you cannot stretch your legs every now and then or walk a while. You are also the risk of catching diseases if you eat at the local roadside restaurants.
So it is not a very safe choice. However, if you plan to carry some home-cooked snacks and packaged water, and are able to stop every few hours to take a break, you may like to travel by road as well. Make sure you wear comfortable clothes and are at ease
Train Travel During Pregnancy
Traveling via train is the right choice if you have to travel in the latter months of pregnancy. However, if you are facing any pregnancy-related complications such as placental problems, diabetes, high blood pressure, preterm labor, premature birth, etc., then it is advised to avoid traveling.
If you plan to travel by train, make sure you book an air-conditioned chair car or sleeper couch. Though they are expensive, make your journey comfortable. Also, ensure that you dress comfortably and are carrying enough snacks and books by your side to entertain.
Train travel is better than road travel as it gives you sufficient space to walk a while when you become tired of lying down or sitting for too long. You can stretch your legs, wiggle your toes, rotate your ankles, and can walk after every one or two hours, so the chances of experiencing muscle cramps are also reduced.
Air Travel During Pregnancy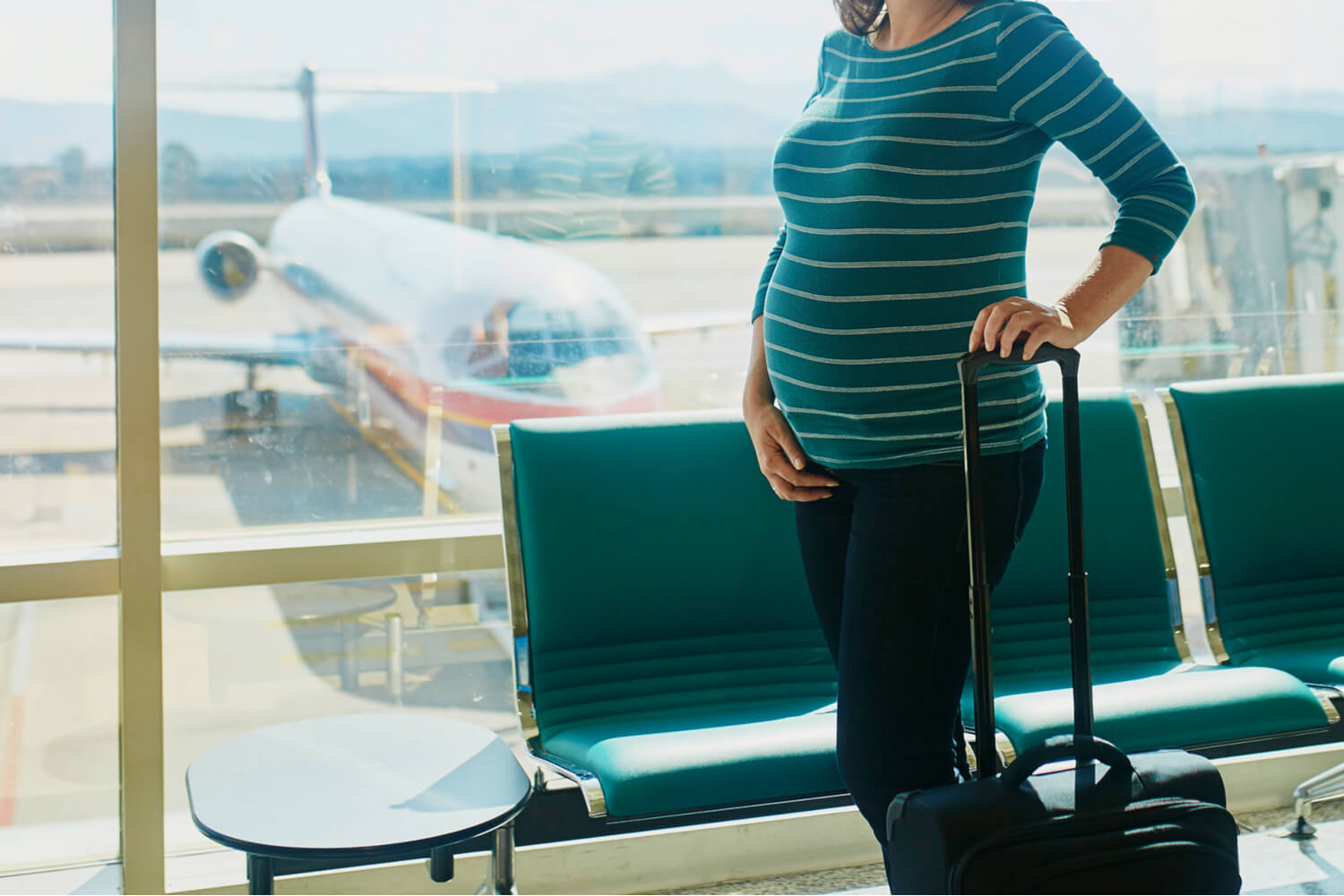 Though one may feel that traveling by air would pose the minimum risks to both the mother and the baby, air travel, especially during the last trimester, should be done only with the consent of the doctor. If you are having a high-risk pregnancy or you're at risk of preterm delivery, your doctor will advise you against traveling by air.
Airlines too have some restrictions on pregnant women traveling. They might need to see your records for previous complications etc. So you must keep them handy. Some airlines restrict pregnant women to fly with them after 35 or 36 weeks of pregnancy.
Do check this rule before you plan your travel. The best times to fly would be in weeks 14-28 of your pregnancy when the pregnancy is considered stable. If you do work in the aviation industry, you might need to watch out for exposure to cosmic radiation. Discuss this with your doctor.
When You Should Not Travel During Pregnancy
It is significant to know everything about Traveling During Pregnancy – Precautions and Safety Tips. Here are some serious high-risk complications which, if present, can put your traveling plans on shelf:
Cervical issues like 'incompetent cervix'
Vaginal bleeding
Multiple pregnancies
Hypertension
Pre-eclampsia (a toxic condition sometimes seen in pregnancy)
Placental abnormalities
Past history of miscarriage
Past history of ectopic pregnancy (pregnancy developing outside the uterus)
History of premature labor
Elderly pregnancy (being pregnant above 35 years)
Precautions When Traveling During Pregnancy
It is important to know everything about Traveling During Pregnancy – Precautions and Safety Tips.  The expecting mother should know about the ins and outs of safe traveling. No matter whether you are traveling by road or by train, pregnant women should keep some important points in mind as useful guidelines.
Make sure you wear comfortable flat footwear so you can maintain your balance while walking – be it airport, road, on the train, or at the station. Be careful about the stray shoes or pieces of luggage lying here and there while walking. Wearing loose cotton clothing should be worn while traveling. You can carry a light shawl for the night.
Safety Tips For Traveling During Pregnancy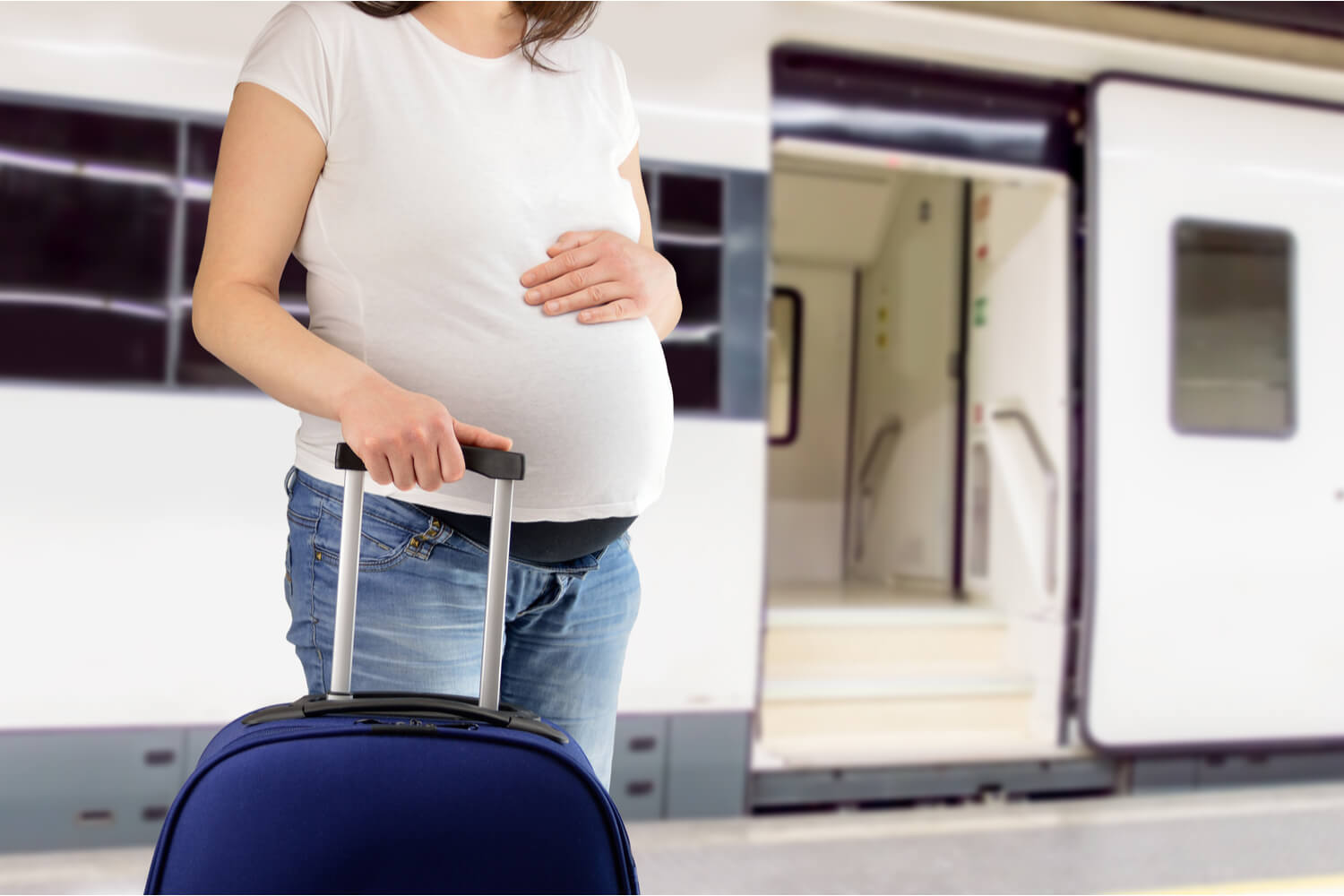 No matter how you choose to travel, pregnancy travel always carries a hint of riskiness to it. Here are a few safety tips that you need to follow to ensure safety:
Trip insurance
It is advisable to buy trip insurance as you do not know when an emergency can arise. You are covered under trip insurance even when you have postponed your travel for any reason
Travel Safe
Wear seat-belts properly, fastening it under your lower lap and fitting it above your pregnancy bump and between your breasts
Checkup
Get a thorough medical checkup done, before going for travel. Do not plan any travel unless your obstetrician gives you a green signal
Take your prenatal records
Make it a pint to carry all your prenatal records and ultrasonography records. You never know when the need arises
Carry medicines
Do not forget to carry your vitamins and other medicines prescribed by the obstetrician and keep it in a separate small bag
Contact number
Another important safety precaution is to take your doctor's personal number and give it to your spouse as well. This is very helpful if you experience any problem and want to seek a doctor's advice. Your doctor will be just a call away from you
Keep moving
Walking around every half hour is important as traveling can cause the development of fatal blood clots and move frequently cut down this potential risk
Maintain hygiene
Keeping proper toilet hygiene is very important while traveling. Use a squat toilet instead of the western toilet seat. Always ask your spouse or a friend to accompany you to the washroom door to be on the safer side
Carry munchies
Carry an ample amount of dry snacks, drinking water bottles, and fruits as you might feel hungry every now and then. Pregnant women should not step down to buy eatables on short stoppages as it can prove risky
Be slow and patient
When your destination arrives move towards the exit door 10 minutes prior to evade the last-minute scuttle. Be slow and steady when you jiggle stairways or passages, and if you need to wait, wait patiently. There is no rush
Hope the article on Traveling During Pregnancy – Precautions and Safety Tips is helpful. There is nothing wrong with Travel during pregnancy unless the safety of the mother and the baby is well ensured.