Congratulations! You are soon expecting the arrival of your little bundle of joy. Pregnancy brings a lot of excitement in a woman's life and also the ones close to her. Preparing for your baby's arrival can be quite stressful as you want the best for your precious mite. So take a break and think about some celebrations and fun with relatives and friends by throwing a wonderful baby shower (गोद भराई) party.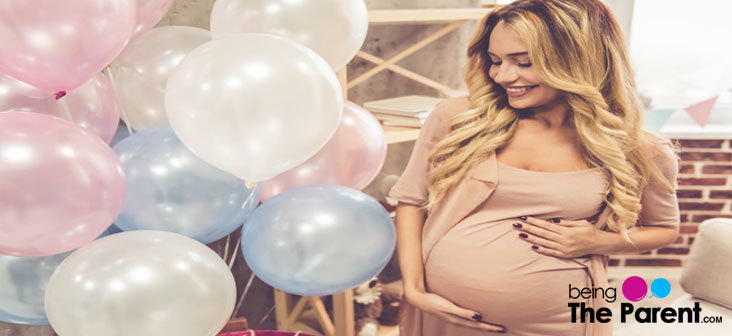 10 Exclusive Baby Shower Decoration Ideas
Are you really tied up with baby shopping? Are you busy getting things ready for your soon to be born and at the same time anxious about your baby shower (गोद भराई)? Are you looking for some unique and fun ideas to make your baby shower (गोद भराई) really special? If you are an expecting mother and looking for decoration ideas that will make your baby shower (गोद भराई) quite a memorable and unique event for both your guests and you, then we are here with some decoration ideas to help you organize a memorable baby shower (गोद भराई).
1. Diaper Cake:
Any mom-to-be would appreciate decorations that can be functional later one. So a rolled-up diaper cake topped with the theme of the party decorations say monkey, Mickey Mouse etc. and balloons are not only adorable but also very useful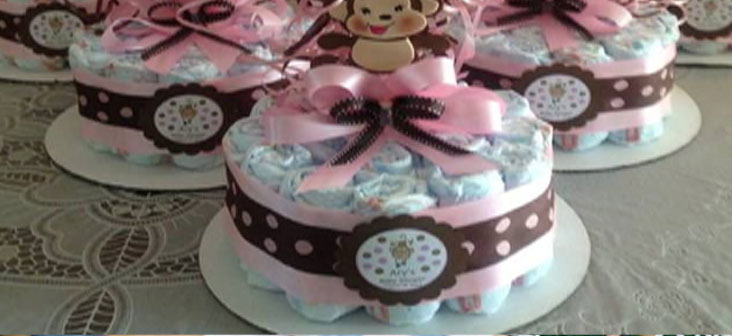 2. Ultrasound Photo Display:
It's interesting to see the miracle of a developing baby. Share this joy with your guests by showing off the ultrasound pics at your baby shower (गोद भराई). Simply use a wired photo frame and clothespin to display the pics of different stages of your developing baby to give a simple and rustic vibe to your party. When the party is over, this can be put in a scrapbook keepsake for mom to be to treasure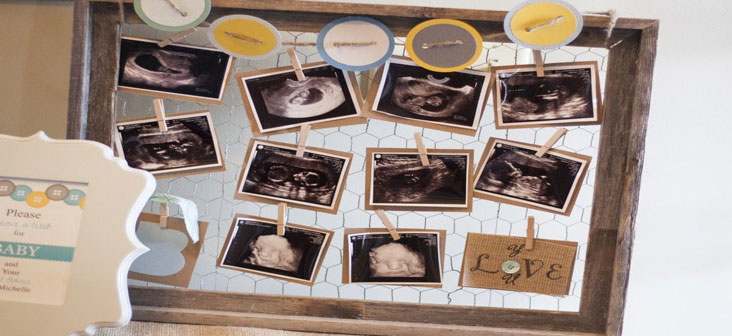 3. Month Based Decoration:
Thinking of concocting a theme based on your month of baby shower( गोद भराई ) and the month you are due is a unique idea these days. For example, your baby is due in May and you plan conducting the shower in April, you can club these two months for a lovely and exclusive theme. Something with a lot of summer flower and summery motifs would look really grand. A caption like "April showers bring May Flowers" Get the invitation also done in the same tone and other decorations like balloons and wall hangings too. Not to forget the cake that you can color coordinate and order according to whether you are having a boy or girl
4. Birdie cage decorations:
"A little birdie told us it's a baby on the way". Enhance your baby shower (गोद भराई) with the elegance of this wonderful and unique display. You could decorate different bird cages by putting up some exotic dried and colorful flowers and some birds. You can hang these cages with the help of ribbons for a vintage feel. This would surely be a totally new idea to decorate your baby shower (गोद भराई ) and will be quite exclusive in every way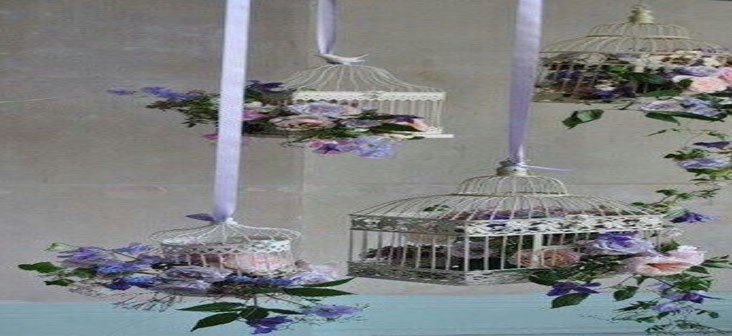 5. Mix and match colors:
This is the trend for baby showers (गोद भराई ) now. If you feel all pink would look too boring, clubbing a lovely theme using pink and white or even pink and grey would be a real change. The result is sure to be fabulous and attractive too. Light grey cup cakes with white icing and a pink cute bow would look stunning. All your baby motifs can be done in this color combination that will make your baby shower(गोद भराई) absolutely unique in every sense of the word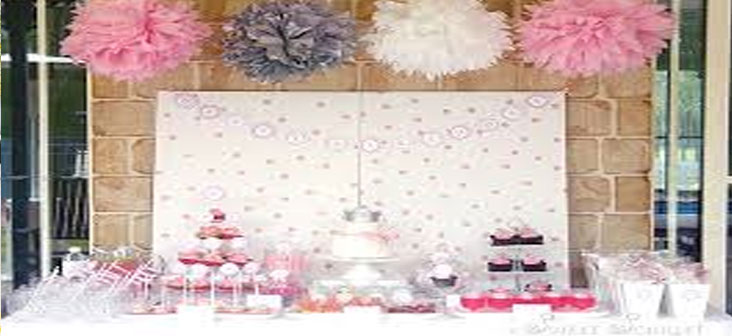 6. Baby Onesies banner:
Hang the super cute baby Onesies to make a unique banner that can be a nice background for baby shower (गोद भराई) photos. What's more you can use add these to your baby's wardrobe after the party. This is a fun and easy way to decorate your party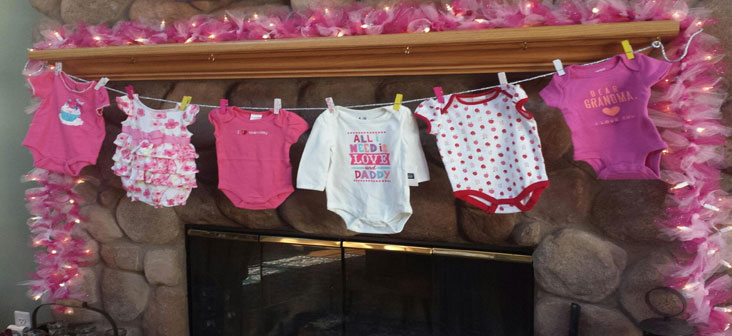 7. Outdoor baby shower(गोद भराई):
It would be a lovely idea to plan your shower outdoors in your garden or backyard, if the season is apt for parties outside. And having a theme perfect for outside weather would be lovely idea. You can use glass jar with fresh flower displays on them for a cute table decoration. You can even enhance it further by attaching cards to the jars with different phrases written on them that gel with the theme of the party. Using colors like bright yellow, white or grey will add some sunshine to your baby shower (गोद भराई)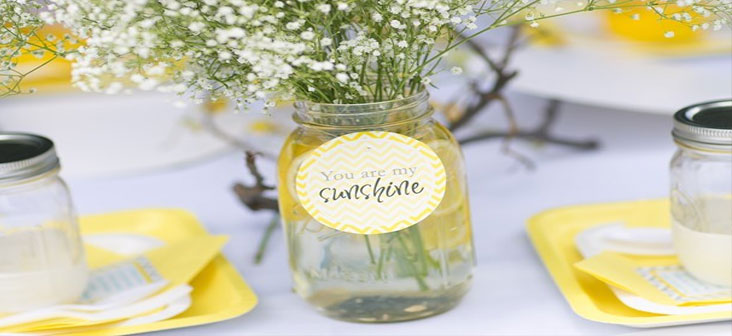 8. Guest Book:
Having a guest book or a guest letter is a great decoration idea. All you need to do is get a wooden Alphabet /letter from any craft store and spray paint it. So when the guest first arrive, you can set up a table where each guest signs this painted wooden letter or a book with a little message for both the mom and baby. Make sure that all your guests sign in this so that it would be an ideal treasure to keep forever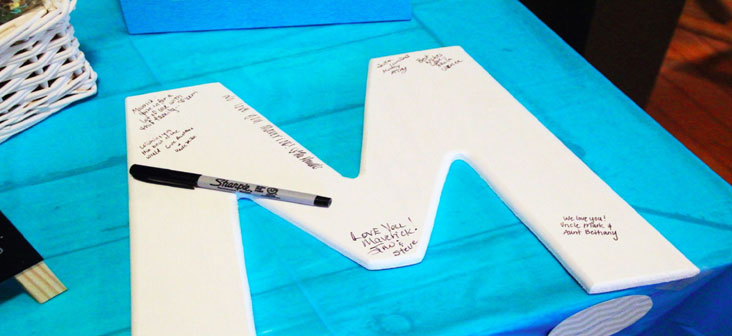 9. Aqua decorations:
This is the in-trend today. The color combinations and themes are just fabulous and are certain to help your baby shower (गोद भराई) a memorable and unique event. Streamers, balloons, banners and bunches of tulle tied into bows can transform a simple boring room to a bright one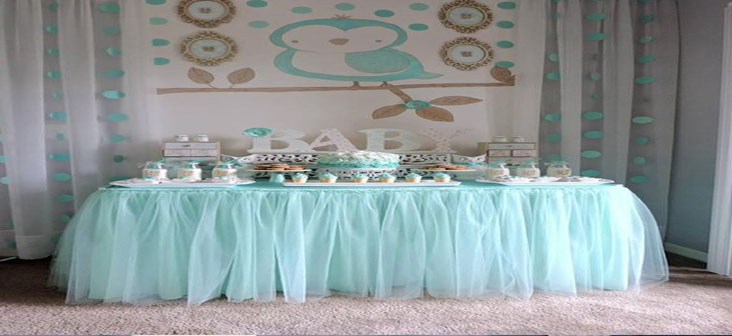 10. Blue jeans decorations:
For some unique and quirky decoration idea you can use the pockets of denim jeans and turn them to hold the cutlery on the table. This decoration idea will be perfect if you have planned for a stylish indigo themed party. You can further use the denim in other decors too, like a table-runner made out of denim fabric with a garland made out of fresh flowers and use it as a centerpiece. This is not only look elegant but will also add a retro feel to your baby shower (गोद भराई)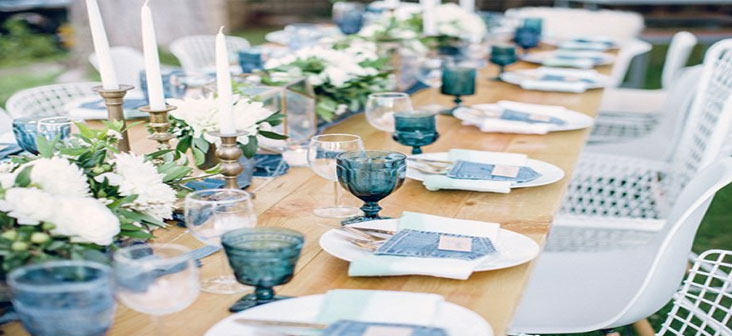 Baby shower (गोद भराई) is indeed one of the sweetest parties. It is a happy and memorable moment. Mom-to-be tends to share her joy and expectations with the people close to her. We hope that you can celebrate your baby's upcoming arrival with by selecting any one of our baby shower (गोद भराई) decorations ideas. These are not only practical, but also stylish. Just remember that there are no set rules when it comes to decorating a baby shower (गोद भराई) party. Just keep the atmosphere light, exciting, joyous and fun
Do let us know in the comments section below your favorite baby shower (गोद भराई) decoration idea and don't forget to share some memorable moments out from your baby shower (गोद भराई) party. We wish you all the very best as you embark on the path of motherhood.