Once your baby turns 4 months and sprouts her first pearly whites, it is ideal to introduce semi-solids to your baby. Because babies need a lot of nutrients to develop properly, and their tiny tummies do not allow them to eat much, it is essential that you start their solid's journey with nutrient dense and growth inducing foods. One such nutritious and highly versatile food is barley – and babies can benefit from this food in the form of barley water.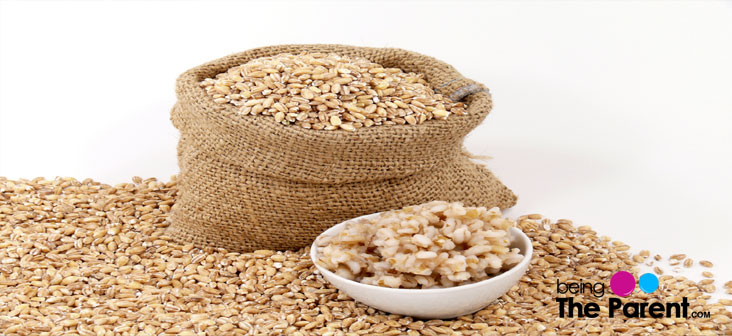 Benefits Of Barley Water For The Baby
When Can I Introduce Barley To My Baby?
How To Select And Store Barley?
How To Make Barley Water For Babies?
Barley Water Recipe For Babies (4-6 Months)
FAQ's
Benefits Of Barley Water For The Baby
Barley may sound to you the food of yesteryears, but the fact is that it is one of the most nutritious grain with immense health benefits. It is an excellent source of protein, folate and fiber and contains minerals like potassium, magnesium, phosphorus, calcium, sodium and iron. It is easily digestible and so makes up a great first food for the baby. Barley is also non-allergenic – unless your baby has a history of celiac disease or gluten allergy.
When Can I Introduce Barley To My Baby?
Barley can be introduced to your baby between 4-6 months of age. It can be blended into a soup like consistency, and can even make for a great finger food – given its shape. Please do remember that the recommended age to introduce solids to your baby is 6 months.
How To Select And Store Barley?
For babies, always purchase hulled or pearled barley. Though hulled barley has more nutrition than pearled barley, pearled barley gets easily cooked and is widely available. Both pearled and hulled barley can be used to prepare baby food, and they tend to fluff to the size of a pea. It is also easy to store pearled barley – it can be stored for several months in a cool, dry place, however, if you use hulled barley make sure you check it before cooking. If you are grounding the barley yourself, watch out for the natural oils that may make it rancid too soon without refrigeration. Barley contains gluten, so make sure you discuss it with your doctor before offering it to your baby.
How To Make Barley Water For Babies?
Barley water serves as a great weaning food for your baby, and given its benefits, it will surely help your baby grow and develop. When making barley water for your baby, you need to continuously whisk it to avoid lumps.
Barley Water Recipe For Babies (4-6 Months)
Recipe Type: Baby food Category water Age: 4+ months Cook Time: 60-75 Minutes Prep Time: 30 Minutes
Ingredients
A tablespoon Barley powder
---
2 cups pure drinking water
---
As a general rule, add 1/2 cup of barley to 2 cups of water
---
A spoon of barley can turn to more than a cup of cooked barley, so use it accordingly.

Directions To Prepare Barley Water For Babies
Take a pressure cooker and let the water boil
Add a tablespoon of water to 2 cups of boiling water
You can pressure cook the barley till 4-5 whistles or let it simmer for about 40 minutes. Hulled barley may take about an hour and a half to get cooked
Let the pressure get released on its own
Cool it and blend it in a blender
You may add some boiled drinking water to adjust the consistency- it should not be too thin or too thick
Strain into a clean and sterilised bowl and feed your baby with a clean spoon
You can also serve it to your baby as a porridge
Notes
Do not add salt to your baby's food until she is a year old
Some people have reservations on serving barley as a first food, do seek your doctor's advice
If your baby has wheat allergy, be extra careful about introducing barley to your baby
Make sure your baby is sitting (with or without support) when you feed the baby
Never give barley water or any other semi solid to the baby in bottles
You may soak the barley earlier so that it cooks quickly
FAQ's
1. Can I Start Giving my 4 Month Old Barley Water?
If your doctors approves, you can. Babies below the age of 6 months are recommended to follow a milk only diet. If your baby resists, do not force feed.
2. Can my Baby be Allergic to Barley Water?
Yes they can. Barley has a high gluten content which can be hard to digest. If your baby has celiac disease, barley can be unsafe.
3. Can Barley Water Cause Any Side Effects in my 6 Month Old?
Yes. If your baby has any gluten allergy or celiac disease, barley can cause severe side effects. Your baby can even develop gas and constipation.
4. Can I Start Giving Barley Water Before I Start Giving Water to my Baby?
Please ask your doctor. Water is easier to digest than barley water. It may be hard on your baby's digestive system.