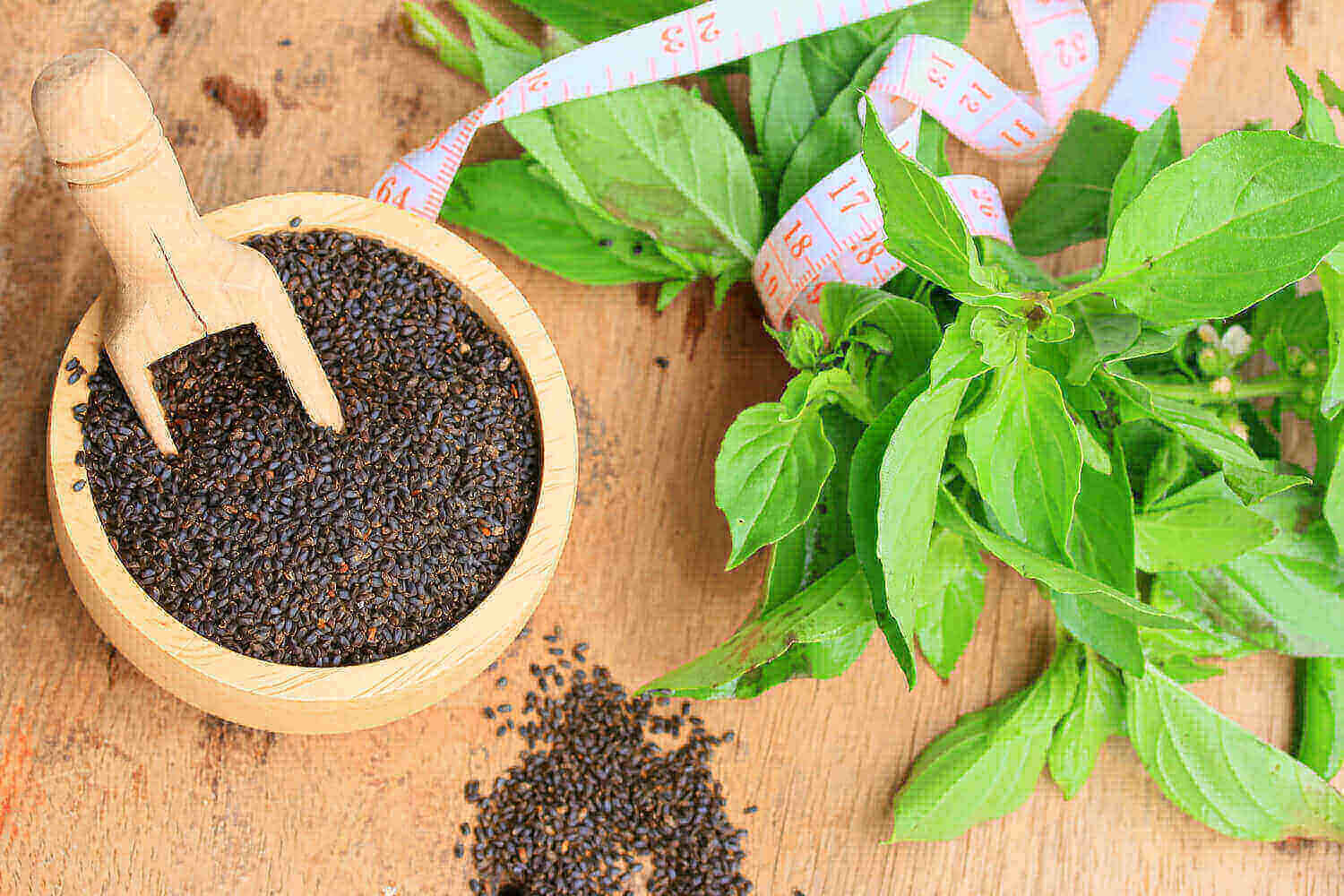 Basil seeds or sabja seeds are very common in Asia, especially in India. These seeds, when soaked in a liquid medium, have many beneficial properties. But what about basil seeds during pregnancy? Are they safe?
Through this article, we discuss the benefits of basil seeds during pregnancy. We also focus on the risk factors of taking basil seeds during pregnancy. Our nutrition chart explains the various nutrition aspects of these seeds. Read ahead to know our verdict on whether you should consume it during pregnancy or not.
In This Article
Basil/Sabja Seeds: What are they?
Basil seeds are the seeds of the sweet basil plant. The sweet basil plant belongs to the Ocimum basilicum family. In India, basil or sabja seeds are typically used in making falooda. For this reason, these seeds are also known as Falooda seeds. Basil seeds cannot be eaten raw and are hard to chew and must be soaked for at least 15 minutes. When fully soaked, the basil seeds get a gelatine-like covering all over them. Soaked basil seeds are nutritious and good to consume.
Other common names for basil seeds include:
Tukmaria
Thai holy basil
Hazbo
Sabja vethai
Sabja ginjalu
Tuk malanga
Basilien kraut
Basilic cultive
Is it Safe to Have Basil Seeds During Pregnancy?
Though basil seeds have many benefits for pregnancy, their consumption is not usually recommended for a pregnant woman.
Basil seeds can decrease the oestrogen level of your body, a vital hormone during pregnancy. Oestrogen helps in forming blood vessels in the foetus and to transfer nutrients to the baby. Decreased oestrogen levels can hamper your baby's growth and development.
Moreover, taking Sabja seeds before caesarean C section delivery can cause excessive blood loss. This is because basil seeds can thin the blood and slow the process of blood clotting.
Thus doctors often recommend you to avoid basil seeds irrespective of their manifold benefits. You can take it in moderate quantities (not more than 2 teaspoons) occasionally, but always consult your gynaecologist before taking them.
Nutrition Facts of Sweet Basil/ Sabja Seeds
These tiny basil seeds contain a lot of nutrition. Here is a nutritional chart of 100 g sabja seed for you:
| | |
| --- | --- |
| Nutrients | Quantity |
| Calorie | 23 |
| Carbohydrates | 2.65 g |
| Dietary fibre | 3.9 g |
| Calcium | 177 mg |
| Potassium | 462 mg |
| Iron | 3.17 mg |
| Total fat | 0.64 g |
| Sodium | 4 mg |
| Sugar | 0.3 g |
| Folate | 68 ug |
| Vitamin B6 | 0.155 mg |
| Riboflavin | 0.076 mg |
| Water | 92.1 g |
Top 5 Health Benefits of Basil Seeds During Pregnancy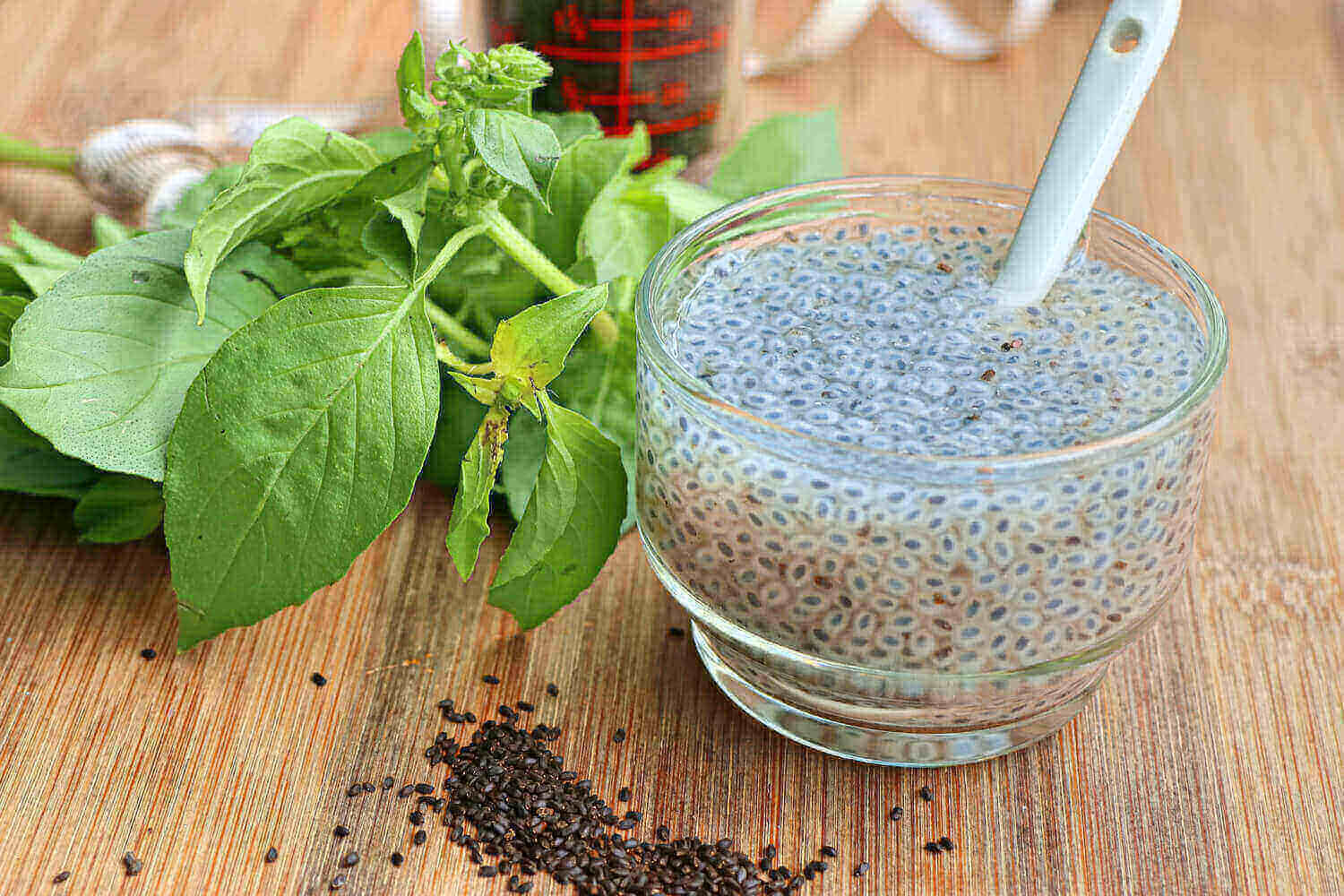 Basil seeds are beneficial during pregnancy if you know the right quantity. Here are the top 5 benefits of basil seeds:
1. Blood Sugar Control
Pregnant women with type 2 diabetes can get real help from sabja seeds. Consuming basil seeds before taking any meal can prevent the spike in blood sugar levels. Diabetes can be fatal during pregnancy. To reduce the blood glucose level, you can take the help of basil seeds.
2. Relief From Acidity
Acidity is a common problem during pregnancy. The water-soaked basil seeds give an instant soothing effect on the stomach lining and reduce the burning sensation. Its diuretic functions balance the acidic effect in our body and kick out harmful toxins.
3. Hair and Skin Health
During pregnancy, many women suffer from hair loss and skin problems like acne. This happens because of the rapid hormonal changes in your body. The protein present in Sabja seeds can help enhance hair growth, reduce hair fall and dandruff.
Sabja seeds act as a natural detoxifier. They cleanse your body and skin from within. The vitamins and minerals in basil seeds help your skin glow naturally.
4. Natural Body Coolant
If you are having your pregnancy during summer then a basil seed smoothie or falooda is what you need to feel refreshed instantly. Sabja seeds will instantly bring a cooling effect on your stomach and reduce your body heat.
Sabja seeds have been used in Ayurvedic treatment for more than a thousand years to pacify problems related to vata and pitta. In Ayurveda Ayurveda, Sabja seeds are used to cure dysuria, the problem of having pain and discomfort while urinating.
5. Relief From Constipation
Constipation is common during pregnancy. If you are suffering from this condition, having basil seeds soaked in water, milk and coconut water can be of great help.
When you soak sweet basil seeds in water before eating, they get a mucilaginous gel around their inner covering. These water-soaked seeds act as an emollient. The mucus membrane and high fibre quantity draw water to the gut and help with bowel movement. This helps to soften and clear the stool daily.
Side Effects of Taking Basil Seeds During Pregnancy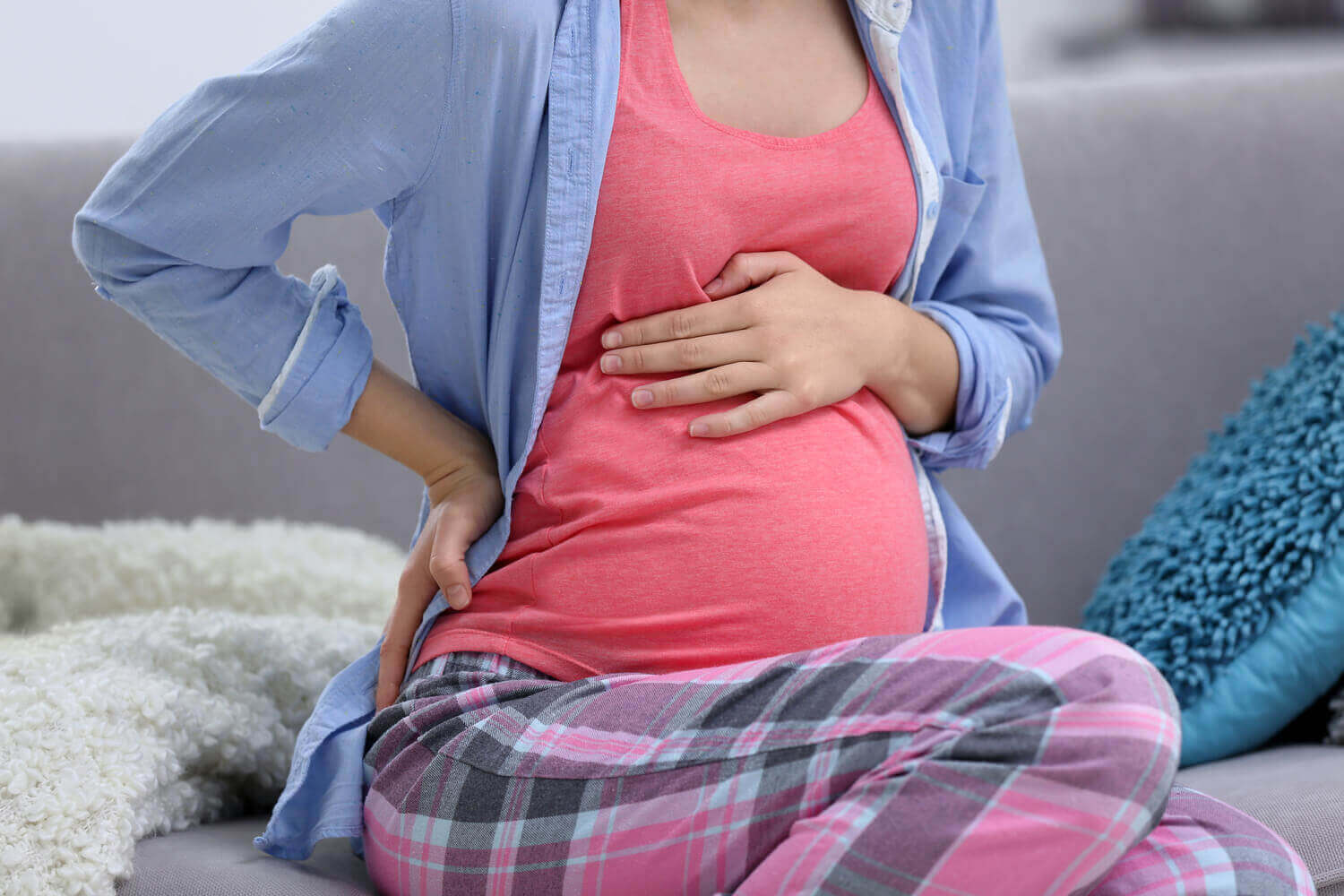 There are some major side effects of basil seed for which it often falls under the non-recommend pregnancy diet list. The risks of taking basil seeds during pregnancy are:
Basil seeds are good for people with high blood pressure. But if you have low blood pressure, having basil seeds is not at all may not be advisable for you.Basil seeds can cause hypoglycemia.
Basil seeds slow down blood clotting and promote blood thinning. Thus it is harmful before any surgery. You must stop eating basil seeds at least 2 weeks before your planned caesarean delivery.
Basil seeds can hinder the effectiveness of some drugs. Take your doctor's permission and check whether you are taking those sorts of drugs or not.
Basil seeds often cause uterine contractions, thus not advisable during the first trimester. Excessive basil seeds can cause cramps, diarrhoea, backache, and bleeding.
Sabja seeds also bring down your oestrogen levels. Oestrogen is a vital hormone that is required throughout your pregnancy.
Basil seeds do have some notable risks for pregnant women. To make sure whether you should try it during pregnancy or not you need your doctor's advice. If your doctor agrees then take a pinch or two of basil seeds along with any liquid you like.
The gelatine quality of basil seeds thickens any thin liquid. Thus it is widely used in milkshakes, smoothies, yoghurt, ice cream, or falooda to give them a thick and filling quality.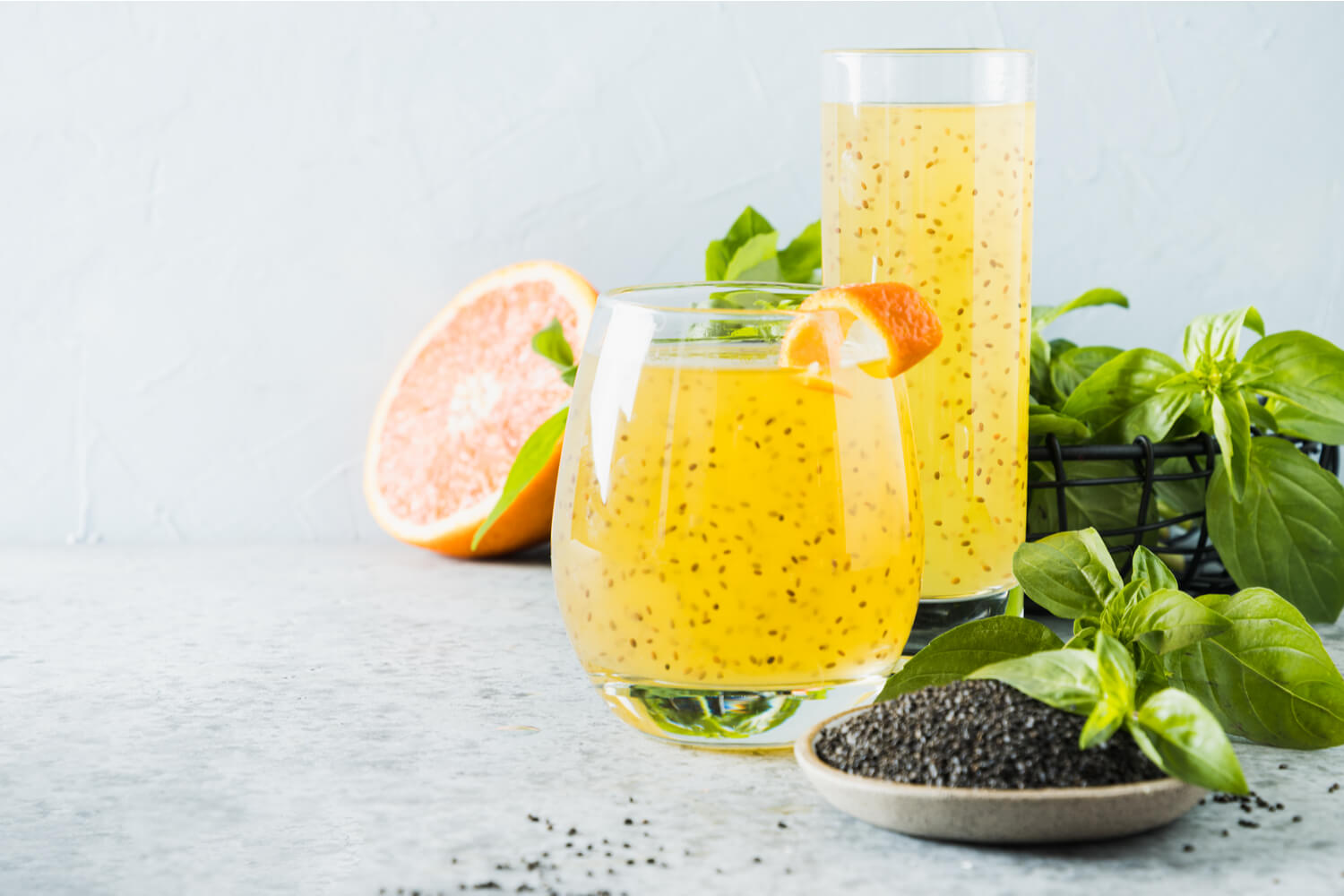 FAQ's
1. Are Basil Seeds Good For Pregnancy?
Basil seeds can be good for pregnancy when taken in limited quantities. Taking one or two teaspoons of basil seeds will not harm you. But to be on the safe side, consult with your doctor first.
2. Does Consuming Basil Seeds Affect the Fetus?
Taking basil seed during the first trimester can harm the fetus and even cause miscarriage. This is because basil seeds lower oestrogen levels and can cause uterine contractions. You can try basil seeds during the second trimester only if your doctor permits.
3. Can I Drink Basil Seed Drink During Pregnancy?
Yes you can drink basil seeds along with coconut water, milk, smoothie, or falooda. You can also use basil seeds as a seasoning for some of your meals. But don't consume basil seeds regularly during pregnancy.
Read Also: Sunflower Seeds During Pregnancy – Are They Safe To Eat?