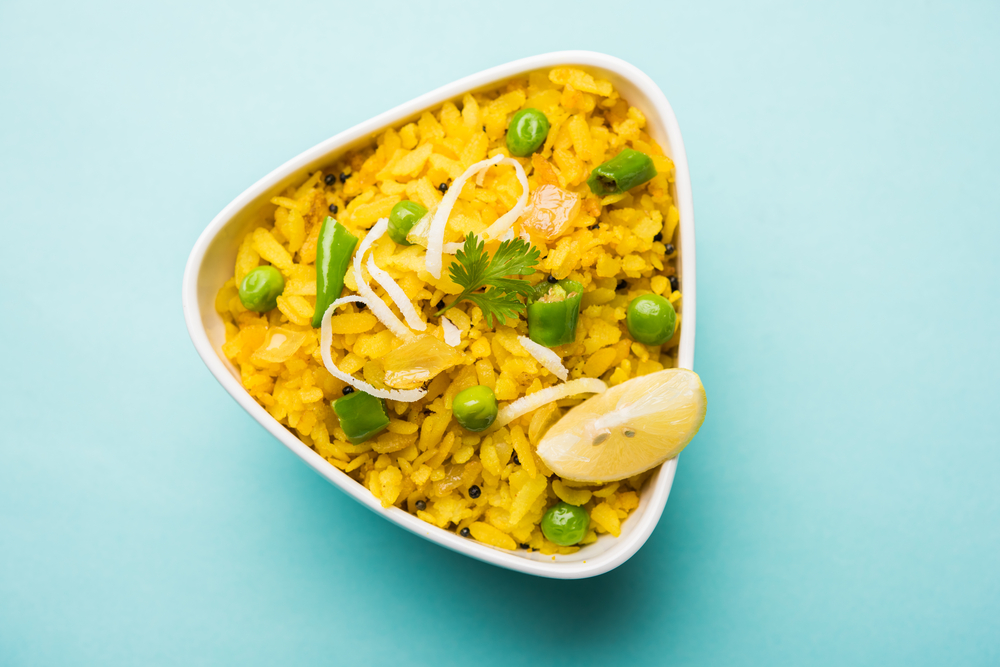 Pregnancy is a time one always develop different tastes for food and always search for healthy foods. Here comes great news to the expected mothers with respect to their cravings and health. Get a pack of Poha from your nearest store. Surprised? Poha is a secret sauce for your health when you know how to make it. This flattened rice is available in different healthy options. Check out how helpful it is in providing all the required nutrients for your loved baby.
What Is Poha?
Poha is the other name for the flattened rice. These look like flakes which are flat and dry. Rice is flattened to these dry and light flakes. There are different variations in their thickness.
What Are The Types Of Poha Available?
Poha is made from white rice, brown rice, and red rice. Therefore, three different colored pohas are available in the market.
White poha comes with completely removed bran and it is a good source of carbohydrates. This is very easy to digest and rich in fiber and iron. Red poha is packed with antioxidants and a great source of iron. If you like the nutty taste, then you must try this poha which takes usually longer time to cook when compared to white poha. Brown poha is made from brown rice and has iron, potassium, and fiber. Usually, brown and red poha is healthier when compared to white poha. All three can be equally used to make different recipes.
Is Poha Safe During Pregnancy?
Yes, Poha is safe for pregnant and even for lactating mothers. It counts as a healthy snack for expecting mothers. Poha is flattened rice, which is passed through iron machines. So, they have some retains of iron, which is helpful for the people with the risk of anemia. Add lemon to the bowl of cooked poha recipes which helps to absorb iron better always. It contains zero cholesterol and Transfat.
Which Poha Is More Beneficial, White Or Red?
Red poha is available from the beaten red rice, which is not processed. There are immense health benefits with red rice, which has come to light in recent days. So when compared to white poha. Red poha is a healthier option. The red color is because of anthocyanin. This is a flavonoid which is rich in minerals, zinc, iron, manganese and many other rich components.
What Are The Benefits Of Eating Poha During Pregnancy?

Here are the 8 amazing benefits of eating Poha during pregnancy
Maintains Blood Sugar Level: Poha is known to control blood sugar levels. It is rich in fiber. Therefore, it will release sugar little by little into the blood. Therefore, there will not be a sudden increase in blood sugar level. Thus, expecting mothers who are experiencing gestational diabetes can also have this food.
 Boosts Energy: While you are trying for options to get all nutrients and energy in just one serving, then you must prefer poha. Being A Good Source Of Healthy Carbohydrates, poha provides energy for expecting mothers to accomplish daily functions.
Controls Weight Gain: While you are on a diet, you can have poha which is power-packed with nutrients and fiber. They let you feel full of great taste. It helps in suppressing hunger and suggested by many dieticians.
 An Excellent Breakfast Option And A Complete Meal: Poha is used as a great breakfast option as there are chances to have it in many ways. Depending on your craving, you can either make some sweet or spicy recipes with it. These poha recipes are nutritional and tastier as well.
Combats Gestational Anemia: Pregnant ladies who struggle with Gestational Anemia can have these flakes of rice. Poha is flattened in iron rollers which lets them get rich in Iron.
 Act As An Excellent Probiotic: The most popular poha breakfast across the nation is good probiotic food.
Poha Is Easy to Digest: Poha is very easy to digest as they are light and has less pH value. When poha is cooked, the acidic factors which are of 6.2 are reduced and perfect to have. Therefore, you can opt poha as the first-morning meal or as a light evening meal.
Poha Is Very Low In Gluten: While you are on a gluten-free diet and wanted to eat gluten-free food, your list must entail poha. This is used to make many different and yummy varieties. If you are allergic to wheat products, make this food a priority.
Why  Poha Is Considered  As  A Perfect breakfast Food And Snack During Pregnancy?  
Poha is counted as a healthy breakfast and perfect snack during pregnancy due to five main reasons.
Availability: It is easily available in your near store
Economical: Costs less when compare to other nutritious food
Easy To Prepare: Even if you are a new cook, poha dishes will not be a challenge for you. Poha is versatile.
Versatile: You can prepare poha dishes by adding mixed vegetables and nuts. You can even add soya or boiled egg to poha and make a well-balanced and high-protein meal. This makes poha more nutritious and filling.
You Can Avoid Monotony Food: As you can prepare different types of dishes, you will not get bored with repeating tastes. Monotony food is not a good idea during pregnancy.
How To Select Poha During Pregnancy?
Pregnancy is a time we don't have to take chances. Therefore, always choose poha made from best quality organic red rice. Make sure the poha you choose is sortex cleaned. The best poha maintains its taste and aroma for a long period. Always buy poha packed in transparent covers which display product quality
3 Easy To Prepare Poha Recipes For Expecting Mothers:
1. Poha With Lemon:
Soak poha for 10 minutes after washing them twice. As oil gets heated in Kadai, add tempering spices (one spoon each of mustard, jeera, urad dhal, and green chilies) and potato. Once potato gets fried add some turmeric, salt, soaked poha and mix all together. Once you turn off the flame add lemon and mix it.
2. Poha With Curd:
Add soaked poha, salt, ginger and green chili paste to curd. Mix all together and have it after setting it for five minutes.
3. Sweet With Poha:
Add mashed banana, grated groundnut, and required amount of honey to soaked poha. You can also add some nuts for that crunchy taste and mix all the ingredients. This is a tasty and healthy recipe which can be prepared in less time.
There are hundreds of recipes which are done with poha. So always think of this as an option for your breakfast, lunch, snacks or even for dinner. Try out different nutritious and healthy recipes which are rich in nutrients.