The phase of pregnancy requires keeping a check on every minute detail that one is used to especially the diet. From the onset of pregnancy, the whole attention is focussed on following right, getting all required nutrients. There is a list of products that should not be consumed at all as they may hamper the development of the baby so it is important to be aware of what food is being consumed as the food has a vital role for the growth and development of the baby.
Sabudana is a nutrient- dense and should be added to the pregnancy diet as it has a plethora of benefits. It is not even healthy, but can be made in many ways to give it the delicious twist. Let us have a look below and find out what is Sabudana, its nutritional value, how safe it is for the pregnancy, its health benefits and some yummy bites made from it.
In This Article
What is Sabudana or Sago?
Sabudana also referred as Sago is enriched with energy as well as carbohydrates. This is extracted from the core of sago palm stems in starch form, even called as tapioca pearls. Sago is a nourishing diet, which is loaded with carbohydrates and starch and even used in Indian cuisine like puddings, soups, khichdi, Upma etc., dishes. It is also used for the preparation of many carbonated drinks to offer spontaneous energy without the use of artificial sweeteners or chemicals. It is also used for the preparation of cakes and to even offer thickness in dishes.
Is Sabudana Safe During Pregnancy?
It becomes very important to keep a tab if the diet plans that you are adopting during pregnancy are healthy and safe enough. Sago is one of the foods that is considered good and safe for both the mother and the baby. In case looking for healthy options, Sabudana is a must. This food is loaded with nutrients and helps the little one in spectacular ways. This is not only considered safe, but also a vital one during the pregnancy phase. Moreover, it is very easy to digest.
What is the Nutritional Value of Sabudana?
Sabudana is associated with numerous health benefits for pregnancy. It is enriched with good protein content, Vitamin B, potassium and many more. It basically has all that helps and assists in pregnancy. Thus, it should be on the top of the charts in a pregnancy diet chart.
What are the Health Benefits of Sabudana During Pregnancy?
1. Fights Constipation:
It aids in digestion and helps in fighting constipation problems.
2. Provides a Cooling Effect to the Digestive System
In case one has indigestion issues, a burning sensation in stomach, the consumption of Sabudana can offer a relaxing as well as a cooling effect on the digestion system.
3. Boosts the Energy Level
Consumption of sago gives zeal and energy for the rest of the day as it has a great number of carbohydrates in it and which is even a great source for providing energy.
4. Enhances Muscle Growth
It is also a great source of protein that helps with the muscle growth during the pregnancy phase.
5. Enhances Bone Strength
Enriched with calcium, it helps in strengthening the bones. Pregnancy is a time when bones should be strong enough to be able to carry the baby so Sabudana consumption has its own benefits.
6. Good Source of Protein
Sago has a high rich protein value.
7. Helps to Prevent Birth Defects
Sabudana is loaded with Vitamin B as well as folic acid that can help in avoiding any birth defects and also assist with the development of the baby.
8. Facilitate Healthy Weight Gain
Since Sago is enriched with carbohydrates, it is also an ideal source for gaining weight.
9. Helps in the Formation of RBC
Sabudana is not only rich in carbohydrates, but iron as well and also helps with progressing the production of the healthy red blood cells.
10. Helps to Bring Down Pregnancy Induced Blood Pressure
Sabudana even helps to regulate the blood pressure levels. Due to the presence of potassium, it even assists with blood circulation helping to reduce down the pressure.
Easy and Healthy Sabudana Recipes for the Expecting Mothers
1. Sabudana Khichdi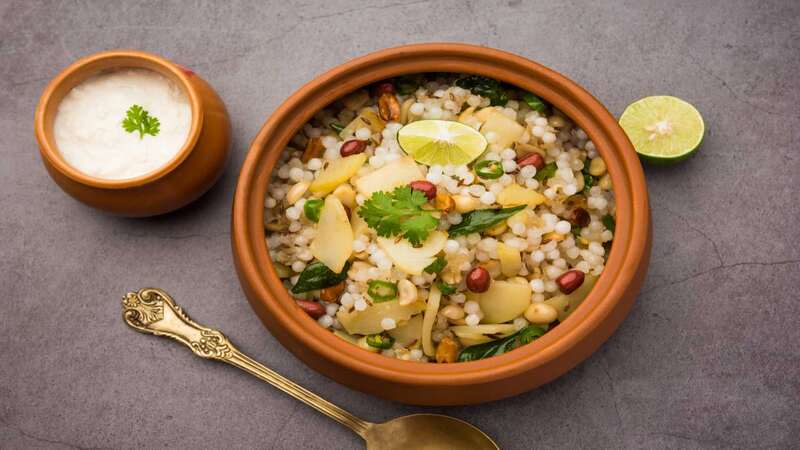 Start by cleaning 1 cup of Sabudana and drain the excess water.
Keep it for almost 5-6 hours or till it is dried.
One should sprinkle few drops of water so that it doesn't become too dry and is a bit moist.
Now take ½ tsp cumin seeds, 2 potatoes, 2 green chillies, and mix all of these in a bowl with 2 tsp oil and keep in a microwave.
Finally, cover all the ingredients until the potatoes become soft, this should take about 2 minutes.
Now add ½ cup crushed peanuts along with Sabudana that has been soaked before.
Now add a pinch of salt and mix all the entire thing.
This can be served with curd or green chutney for a better taste.
2. Sabudana Kheer
Soak 100g sago in 500 ml of water and set aside for 2-3 hrs.
Drain the water and cook the sago in 3 cups of 450 ml of milk till it turns soft.
Heat 1 tbsp. ghee and fry 1 tbsp. raisins and 8-10 halved cashew nuts till they become golden brown.
Now add the dry fruits to the sago-milk mixture that is being cooked.
Dash 1tsp Elaichi powder and few strands of Kesar or saffron.
Mix well and keep aside after turning off the gas.
This can be served hot or cold.
3. Sabudana Upma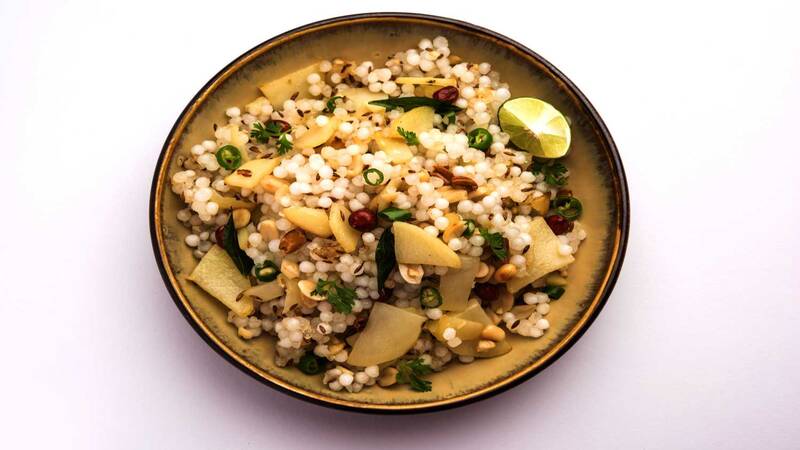 Lightly roast 1 cup sago/Sabudana in a kadhai on medium flame and keep frying. Be careful the color remains intact.
Take out the sago and immersed in water for about 5 hours so that the Sabudana is swollen up. Let all water get absorbed.
Take 1 kg of potato. Peel, boil and mash or slice them into small pieces.
Grind 2 tbsp. of roasted peanuts.
Chop 1-inch ginger and 1 tsp green chilli.
Finally, take a skillet and heat about a tablespoon of oil.
Add about6-8 curry leaves, sendha namak as per taste and the soaked sabudana with no water.
Keep stirring and cook for about 3-5 minutes.
Now, take a frying pan. Add one tablespoon oil in it and heat. Put curry leaves and ginger. Follow adding green chillies, sendha namak and sabudana. Mix well. Cook for approximately 5 minutes.
Finally, add the grounded peanuts as well as the potatoes in the skillet.
Mix everything. You can squeeze in some lemon juice and add some coriander leaves for garnishing.
This should be served hot.
4. Sabudana Vada
Wash 1 cup Sabudana and soak it in water till sago is covered fully for an hour or so.
Drain the water and to that add 1 kg peeled, mashed and boiled potatoes, 2 tsp. Salt, 1.2 cup peanuts, 1tsp chilli powder, 1tbsp chopped coriander,1 tsp chopped green chillies, and 1 tbsp. lemon juice.
Form them into flat round Vadas and deep fry them in oil.
Serve them hot and crispy.
Therefore, it can be said that the pregnancy phase requires a healthy diet not only for the mother but for the baby as well. This is the time when one needs to eat well and healthy food so that one can keep going smoothly and it should be remembered that the consumption of Sabudana helps the developing baby to a great extent so it should definitely be a part of the pregnancy diet.
FAQ's
1. Can I Eat Sago During Pregnancy if I Have a Gluten Allergy?
Yes you can. Some women develop gluten allergy when pregnant. Sago is naturally gluten free and a great option.
2. Will Eating Sago During Pregnancy Promote Hair Growth?
It might. Sago is rich in protein. Hair growth is generally very good during pregnancy. A combination of these two can definitely cause those tresses to grow out.
3. How Does Sago Help Against Birth Defects?
Sago is rich in folic acid. This is an essential nutrient for the neural development of the baby. Making sago a part of your pregnancy diet can indeed help your child.
4. Will I Gain Weight if I Eat Sago While Pregnant?
It depends on your body. Sago is rich in carbohydrates and can add some weight. However, many women gain a lot of weight during pregnancy. So it can be the sago or just pregnancy.