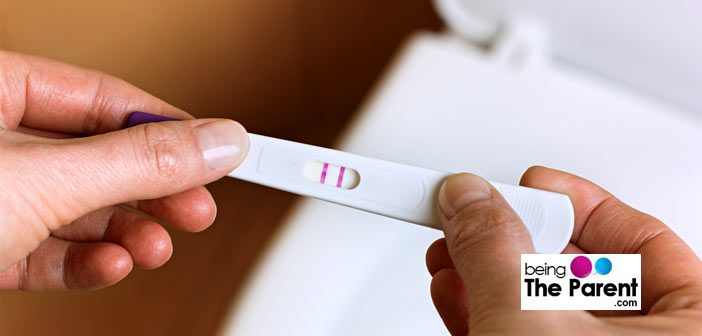 Ann Romney has said, "The thing that's nice about pregnancy is that in the end, you have a baby."
The news of pregnancy is undoubtedly a joy of a lifetime and home pregnancy test kits help you confirm this without any botheration. The fertilization of egg by sperm paves way for formation of a baby and confirms pregnancy. The detection of early pregnancy can be done by blood and urine- the two required for main types of tests for pregnancy. If you suspect that you may be pregnant, you are very likely to opt for a pregnancy test kit, within the confines of your home and know the result in no time. The best part about these home pregnancy tests is that they are simple, convenient and very private. Read about how pregnancy test kits work here.
What Is A Pregnancy Test Kit?
A quick, easy, efficient way to confirm a pregnancy by simply peeing on a pregnancy test strip is known as a pregnancy test kit. It checks for the presence of the pregnancy hormone, hCG in the urine and gives the result. The test generally takes 5 minutes in all, and the appearance of two lines indicate the presence of hCG in urine, thus confirming a pregnancy.
What Are The Different Types Of Pregnancy Test Kits?
Home pregnancy test kits work on the level of hCG detected in a woman's urine when she is pregnant. Basically, home pregnancy test kits are of two types:
Strip pregnancy test: This is the most common type of pregnancy test kit. You can simply hold the strip or a dipstick provided in a stream of urine. On detection of hCG, one end of the strip will change color indicating you are pregnant
Cup test kit: A test device, along with a urine collection cup or a beaker is provided in this type of pregnancy test kit. You will need to collect your urine in the cup as indicated and then dip the test device in it. On presence of hCG in the urine, it will change color indicating you are pregnant
8 Common Home Pregnancy Test Kits In India
Below are some easy-to-do home pregnancy tests that can help you detect pregnancy at early stage. Some tests are more sensitive than others and you can find this by reading the information given on the box. The concentrations of hCG are mentioned in milli-International Units (mIU) per milliliter. For instance a pregnancy urine test with a sensitivity of 20 mIU/ ml is far more sensitive than the one with 50 mIU/ ml.
Prega News Pregnancy Test Kit

Prega News of Mankind Pharmaceuticals is a popular hCG pregnancy kit available in the Indian market. It gives you authentic and reliable results in just 5 minutes. Prega News pregnancy test kit is absolutely safe to use as it works externally and does not interfere with any bodily processes.
Points To Note When Using Prega News Pregnancy Detection Kit

Keep it in refrigerator prior to use
Bring the kit to room temperature, before using it
You can test pregnancy with urine kit as early as the first day of missed period
Avoid consuming too many liquids as excess fluids interfere with hCG concentrations in blood and urine
Single band implies negative test or no pregnancy and two bands reveal pregnancy and the test is said to be positive
If no band appears it means the hCG level is too low and you should repeat the test after 4-5 days
The cost of the kit is between 50 INR for a pack of a single strip
Prega News pregnancy test kit can detect pregnancy even when hCG level is as low as 20mlU/l

Velocit Pregnancy Kit
Velocit by Dr Reddy's Lab is a simple easy and one-step pregnancy kit.
Points To Note When Using Velocit Pregnancy Detection Kit

It can be used on the same day of the missed period. It is one of the most trusted brands available across India
Store it in the refrigerator, however, do not freeze it
The first urine sample of the day is usually preferred
The kit contains a test card, a dropper, one desiccant for absorbing the moisture and a user leaflet
The fresh morning urine is collected in a clean container and the test device is taken out form the pouch
Velocit Eazy pregnancy test is clinically tested to detect upto 25mlU/ml of hCG
The dropper is used to add 2-3 drops of urine is added to the rectangular window and after 2-3 minutes the results are noted
Appearance of two color bands (pink or purple) implies the test is positive. Appearance of only one distinct color band (pink/purple) in the control region (C) implies that the test is negative. Absence of any color band indicates that the test has been invalid and you can try again
Dr. Reddy's Labs are the manufacturers and the cost is approximately between Rs 65 to Rs 70. They also have Velocit Eazy priced at Rs. 98

Clear View Pregnancy Test Kit
According to the manufacturer, it is 99 percent accurate and reliable and it identifies pregnancy one day after the expected date within as less as 3 minutes. It does not need to be kept in the refrigerator and can be stored at room temperature.
Points To Note When Using Clear View Pregnancy Detection Kit

The clear view 'absorbent sampler' is kept in urine stream
You can conduct the test at your convenience in contrast to other pregnancy tests that require morning urine
No need of handling urine. So no mess needed and no urine container required
It gives results in 5 minutes
The manufacturer claims that Clear View pregnancy test kit can detect hCG levels even 4 days before your cycles are due, subject to enough hCG in the body, and hence is highly sensitive
It provides an easy-to-read + or – result in just 3 minutes
It is newly introduced and its availability is currently limited to major cities. The cost is between 150 to 160 INR

I-Can Pregnancy Test Kit
Launched in 2011, I-can pregnancy test kit can be used on the first day of the missed period and needs to be performed with the first urine of the day.

Points To Note When Using I-Can Pregnancy Detection Kit

Manufactured by Piramal Enterprises, I-Can was launched in 2011 which helps to detect the hCG levels in the urine and know whether a woman is pregnant or not
A woman wanting to know if she is pregnant can perform test with I-can as early as 6th day after conception. However, the ideal day to perform the test for most accurate result is on the day of the expected period. The test with i-can must be performed with the early morning first urine
The kit costs Rs. 50 and has one strip per pack. You can also buy a pack of 3 at Rs. 300
If a dark pink or purple colored band appears near the control and test marking then it indicates that you are pregnant, and if no band appears on the test region than you are not pregnant. The test should be repeated of there is no color band on the test and the control regions

Pregcolor Test Card
The urine sample is collected in a clean container and with the aid of a dropper few droplets of urine are introduced in the card window. The appearance of two lines is awaited for about 3 minutes. Two lines are indicative of pregnancy while one shows no pregnancy. The price is very affordable just Rs 70
Pregtest Card
Product from the house of Cipla, pregtest card is also used by women to determine whether or not they are pregnant.

The simple test requires 3-4 minutes to detect pregnancy
Collect urine sample in a urine container and add urine droplets to the card window and notice the change
The average cost is between Rs 45 to 60

Acutest by Cadila
This is also one of the widely available and cost friendly pregnancy kits in Indian market. The test is quite reliable and simple to use. Fresh midstream urine is collected in a clean urine container and with the aid of dropper few drops of urine are added to the card window. After 2 to 3 minutes, check for the appearance of one or two lines. As we now one line is indicative of no pregnancy and two lines show pregnancy.
The test costs around Rs 40 and is a reliable one from the one of the largest privately held pharmaceutical companies in India. It is also the cheapest
Velocit Eazy
It contains one pregnancy device, one desiccant for absorbing any moisture and user information leaflet.

The pregnancy device has a thumb grip for holding the device firmly and an absorbent grip which is covered with a cap
This is held in urine stream
The cap covers the absorbent tip and is removed just before doing the test
The advantage of this easy test is that it does not involve any messy urine collection
The result windows are on the device
There is a rectangular window and an oval window
The rectangular test window reveals pregnancy and the oval control window confirms whether the device is functioning properly
Avoid urinating on the control and test window as then the device will not work properly
The cost of the test is usually Rs.80 to Rs.90
These diagnostic pregnancy tests enable you to detect test at a very early stage with no hassle and not much medical intervention.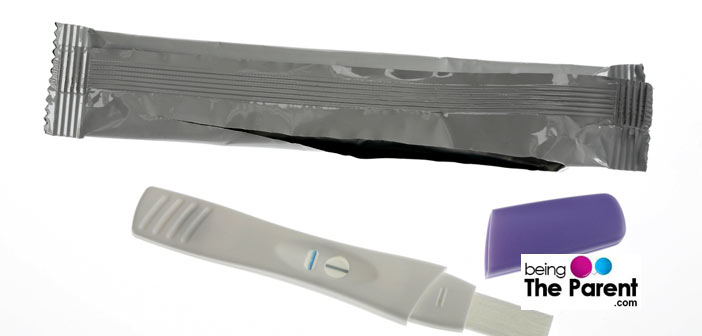 How Do Pregnancy Test Kits Work?
Motherhood is many women's dream and they anticipate the moment with much enthusiasm. Missed periods, after unprotected sex, would make you want to know whether or not you have conceived. However, you do not want to tell the world that you missed your periods this time, but what you need is a confirmation that would just as well tell you whether there is a baby coming up inside or you are just being too eager. At such times, home pregnancy test kits come across as very useful. The human chorionic gonadotrophins (hCG) hormone found in a pregnant woman's urine helps in detection of pregnancy. As soon as the fertilized egg is implanted in womb, the hCG is produced by cells that form the placenta of the baby in due course. hCG can be found in maternal urine from approximately 6 to 14 days post fertilization, and it doubles every 2-3 days in the first few weeks of pregnancy. The hCG levels are at their maximum in weeks 8 to 11, and drop lower in weeks 12 and 16 during your pregnancy, in a normal pregnancy.
The urine pregnancy test is mostly positive on the first day of your missed period but sometimes the test is negative as the hCG hormone has not reached sufficient levels for it to be detected by the pregnancy kit. In such a situation, wait for few days and repeat the test. Ideally, waiting about a week after the date your period is due could assure that your test is accurate and you may not need to take it again.
Click here to read more about Home Pregnancy Test Kits.
How To Use A Pregnancy Test Kit?
All home pregnancy test kits come in easy-to-use kits, but you must follow the instructions carefully. Urine home pregnancy tests require a urine sample which you can get by simply holding the stick in the urine stream when you are peeing. You need to ensure that your urine touches the stick directly. You can also opt for collecting your urine in a cup and then place the home pregnancy stick in it. Else, pee in a cup, and using dropper, put the urine on the stick. The home pregnancy test kits work best when done in the morning, and you are peeing the first time for the day. Urine at this stage is more concentrated and likely to show accurate results. Do not use a cup or a container that has been washed with detergents. This could interfere with the results. You will need to wait for 1-3 minutes to get the results, though. You can read more about taking home pregnancy tests here. Easy to use, convenient, accurate and inexpensive – some simple benefits of home pregnancy test kits have made them a popular choice among the women folk worldwide.
How Soon Should I Use A Pregnancy Test Kit To Detect A Pregnancy?
If you are anticipating a pregnancy, you are likely to be eager to test yourself as soon as your period date goes without as much as a cramp. It is considered ideal to use a pregnancy test kit on the first day of your missed period, but since at times the hCG levels could be lower to be detected, you might not see two lines forming on the test strip. For this, you can again take the test after a few days, say about a week later. Remember, that in early pregnancy, hCG levels are at their highest in the wee hours, hence it is best to take the pregnancy test in the morning, with the first pee.
Do Pregnancy Test Kits Give Accurate Results?
Most pregnancy test kits claim 99% efficacy, though some are not as sensitive to hCG as others. Most women would do anything to get the most sensitive pregnancy test kit and know whether they are pregnant or not at the earliest possible. If the level of hcG in the urine is anything above 5mIU/mL, pregnancy is likely to have taken place. However, most home pregnancy test kits detect hCG levels at 20 to 25 MIU/ml. hCG levels double in about 48 to 72 hours, and hence the accuracy of home pregnancy test kits may be questionable on the first day of the missed period. The lower the number on the home pregnancy test kit, the greater the sensitivity to hCG and hence more accurate the results. However, ensure that the pregnancy test had not expired before you use it to detect pregnancy.
I See A Faint Line On My Pregnancy Test Kit, Am I Pregnant?
It is normal to see a faint second line in a home pregnancy test strip if you are early into your pregnancy and the hCG levels are quite low. Similarly, you might see a darker line if your pregnancy has progressed. The best thing to do in such a case is to take a HPT again in a few days.
What If There Are No Lines Visible At All On The Pregnancy Test?
If there are no lines that appear on the pregnancy test strip, which is quite a rarity, simply disregard the test as it can either be defective or you might not have peed enough on the strip. This can happen if the strip was not held properly in the urine stream. This is why it is strongly recommended to follow the instructions on the pregnancy test kit.
Is It True That It's Best To Do A Pregnancy Test In The Morning?
It is considered best to do a home pregnancy test early in the morning, preferably with the first pee of the day. This is so because the urine is much more concentrated after the night than it is during the day, when you have eaten and consumed other liquids. Since all pregnancy tests work on detecting the level of hCG in the urine, and in early pregnancy the levels are not so high, testing early in the morning can give you much accurate results than night or other times of the day. The levels of hCG may just not be enough to be detected as the day wears off, if you are testing early. As your pregnancy progresses, a pregnancy test kit will be able to detect the presence of hCG easily. It is commonly believed that the first urine of the day is the best to take the pregnancy test with, but if you wait a few days after your period is due, you are likely to get an accurate result any time of the day.
Can I Make A Pregnancy Test Kit At Home?
If you are expecting a pregnancy, anxiety and excitement will rule your mind, making you eager to test before time. In case you do not wish to spend money on a pregnancy test kit, you can easily make your own homemade pregnancy test to determine your pregnancy. Unlike the expensive medical ways to ascertain a pregnancy by detecting the level of hCG in the urine, DIY pregnancy tests work at no cost. Not only the results are instant and quite accurate, DIY pregnancy tests can be simply made using ingredients easily available at home.
What Is A 'False Positive Pregnancy Test'?
As we have said before, most home pregnancy test carry an accuracy estimation of 99%. However, you would have known of pregnancies wherein the test came out positive when a woman is not pregnant. It is very important to read and follow the directions on the home pregnancy test kit, as improper testing can give you false results. Second important factor is to read and interpret the home pregnancy test in the designated time as indicated on the pack. If it says wait for 3 minutes, wait and don't rush. Sometimes, women tend to dig in the kit even from the bins to go through the results again – and misinterpreting the same. Medications such as phenothiazine can also alter and present incorrect results when it comes to using home pregnancy test kits, and women who are undergoing hCG therapy or other fertility treatments may also face the problem of getting inaccurate results from the home pregnancy test. Sometimes, miscarriages happen too early, soon after the fertilized egg attaches itself to the uterine wall. Another common reason of getting incorrect results is using expired or defective home pregnancy tests. Always ensure that you check the make, date, and the packaging of the kit you purchase. There can be an occasional defective piece that runs someone's way, even after tough quality control checks.
What Is A 'False Negative Pregnancy Test'?
Much common that false positive test, false negative pregnancy is generally what many women face. This can happen because:
You took the test too early and the levels of hCG were still low to be detected in the urine
You did not wait for the time that the test needed to work for, arrived on the result too quickly
You took the test in late evening when your urine is diluted. For this reason, it is advised to take a HPT the first thing in the morning as the urine is concentrated
In case you are unsure of your results, and you need to know right-away, it is best to consult your doctor and clear your doubts.
What Should I Do If I Am Pregnant?
Congratulations! The euphoria and excitement on getting to know that you are pregnant cannot be explained in words. But after the initial excitement is gone, anxiety may set in as to what should be done next. The most important and basic thing to do is to choose a gynecologist and schedule the first prenatal visit. Because you would be seeing your doctor a lot in the coming month, finding a good match is a must. Enthralled as you are, you also need to decide when should you go about announcing your pregnancy. Because the risk of miscarriage is the highest in the first trimester, some women wait until it is over to break the news, while others just cannot contain it anymore. If your husband does not know about the pregnancy yet, you can break the news to him in some creative ways, surprising him in the most lovely way. Another thing to check out is your finances, because as we all know, babies can be pretty expensive. Getting to a healthy lifestyle, paying attention to your health, learning about the things and foods that should be avoided during pregnancy, and keeping yourself stress free are some other steps that lead to a healthy pregnancy and ultimately a healthy baby.