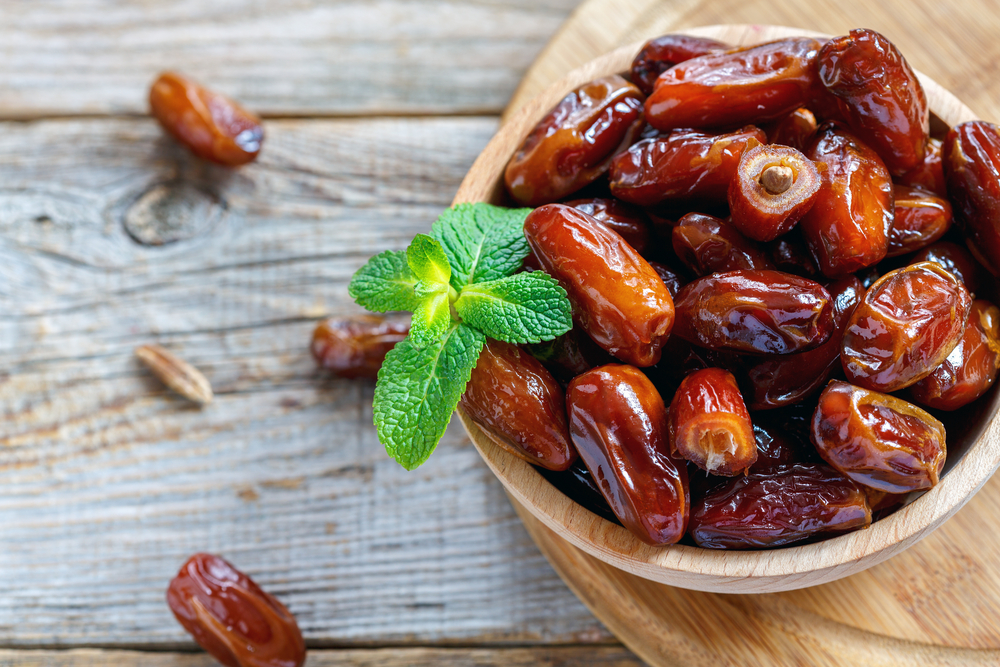 All parents are concerned about the nutritive value which the child gets from the consumption of fruits and vegetables. One more very important ingredient that should go into the nutritive list for the baby is including dry fruits as they help in the inclusive growth and the development. Dry fruits are densely loaded with benefits, but care should be taken to offer them in moderation as overeating can lead to problems. It is highly advisable to consult a doctor before starting them. Dry fruits are a powerhouse of proteins as well as minerals. There are a plethora of choices like almonds, raisins, walnuts, pistachios, peanuts, cashew nuts, and dates.
We will be studying the importance of dates, the time to offer them, the quantity to be offered to babies, the method, benefits and few recipes undermentioned.
Importance Of Dates For Baby's Growth
Are Dates Good For Babies?
When To Introduce Dates In Baby's Diet?
How Many Dates Can You Give Babies Per Day?
How To Give Dates To Babies?
Benefits Of Dates For Babies
Precautions To Be Taken When Giving Dates To Your Baby
Date Recipes For Babies
Importance Of Dates For Baby's Growth
Dates are enriched with fiber as well as sugar. The presence of fructose and dextrose in the ripened dates, yields to instant energy. The nutrients help in balancing the diet of a small baby and even enhance the nutritive value which the baby gets from the mother's milk.
The nutritive value of dates can be seen as per the table below:
| | |
| --- | --- |
| Folate | 1.5Ug (micrograms) |
| Niacin | 1.6 mg |
| Pantothenic Acid | 0.8 mg |
| Pyridoxine | 0.24 mg |
| Riboflavin | 0.06 mg |
| Thiamine | 0.05 mg |
| Vitamin A | 149 IU |
| Vitamin K | 2.70 Ug |
| Iron | 0.90 mg |
| Magnesium | 54 mg |
| Phosphorus | 62 mg |
| Zinc | 0.44 mg |
| Beta Carotene | 89 Ug |
| Lutein Zeaxanthin | 23 Ug |
| | |
| | |
Are Dates Good For Babies?
Dates are considered very good for a healthy heart and they have a good nutritive value as well, which is why it is important to include them in a baby's diet. The nutritive value in them aids with the growth of the baby. They even add extra nutritive value which milk alone cannot provide.
When To Introduce Dates In Baby's Diet?
Offering the right amount of nutritive value and creating a balance in the baby's diet is also very significant for the complete growth and the development of the baby. Dates should be supplemented with the foods as the baby grows older, so that it takes care of his nutritive needs.
Dates can be offered to babies at the age of six months or more, the time when they are ready to eat solid or semi-solid food, but not initially, one needs to offer in small quantity to check its reaction on the baby. Should always be given with other fruits slowly and steadily.
How Many Dates Can You Give Babies Per Day?
One should begin with one date besides other dry fruits so that the baby can relate to the taste of it. The same can be offered in a mashed or steamed form. Start with one date a day and gradually increase to 2-3 per day.
How To Give Dates To Babies?
Babies should be given steamed dates so that the baby can chew them easily as they become soft and tender. Ensure that the seed is removed. Dates can be mashed as well as pureed with for smooth consumption. Never offer boil dates ad it washes away all the nutritive value present in them. Raw dates should only be offered to babies when they are able to chew.
Benefits Of Dates For Babies
Dates are nutrient dense and even enriched with an abundance of vitamins as well as minerals that are crucial for the growth and development of the baby. Some health benefits one gets from the consumption of dates are given as under:
Stronger Bone development: Since it has a good calcium as well as magnesium value, it is ideal for the bone development.
Accentuates the brain development: Dates have a good amount of potassium which helps with the cognitive development of a baby.
Prevention from indigestion: Dates are known to reduce the bad bacteria and help in producing good bacteria for the intestines and so it helps with indigestion issues.
Protects the liver: Babies are prone to have harmful effects on the liver due to an infection that arises due to the bacteria and viruses. Due to consumption of dates, there are fewer chances of jaundice, typhoid etc. as they protect the liver.
The cure for gastric ulcers: Some Babies have acute issues of ulcers and acidity. Intake of dates also lessens these issues and dates can even be added to any medical treatment given by the doctor for the same. However, always prudent to consult a doctor beforehand.
Helps with Stronger teeth: Dates assist with dental growth, making the gums and teeth stronger. Ideal for teething babies.
Facilitate weight gain: If your baby needs to gain an ideal weight, feeding him or her dates will solve the issue. Dates are which are rich in calories. One glass of yummy date milk shake is a perfect solution to gain weight.
Offers nourishment during fevers and smallpox: Dates are known to speed up the recovery process if the baby is suffering from fever or smallpox. It can be added to milk too.
The Solution for dysentery: Due to bacterial infection, it is common for the babies to develop dysentery and this can be regulated by offering the pulp of sweet dates
Helps with constipation: Since it has a good amount of fibre, it makes the stool bulky and aids in the absorption of water, also helping with the bowel movement.
Helps to sooth down the fever: It is common for babies to catch a fever. Intake of dates helps in reducing some uneasiness that arises due to rising of the body temperature. Consuming dates help with the speedy recovery from fever and provides extra nourishment as well.
Increases haemoglobin levels in blood: Dates are recommended for all who need to increase their iron intake and have issues with haemoglobin. For babies, it helps the same way. Along with that, it even stimulates healthy hair growth and offers nourishment to the skin.
Precautions To Be Taken When Giving Dates To Your Baby
In spite of its benefits, there are several factors taken into consideration before giving dates to your baby.
Your baby has a delicate digestive system. Never introduce a new food (alone) all of a sudden to your baby. To start with, mix it thoroughly with the usually given food or give a small portion.  If your baby likes it taste and show no signs of allergies, you can eventually increase the quantity.
Dates have hard textured skin. Your baby will not be able to chew it. Therefore, start with steamed and mashed dates.
Never feed unripe dates as it can bring about stomach upset
For older babies, always chop dates into the size of a raisin before giving it. This will to avoid any choking risk.
As the dates tend to glue to the teeth of the baby and pave the way for tooth decay, give your baby some water soon after eating the dates.
Date Recipes For Babies
Dates are densely loaded with nutrients and should be offered to the baby in the safest way. There are two recipes which are listed as under that helps the child with the consumption of dates in a smooth manner.
1. Date Puree
Dates can be offered in a pureed form as under:
Dates should be soaked overnight in a bowl of water.
Water should be kept aside after removing them.
The dates should be pureed in a mixer or a blender.
Now add the leftover water to make a thin paste.
2. Date Juice
Add dates to a small bowl of warm water for about 30 minutes.
Remove the dates and discard the water.
Add the dates to a high-speed blender with fresh and filtered water with lemon juice.
Blend till smooth and add water as per the desired consistency.
Thus, we know that dates are enriched with a high nutritive value that assists in the overall growth and development of the baby. One should be cautious to offer in small quantities and start the process gradually so that the baby develops a taste and has no choking hazard issues.