Single Parenting is a term often heard now days. Unlike decades back, when even the thought of raising a child alone would make one feel disconsolate and forlorn, today it is looked up as an act and decision of boldness, inner and emotional strength resulting from divorce, being widowed, being an unwed mother, abandonment, cause of opting for surrogacy or when your partner has been summoned far from you for his/her job.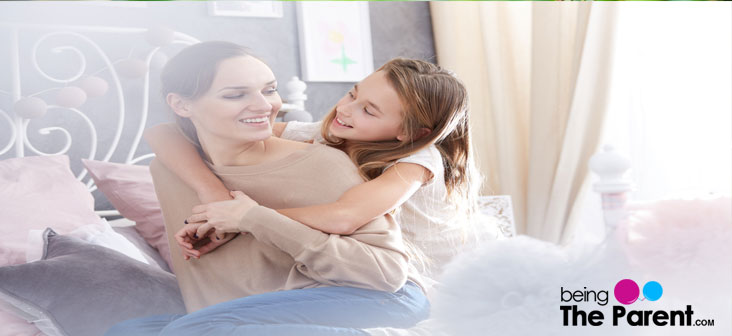 What Is Single Parenting All About?
Positive Effects Of Single Parenting
Negative Effects Of Single Parenting
What Is Single Parenting All About?
Single Parenting can be an onerous task, considering it is an act of responsibility taken up by individual that is usually performed as a shared responsibility between the partners. As a single parent, you have to endure many challenges to nurture your child. Early in the days one had the support of their parents, siblings and immediate family members to fall back on in such situations, making it easier for them to handle the daunting task of nurturing the child, but in modern days the concept of joint family seems to have taken a back seat. The entire responsibility of ensuring a sound and robust childhood falls upon one parent. Though as a Parent you may do your best to give your child what he/she deserves, but it may end up being taxing for you.
Everyone around you may have opinions on what is best for your child, but do not let that govern your views or thoughts. You actions should reflect your thoughts on what you feel is the best for your child given the circumstances. You will have to encounter many undesirable situations and put up through it as a strong individual for your child. It will only make you stronger from within and help you stand up for your child when in need.
Positive Effects Of Single Parenting
Single parenting though a tough responsibility to put up with having its share of benefits too. To suggest a few:
Strong bonding: You tend to develop a strong and unique bond with your child. Unlike the times when you had your partner with you, now you become the sole person with whom the child bonds for his/her emotional needs. Considering you play a really important role in shaping the future of your child, try to be matured and thoughtful of your actions. If you feel your child is not responding to you the way you want, try and work on it. May be a different approach will get the desired result
Strong sense of association: Children, who are brought up by single parents, have a strong sense of association with their extended family members and the community in which they live. They act as a strong support system for these kids during their initial growing years and to a great extent influence their behavior. Hence, one needs to be sure of the society the live in and their surrounding and the community they engage with
Strong sense of responsibilities: Children who are raised by single parents have a great sense of responsibility towards the house. They tend to engage themselves in daily household chores in an attempt to be a support to their parent. They take pleasure in the task they do and value their contribution towards the family. In such circumstances, you should try and appreciate his/her contribution and let them know that you value their help. Praising them for their acts will help boost their morale and encourage them to be responsible towards their actions
Sense of maturity: When the child finds his parent going extra lengths to ensure a safe and comfortable living for him, he tends to collaborate and work along with his parent to make things easier for themselves. The child learns to deal with disappointments and failures early in life. This makes him act more maturely towards unforeseen situations. They tend to be more caring and empathetic towards others. It may not be possible for you to safeguard them from all sorts of failures or disappointments, but you can definitely act as a strong support system and behave empathetically towards them and teach them to deal with the situation in a better manner
Sense of discipline: Children of single parents tend to be more disciplined in their approach towards life. Having faced the difficult situations in life and seen their parent struggle to put up with various things to ensure a comfortable life for them, makes the children more disciplined in their approach. In an attempt to be of help to their parents, they start sharing the responsibilities and tasks with their parent and try to agree on a set schedule to make things easier at home. This discipline helps them in the long run
Avoid parental conflicts: Children of single parents do not have to witness or put up with parental conflicts at home. In case of divorce, if there is a mutual agreement between the parents then conflicts are avoided between them and this ensure a secure and safe childhood for the children. When there is less stress or tension at home, the child tends to feel more secure as an individual and grows up to be a caring and free spirited individual

Negative Effects Of Single Parenting
Having said the above, there also exist a negative side to be a single parent. Being a single parent can influence the child on a wrong note, affecting his behavioral growth adversely. Few negatives are as follows:
Financial problem: Being a Single Parent, you may face financial crunch, considering you are the only earning member in the family. This may result in you not being able to give your child everything that he/she desires for. In your attempt to curb the unwanted expenses, you may have to at times give up on luxuries which otherwise could have been afforded when you had your partner to support you
Less bonding time: Being a single parent, you may be forced to work extra hours to earn that additional income that would help you meet your child's desires. However, that would be at the cost of your time with your child. You may end up spending less time with your kid cause of your hectic work schedules. This will make your child feel lonely and insecure. You will have to learn to balance out things at your end to ensure better emotional growth of your child
Child may face emotional problems: Being a single parent, you may tend to discuss your financial and work troubles with your child not realizing and considering his maturity to understand the situation and respond to you accordingly. This may affect the child's self esteem and he may start doubting his abilities. He would tend to draw comparisons with other kids and lose expectations from relationships later in his life. You would have to first consider the state mind of your child before you discuss your issues with him. Try and appreciate his work and acknowledge his good doings, this would help to improve his self esteem and make him more confident as an individual
Tendency of depression and loneliness: Children of single parents, who have faced a bitter divorce or ones who have been unable to deal with loss of one of their parent often tend to feel lonely. Some even display symptoms of depression. This is mainly because they do not have anyone to fall back on. The fight between their parents has been emotionally taxing on them and they tend to withdraw to themselves as a mechanism to secure them from being let down every other time. You have to ensure that your child does not witness your fights with your partner and also that you are available to him/her whenever he/she needs you. Sometimes they may not be vocal of their needs or thoughts so you have to learn to read their actions and behave accordingly
Tendency to act rebellious: Some children find it difficult to deal with loss of one parent and blame themselves for everything that has happened. If the single parent is not careful enough to monitor the child's behaviour, he would turn rebellious as an act to deal with the difficult situations back home. The child may start showing tantrums and resort to getting involved in wrong company for sake of feeling associated and connected to someone. The adolescents may even take to drugs at an early age if they are not guided and supported emotionally to get through the difficult phase in their life. You will have to be patient and try and understand the reasons that made your child resort to bad acts and help him understand the consequences. Being a strong emotional support for your child will help you ensure that he feels secure and confident of what he has
Academic difficulties: Children of single parent tend to face academic difficulties. One reason can be the single parent may not be educated enough to help the kid with his/her studies. The parent may lack strong financial support to fund the child's tutorial needs. Other reason for poor academic performance is that the child may suffer from stress because of which he may not be able to concentrate on his lessons and fail to do well in his academics. The parent has to ensure that the child gets the desired support to overcome his insecurities, so that he is able to concentrate on his academics. The parent may take help of support groups to ensure financial security for the kid
There are several ways to ensure that you are a successful single parent. Giving honest replies, setting up routine and establishing strong ground rules will help you deal with the situation better. Always try to keep a positive attitude and tackle situations maturely. Make most of the time you have with your child, this will ensure that a strong bond is established that will stay strong even after he/she grows into an adult.
Hope our article has been of help to you as a single parent. If you would like to share your feedback with us , please feel free to write in the comments box below.