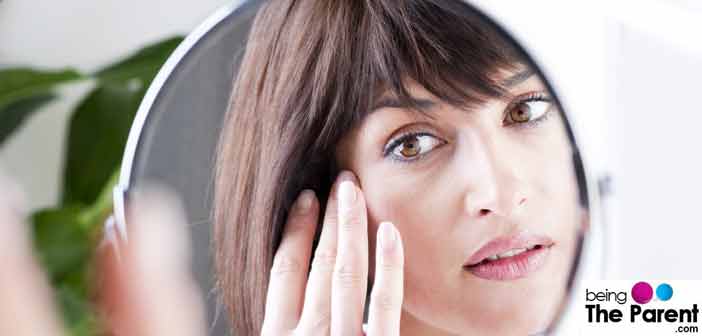 Congratulations on bringing home your baby (or babies). As you settle, take a look at you. How are you? Pregnancy is super-special, but is also very taxing on the body. Your body has changed drastically. It had been huge! The skin stretched like crazy. Your bosom became fuller. You gained pounds of extra weight from all those natural pregnancy cravings. Of course, you need to return to shape and the way you were. However, you must allow yourself some rest at first. Really, you deserve it! In fact, you need it.
Relax and Enjoy The Magic Of Motherhood
You get only a first few days after delivery as rest. Health facilities keep the newborn and the mother under supervision and maximum care for some days. They need to make sure you do not have any post-pregnancy infection.
The tiny human sure does pee, poo, burp, and sleep, and you could be wondering what is life all about! You have to feed your baby, wake up nights after nights, rock her to sleep, calm him when she cries, prepare food, change napkins, give bathe, and do a lot of laundry. Now, all these are exhausting. You soon have dark eye circles, an aching body, but you still feel wonderfully happy. Apparently, motherhood itself has amazing health benefits.
This phase allows complete relaxation for the mother. It is a strangely beautiful feeling indeed. You feel elated and proud. You feel happy, fulfilled, and relaxed like never before. You just want to sleep for some days before you hold your baby all the time.
Getting back in shape
Let's put it straight: as a mother, you are not allowed for a quick loss of weight. Do not try too hard to loose too much of weight. Do not compare yourself with celebrity moms who seem to straightaway jump from the labor room to the treadmill – understand that you do not have the kind of resources that they have at their call and beck- ranging from personal trainers, dietitians and chefs. Instead, it would help if you would:
Eat well and eat healthy
The calories are burning for sure. You wake nights, walk her perambulator, do the laundry, and rock your baby to sleep. The trick here is not to deprive your body of the essential nutrients it badly needs, but to resort to healthy choices in whatever you eat.
Occasional binge eating and parties are totally okay, but please do not make into a habit
Avoid fast foods as much as you can, if possible fully
Eat vegetables as these supply nutrition, are wholesome in satiety, and help in digestion
Include fat burners and wholesome nutritious foods in your diet
Drink a lot of water
Start exercising slowly but keep the rhythm
The easiest thing to do – get walking – the best postpartum exercise. Start a little bit of cardio when you feel fit for it. Only a few crunches and some minutes on the treadmill should do. Just keep up the habit every alternate day, if not daily.
Say NO to crash dieting
Crash dieting is actually disastrous. It depletes your body of nutrients by limiting supply. You do lose weight heavily but most of it is actually muscle mass and not fat. The worst part: your cells release toxins in your blood. You have to breastfeed your baby. Besides, after the diet is over, the urge to eat is too strong to refuse. You again gain weight rapidly.
Do not hurry
Your body gained all the extra weight in 40 weeks. That is a long time. You should at least allow six to seven months if you could follow balanced guidelines. Do not fall for those airbrushed celebrity photos where they restore six packs two months from delivery! You should not resume any kind of physical activity soon after delivery.
Dealing with stretch marks
Pregnancy stretch marks are common issues. Infact, some mothers say that they remind them of the miracle their bodies are capable of. Yes, some women may not like them, and would want them to vanish. Instead of using cosmetic bleaches, try natural remedies. They may take some time, but they are effective. Stretch marks are essentially collagen deposits cementing the cracks on your skin.
These include:
Oil massage
Sugar scrub
Lemon juice massage
Egg whites
Potato juice massage
These hardened deposits take time to disappear. Many women consider them as sort of battle wounds actually! Nevertheless, good cosmetic products are also available. They eventually fade in a few years if you keep up with the care.
Dealing with hair loss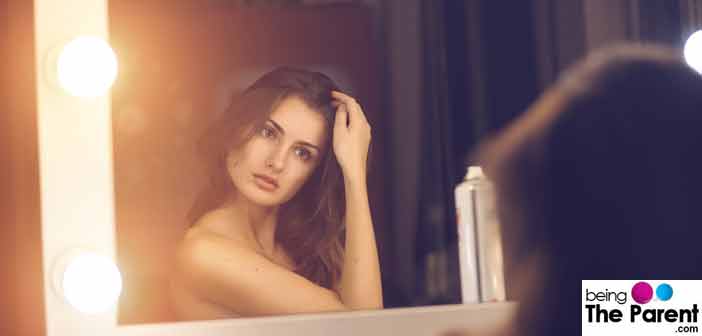 Hair fall is also a usual complaint. The hormones have played around so much and that fluctuation takes it's toll on you now. Do not fret because you always have good remedies. They work!
You can try alternative medicines such as homeopathy for dealing with hair loss.
Stay relaxed. Your hair falls less when you are not stressed.
Supply nutrition to your hair. Topical lotions may not work that well because they do not help with deep strengthening.
You can make great hair packs right in your kitchen
Water extracted by soaking tea leaves is very good for dark hair
Onion juice and aloe vera are miracle makers when it comes to caring for the hair
Use natural oils for scalp massaging. Olive oil, almond oil, castor oil, coconut oil, and amla oil are great! Applying once a week should be sufficient
A paste of Fenugreek or methi seeds is also a good remedy to restore vitality of your hair
Caring for pigmentation
Dark circle pigmentation is a common issue among (naturally tired) new moms. Called as chloasma, or melasma, pigmentation lightens itself as time passes by, and will become less obvious. You can actually find amazing natural remedies on anything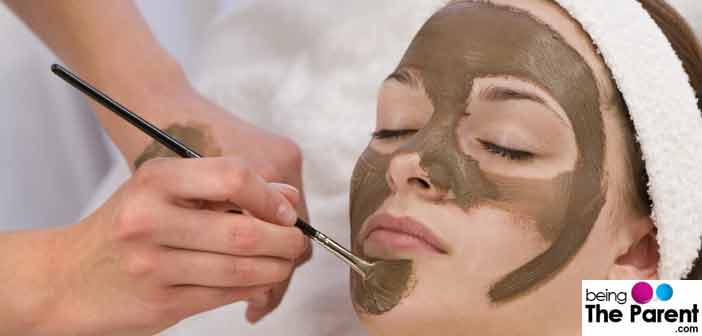 The common potato has amazing effects on any kind of pigmentation issue. Slice the potatoes and rub it on your dark circles after adding a few drops of water. It works very well. You can also leave a face pack for thirty minutes
You can follow the similar process by using cucumber slices on your eyes with a few drops of lemon juice
Papaya gratings, almond and milk are also very effective
Skin Problems
A dry and itchy skin prone to acne is yet another development which you will not appreciate at the least. Drink a lot of water and apply lots of moisture on your skin. Stay gentle with your skin, and do not use strong products. Pregnant skin is too sensitive for any harsh chemicals. Opt for milder, oatmeal-based facial scrubs which can help unplug the oily pores, and are much kinder to sensitive skin.
You are glowing
You are starting a totally new phase of your life. All these days you could not find the time to think about your shape, quite naturally. Take a look on your health, guardian! You need to be in your best health now because you cannot afford to feel tired or depressed. Your little angel is home! The new mom glow is not a myth at all!
The pride shines in your eyes and makes you happy. This happiness will actually motivate you to lose weight because you want to see yourself beautiful in the mirror as well. Of course, you are already beautiful just as you are! It is always a matter of preference whether you want to keep or shed the weight.