Having a baby transforms your life completely. Every couple, however, prepared they may find themselves facing and solving challenges of an entirely different kind. That is why it becomes very important that they discuss and decide and make sure they are 100 percent ready. I say 100 percent because when you talk about having a baby with family and friends, you get mixed responses—some warn you of the difficulties strewn all over the path, others remind you of the responsibilities and still others make you realize that parenting is perhaps the best thing that can happen to couples. And yes, each one of the above is right. But whatever may be the preparations and the warning, each child is unique and therefore the responses from your end will be unique as well.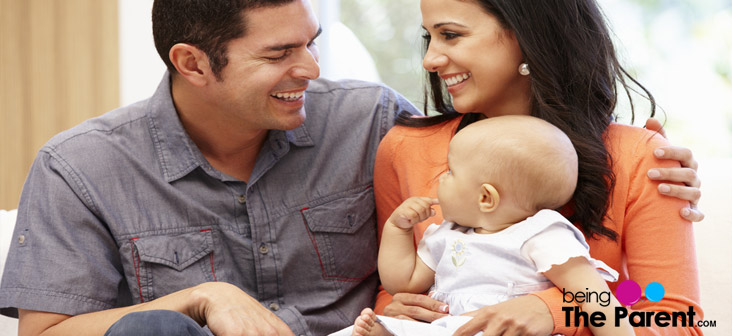 8 Ways Your Baby Strengthens Your Marriage
The question that often pops up is whether having a baby strengthens or wrecks your marital relationship. And the truth is, yes and no. As I already said, each child is unique and so are the parents. Thus depending on the situation that you are put through, your relationship with your spouse is always on a test. But then, there are ways in which you can ensure that you don't allow the arrival of the new one to wreak havoc in your peaceful life. Rather, utilize it as an opportunity to enhance and cement the relationship. How is this possible?
Let's look at some ways in which you as a spouse can (in between changing dirty diapers, fatigue, hormonal and mood swings) enrich the relationship with your partner.
Decide when to go for it: Having a baby MUST always be a mutual decision. Only if both the partners are on the same page and ready to take the plunge, the road ahead is smooth. If one of you is not ready, wait. Don't argue and force your decision on your spouse thinking that things will improve after the baby arrives; it will NOT
Keep your expectations realistic: It's true that parenting is not the same journey for all. But there are some common things that each parent experiences—alteration in a regular routine, sleep time variation, not able to socialize much are some of them. Get to know what basic changes you might have to adopt and prepare yourself mentally. It is not a smooth journey always, rather one that's filled with anxious moments intertwined with joyful ones. Be prepared to handle both
It's a team work: It's important that both the partners realize this early on. Having and tending to a baby is not the job of the mother alone. Both must help each other. You can plan your day to ensure that the tasks are evenly spread out and split between the two of you so that each gets their "me" time and is not overly exhausted. The biggest challenge that first time parents face is fatigue. While the body is getting back to normal, it is important that women get enough rest, good food and peaceful ambience to make sure that the return happens faster. It is also a good idea to hire a nanny to reduce the workload a bit
Give time to each other: It's true that first-time parents get so overwhelmed that their minds are literally obsessed with their babies. As if, nothing else really matters. This is not a good sign at all. It is equally necessary that both of you take a break as a couple and go out together for dinner or a movie. If not anything, just go out and spend time together away from the thoughts of your baby. There is nothing to feel guilty about it and believe me, this is necessary.
Most men find it difficult to handle the transition when their wives give all their attention to the baby and completely sideline them. Women, on the other hand, are so overcome by fatigue and low estrogen level that their mind is totally off intercourse. They would rather catch up on some sleep if they can manage some time off. This has to be overcome by hiring a help to take care of the baby so that parents can get some time together

A new perspective: The early months with a baby is full of firsts- both for the baby and the parents. Take out time and notice your partner in his or her new role like him changing the diapers or her nursing the baby. Admire the way each is doing the new role. There have been couples who say they have fallen in love all over again when they see their spouse taking on the nurturing role so well
Communication is the key: It's important that both the spouses communicate their newfound fears and anxieties. Don't expect the other person to be a mind reader. Having a baby and that too for the first time is a life-changing experience and it helps if you can communicate and understand the changes that each of you is undergoing. That way it becomes a lot easier to handle it as a couple
Babies are wonderful stress busters: It's true—at the end of a hard day when you come back home to a smiling baby, all your problems melt away. Moreover, babies from a very young age can pick up from the tone of the voice and facial expressions that all is not well, so you automatically learn to work out your disagreements in a calmer way when your baby is around. In fact, I have known many parents who have read books and attended workshops on constructive communication so that things get easier after the baby. Well…I'm not saying that's a solution, but when you are upset and about to blow your top, the sight of your baby makes you do away with it and respond positively
Role play: For both the parents, it is a new journey, especially if you are a first timer. Watch the transformation carefully as your husband steps into the shoes of a father. Appreciate and encourage him. At the same time, you change from being a wife to a mother—feeding, caring and dressing up your child. It's difficult for both—at least for the first few months. Walk hand in hand and enjoy this phase. Though filled with tense moments, these are the very same moments that will strengthen you as a couple
If you plan and work together, welcoming the new baby into your space can be an enjoyable phase which you deal together as a couple. As long as you can give time to yourself, your baby and to your spouse, not necessarily in that order, you will notice that this phase not just allows you to bond with your baby, but will bolster your relationship as a couple too. As long as you are a team, nothing can shake up any part of it.