Bringing the baby into this world is a life-altering experience, not only for the mother, but for the couple, in general. It brings along accountability, responsibilities, and duties that both the partners need to shoulder and fulfill together. This big decision of having a baby requires couples to think through every aspect of their lives, communicate with each other and evaluate the decision several times over. Since each couple is different, their financial, emotional, social, cultural and religious orientation and needs are different. Hence, bringing a baby into the world – truly a union of both the parents – must be a joint decision of both the partners! There are some serious things you must consider before having a baby, keep reading.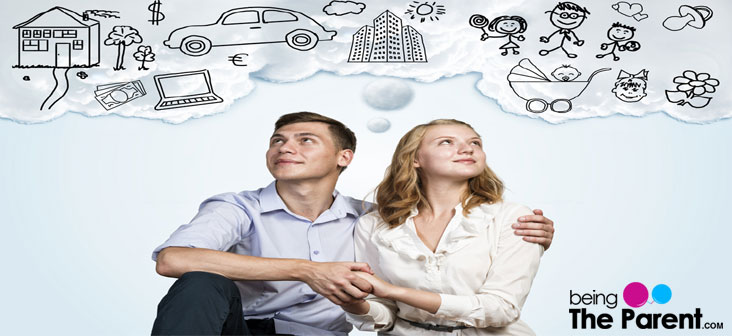 12 Serious Things To Consider Before Having A Baby
There are several things that need serious self-reflection before a couple plans to have a baby. Let us look at some of these considerations.
Reasons for having a baby: The only valid reason for having a baby is the emotional readiness of both the partners. You and your partner must understand individual motivations for planning a baby together. Commitment towards planning a baby and raising them is a critical point that you both need to consider
Relationship between the partners: If you have a loving relationship with your partner, that is marked by compassion, respect and understanding, your child will deem it as a blueprint for all their future relationships. If you wish to have a baby to iron out the creases in your relationship with your partner, be warned. Having a baby will only amplify existing relationship woes and escalate into a situation beyond repair. Also, the child will grow up in a dysfunctional family, and experience emotional and psychological instability
Communication between the partners: When partners encourage open discussions devoid of judgement and drama, their communication echoes maturity. Reflect on how you communicate with your partner before you decide to embark on the journey called parenthood
Conquering bad habits of partners: Bad habits such as excessive alcoholism, smoking and substance abuse can lead to relationship problems between the couple. You and your partner need to discuss giving up on these bad habits, if either of you does indulge in any, before you decide on planning a baby
Religion of partners: You and your partner might belong to the same religion, and yet disagree on rituals, traditions and social appearances. If you belong to different religions, faiths and sects, then the divide can only be imagined. How you want to raise the child needs to be discussed before you plan one, to cut down on hurdles during the upbringing of the child
Financial readiness of the couple: With a baby entering your world, your expenses will shoot up, and your savings will plummet. As partners, you must sit down and consider a serious discussion around your current financial status and the impact of ceasing work by one partner for a couple of months. You must also factor in the additional expenditure that you will incur once the baby arrives. If the discussion does not escalate into a fight, you could give your decision a go!
Educational and / or professional readiness of the couple: Carefully think about the goals that you have achieved. Have you fulfilled your basic goals with regards to your education, employment or career aspirations? Do you have plans to study further or make a career shift or move cities shortly? Talk to your partner about this aspect before you plan a baby
Take on lifestyle changes post baby: If you and your partner are active on the social circuit and have a flourishing circle of friends that meets every weekend, it is important to discuss the change in your social life that your baby will affect. Discuss your priorities and the lifestyle changes that come along with having a baby, before you plan one
Existence of a support system: A strong support system in the form of parents, extended family and friends that willingly pitches in to help out at times is truly a blessing. In the absence of family and friends, your means to hire and afford help for either babysitting or housekeeping is also an essential consideration before you decide the transition from being two to being a family. Also discuss if one of you want to stay at home and take care of the baby or you'll depend on baby care. Take out some time and talk with each other about the ideal work and family balance scenario and look for ways to achieve it before having a baby
Method of birthing: Your opinion on the method of birthing could be different from that of your partners. Respecting that difference of opinion, gaining adequate knowledge about all the possible birthing methods and arriving at a decision, is a good discussion to have before you plan a baby. However, this can be done during the pregnancy as well
Dividing responsibilities proportionately: Who is gonna do what? After the baby arrives, sticking to set gender roles will do you no good. Dividing your responsibilities and easing off the pressure on the mother, who bears the responsibility of nursing the baby, becomes essential. Your preparedness for the same should be a 100% before you dive into the parenthood journey.Also read:Becoming A Dad-Life Changing
Taking a break from your sex life: You need to realize that your sex life will not be the same after the baby arrives. Also, for the initial couple of months during your pregnancy and after childbirth, physical intimacy will have to take a back seat. Discuss these aspects well before you plan to enter the family club
It is up to every couple to decide on their prospects of becoming parents. The decision process can sometimes be very overwhelming. That said, having a baby in the house is a delightful experience. So if you are a happy couple who have resolved the bringing up baby battles and longing to hear the pitter patter of tiny feet then go ahead and take the plunge.