Henna has been an integral part of the Indian customs and traditions. Women and even men of certain regions of India have been applying henna or mehndi on their hands and feet for many years now. Festivals like Karva Chauth, Teej, Eid, Diwali etc. are incomplete without getting beautiful henna patterns on the hands and feet. Godh bharai is other function when pregnant women adorn themselves with beautiful mehndi designs. Some people also use henna It signifies beauty, prosperity and good fortune. When it comes to safety, it is best to refrain from chemically prepared henna as an alternative to chemical based hair colors. which may affect you and your baby in pregnancy. Read on to know more.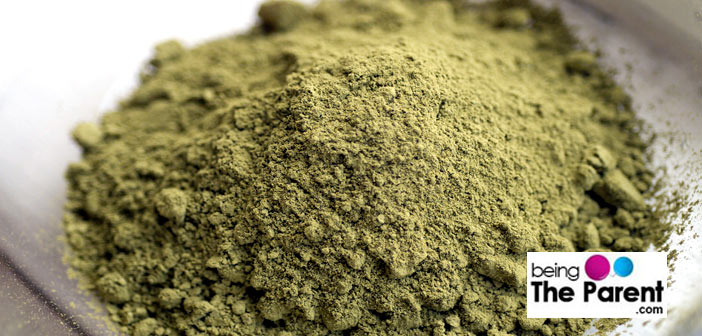 Which Henna Is Safe During Pregnancy?
Henna For Hair During Pregnancy
Using Henna As A Hair Color In Pregnancy
Applying Henna On Skin During Pregnancy
Precautions When Using Henna In Pregnancy
Which Henna Is Safe During Pregnancy?
Henna For Hair During Pregnancy
Using Henna As A Hair Color In Pregnancy
Applying Henna On Skin During Pregnancy
Precautions When Using Henna In Pregnancy
Which Henna Is Safe During Pregnancy?
Of late, there are various varieties of henna and henna tattoos available in the market. Some of these packaged henna brands contain chemicals that give you dark color, hence when you are pregnant, it is best you avoid packaged henna and opt for natural home-made henna paste. Natural henna, derived from the plant itself and free from any chemicals is considered harmless in pregnancy. Black henna is also gaining a lot of popularity recently but it can be very harmful to you and the baby. Black henna contains a dye called para-phenylenediamine, also known as PPD. It can cause severe allergic reactions along with blisters, sores, permanent scarring and you may even develop extra sensitivity towards sunlight.
Henna For Hair During Pregnancy
Dyes and chemical based hair colors can prove to be allergic and may as well cause damage, especially when you are pregnant. Though research is yet to find a significant link between hair colors and pregnancy, most women are advised to skip the chemical bases dyes at least during the first trimester. The dyes can be absorbed by the scalp and they could pass through the placenta and you're your baby. The best solution for this is to use henna instead, but only natural. Henna is natural herb and gives ample color to your hair. It will keep your scalp cool and healthy and color the hair without damaging it. The color will not strip off the natural oils but will nourish it from within. The only drawback of using henna as a hair color is that you don't have plenty of options to pick your favorite color. Also, you need to keep it in your hair for a good 3-4 hours for the color to transfer.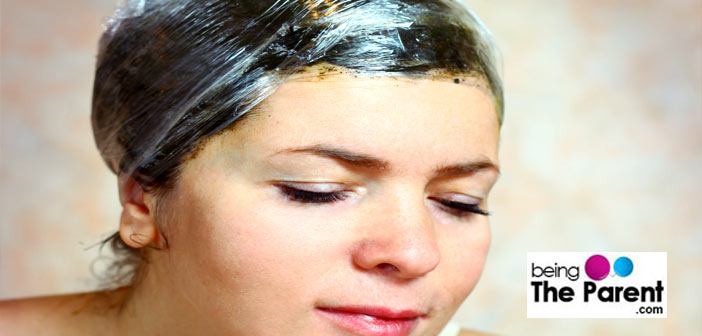 Using Henna As A Hair Color In Pregnancy
Henna is a natural organic conditioner. It could be applied as it is if you want, but when combined with other ingredients it gives your hair extra nourishment and even rid your hair of dandruff. You could add eggs to the henna paste before applying. If you are allergic to eggs you could avoid it. You can even add coconut oil, tea or coffee, which will give your hair extra shine. You could also add shikakai, a few drops of aloe vera or even amla as well. If you want a deep red color you could even put in some beetroot. Since all these are natural products none of them will cause any harm to your baby. Just make sure you don't go over board and add a lot of products. Inclusion of 2-3 ingredients is more than enough.
Applying Henna On Skin During Pregnancy
Applying mehendi to grace a special occasion is a common tradition in many households. It is believed that henna brings good fortune and happiness. In some customs, women apply henna patterns on their belly as well to celebrate being pregnant. Pure natural henna in no way affects or harms the baby. In fact it has many beneficial properties. It extracts the excess heat from your body and cools your system and even keeps you safe from various skin diseases and fungal infections. It heals cracked cuticles and even conditions the nails.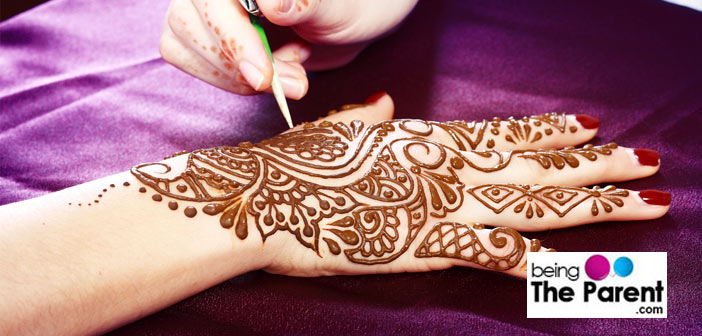 Just like for the hair, henna could be applied as it is, on the hands as well. If you want your henna to develop a darker color and stay put for longer you could add clove oil and or even tea water. You can also add lemon juice and essential oils like lavender oil, tea tree oil to give extra nourishment to your skin. If you are thinking of preserving your pregnancy memories by donning a Henna tattoo on your belly or any other part of your body, think of all the side effects associated with it. It is definitely not worth the risk associated with it. Henna mixed with any dye is not safe for the baby because of the presence of chemicals. There are chances of contracting Hepatitis B and HIV if the needles are not sterilized and the place is unhygienic and moreover black henna is not considered safe for the presence of chemicals.
Precautions When Using Henna In Pregnancy
Although henna doesn't pose any threat to the expecting mother or the baby, there are certain precautions you should exercise like-
Test the henna first by applying it on a small portion of the hair or skin and let it sit there for 30 minutes or so. If you don't develop any reaction then you are good to go
If you are applying henna to your hair, avoid doing the procedure yourself. Since it takes a while to apply henna and the process is too tedious
Sit in a comfortable chair during the process of henna application and also make sure the room is well ventilated and cool
Take help while washing off the henna from your hair. Make sure you do no exert yourself
While applying henna on your hands don't cover it let the henna breathe so that it keeps your body cool
If you experience nausea, joint pain, bleeding or discharge or elevated blood pressure while applying henna or soon after consult the doctor immediately
If henna didn't suit you before, chances are it won't suit you while you're pregnant as well. It is better to stay from henna if you are allergic