As your child reaches the end of the first year, you are no more a new parent. In this journey through the first year, you must have had a fair share of all the emotions possible—happiness, surprise, amazement, despair, disappointment, in fact everything. And through this roller coaster ride, you have had many experiences that make you understand and bond with your baby better. You know what your child likes and dislikes, how they sleep, what they eat and more than anything, you also must have come to realize that every pattern whether, playing, eating or sleeping change over the course of a few days.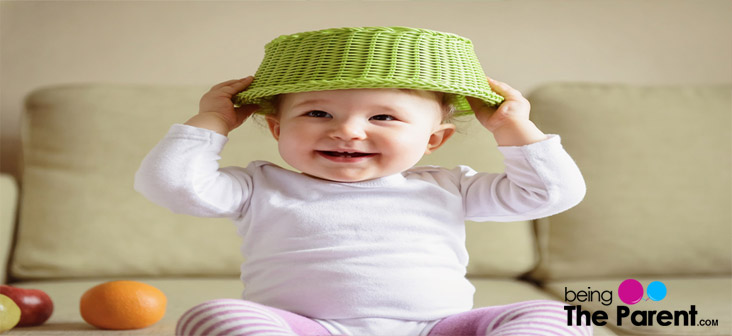 Developmental Milestones Of 12 Month Old Babies
By the end of the first year, most babies learn to walk on their own—if not perfectly, but tiny wobbly steps
They are more interested in noise and noisy activities
They are able to pick up and drop objects. Sometimes they may keep dropping it over and over again so that you keep picking it up. Children love to make us do things repeatedly
They are overcharged and love to play always. Sleep may be disturbed
They can understand simple instructions and say very few muddled words
They can scribble, stand alone, roll a ball and indicate that they want things through gestures
8 Learning And Engaging Activities For 12-Month-Old Babies
Improved mobility and faster development requires intense physical activities. You can continue the ones you played all through the year, with some modifications to suit the current needs. Let's look at how that can be done and some new games too to grab their attention and keep them engaged.
Playing with containers: As your baby reaches the first year, you will notice that the quieter activities may not interest them so much as the ones that make more noise. Now that they can hold and drop things they want to do that more often and in a variety of ways.
You can give him/her a container and ask him/her to put the blocks inside and then take them out. They like the sound that comes when the blocks bang against one another. Also, they will be able to put in little containers inside big ones. You can fill one of the kitchen shelves with plastic containers of all shapes and sizes and allow the kids to open and play while you wrap up your work in the kitchen. They love to open and close the shelves on their own, take out containers from inside, play with it and put it back<
String the beads: You might think this is complicated but you'll be surprised to see that your baby actually is able to do it and enjoy as well. All you need is a thick chord or a shoelace and some round/oval beads (not too small) or cereals which have holes in the center. You can get these beads from a crafts shop. Make sure the holes are big too. Teach your child to string them and watch as they delight themselves in doing it. It would be better if you can get beads of different colors. Make sure you monitor this or else your baby might mouth it. Otherwise, a fun game!
Bath delight: Babies continue to love playing in the bathtub and this is one place where you can get as creative as you can. You can make holes in a container and fill it with water and notice how your baby enjoys seeing water pour out from all sides. You can wrap squeaky bath toys in a flannel and hand it over to the baby and tell them it is a gift. Ask them to unwrap it and watch as they get surprised to see a new toy and squeaky at that! You can continue to do this with 2 or more toys in a day
Tape it: Paste a tape (preferably colorful), of a considerable length. Make about 5 to 6 such lines, one foot apart from each other. And the fun begins! Ask your baby to walk around it. If possible they can jump, hop, and bounce from one line to the other or into the gaps in between. They can lie down and measure themselves. They can stretch themselves from one line to the other. It is endless. You can play many games with this alone
Indoor sandbox: If you want to engage your kid for long, this one is perhaps the best activity. Take a big tub and put in edible items in it—oatmeal, cookies (broken into bite-size pieces), nuts and gems. Mix it all up. Let your baby dig through and find them all out. He/she could put some into the mouth as well. So it is a snack and play time put together. Someone had suggested we can use pre-cooked frozen food items and mix them up too. This works well for fussy eaters. Try it. You can use the items that your baby loves

Time to relax: In between tiring games or just before going to bed at night, you can stretch your baby on the bed or put them on your lap and give them a nice massage. Make sure to dim the lights and play a soft music in the background. As you massage each part of the body, remember to mention the name of that part. This will help your child relax and sleep well
Name it: Make your baby sit in the center and surround him objects that he loves—his favorite truck, a car, a book, a ball, a soft toy—anything. Pick up each object, name it, mention the color and put it back. Now as your baby reaches for any of the objects, ask him/her, "What's this?" and answer with him. Keep repeating this to make your baby know word names and colors. You could also make sound if it's a vehicle or an animal
Repeat old games: You can still continue with the rhymes, the books and looking at the albums that you've done in the past months. By now your baby is better at recognizing things and people and so it is quite easy. Keep conversing with him/her. Ask questions and watch him answer in his own way. Spend more time playing with them. That's the best way to bond
Babies learn and grow faster than we can imagine and with each passing stage, they need more games to keep themselves busy. You have to constantly keep innovating and tweaking your ideas to come with something new and different every day. That way their gross motor skills develop faster and they stay active and cheerful. It's not easy to be a parent—you have to have your thinking caps on and be on your toes forever! Enjoy and live each moment and make them memorable!