As you progress in your pregnancy, you find yourself bloating all over and losing all that lovely shape you had. You begin panicking and start looking for safe exercises that can be done in order to ensure you do not gain too much weight. You need not worry as there are quite a number of good workouts that will help you remain fit and healthy throughout your pregnancy. Some exercises also help to you to have a smooth delivery. One of the questions that may taunt you is whether squats are safe during this period? If you would like to know more about whether squatting workouts are safe for your baby, read ahead.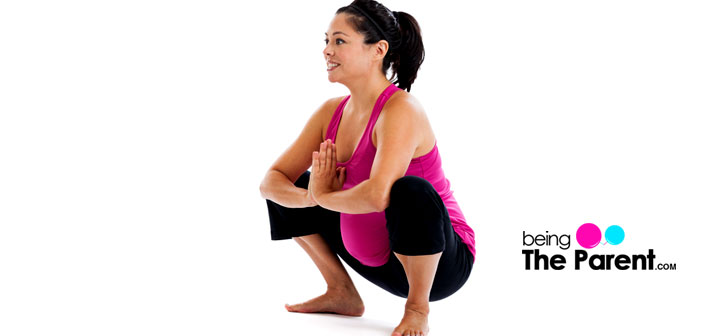 Positive Benefits Of Squatting Exercises During Pregnancy
Helps to maintain overall fitness: As days and months go by, your bump grows bigger making you feel quite uncomfortable. You also begin to experience various health issues. Squatting has been found to be quite helpful in alleviating all discomforts you experience and helps you to remain fit
Strengthens glute muscles: Squat workouts are ideal to reinforce and strengthen a woman's glute muscles too. Squats have been found to maintain your butt in ideal shape even through your pregnancy
Relieves lower back ache: Squatting exercises are ideal to stretch your back especially lower back area. This provides relief from lower back pain that one normally experiences during conception
Good to avert constipation: Constipation is one issue that troubles almost all pregnant women till the end of their pregnancy. Squats have been found to be excellent for relieving flatulence and aiding normal digestive functions
An excellent posture for giving birth: One of the most natural postures for birthing is squatting. Squatting aids to expand the birthing canal and also ensures enough oxygen for your baby while coming out. They have also been found to be an aid in relaxation of perineal muscles
Lowers pelvic floor pressure: It is a good idea to squat while at home as an alternative to sitting most of the time as it has been proven to lessen the pressure you feel in your pelvic floor. This comes in very helpful during the final stage of pregnancy when the pelvic floor pressure is at its maximum level
Squatting Exercises That Are Safe During Pregnancy
However not all squatting exercises are safe during pregnancy. Given below are some of the squatting exercises that are considered safe during conception.
Sumo squat: This is done holding our spine erect and is found to be safe during this period
Simple squat: Even simple squats are proven to be safe during this period
Wall squatting sliding downwards: This workout requires some pillows and is claimed to be safe
Quadruped Extension: This squatting exercise is yet another workout that is considered safe during conception period
Half squat and full squat using a chair: This exercise requires a chair that balances well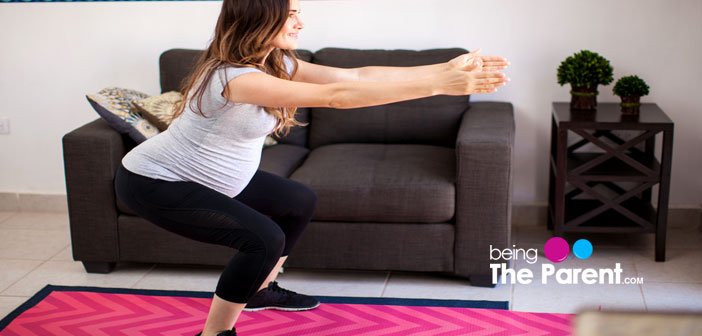 How Often You Should Squat During Pregnancy?
With your doctor's permission you can incorporate squatting exercises in your daily routine even when you are expecting. You may also want to include squatting into your day to day activities like using squatting to pick up items that have fallen on the floor, or reaching out for things on lower shelves to make it easier for you as your tummy gets bigger. The more often you squat, the more beneficial it is during birthing.
Precautions To Be Taken While Doing Squatting Exercises During Pregnancy
However you need to ensure that certain precautions are observed before you start exercising and most importantly ask your doctor's permission before you start these workout sessions.
It is perfectly fine to exercise with more intensity during your first three months. But you need to lower the intensity as you approach the fourth month and may be required to completely stop some workouts that may cause harm to your fetus
Ensure you are hydrated sufficiently before you begin these workouts and sip a little water in between sessions. And also take care to see that you drink ample fresh juices and water daily that will ensure you stay hydrated throughout the day
Ensure you wear cotton clothing that is comfortable and averts severe sweating while working out these squats
It is imperative you adorn a maternity bra of good quality as your breasts require additional support while working out. Never use bras that have under wires as it can become painful or uncomfortable while exercising
Make sure you do your workouts on dry and flat surfaces which avert any untoward risk of falling or slipping while doing these workouts
Always adorn anti-skid shoes that are comfortable and not too tight or loose
You need to make sure you follow a wholesome diet rich in nutrients and also ensure you never start these workouts when you are feeling hungry
If the doctor advises you against doing squatting exercises during this period, there may be some medical issues behind that which can induce premature labor or unwanted complications for your pregnancy
Suppose you experience any kind of pain during squatting, it is better to stop these exercises or find out from a professional what exactly is safe for your condition
Now that you have all the information that you need to know about how safe squatting is during your pregnancy, go ahead and begin these workouts to make sure you have a safe pregnancy and delivery.