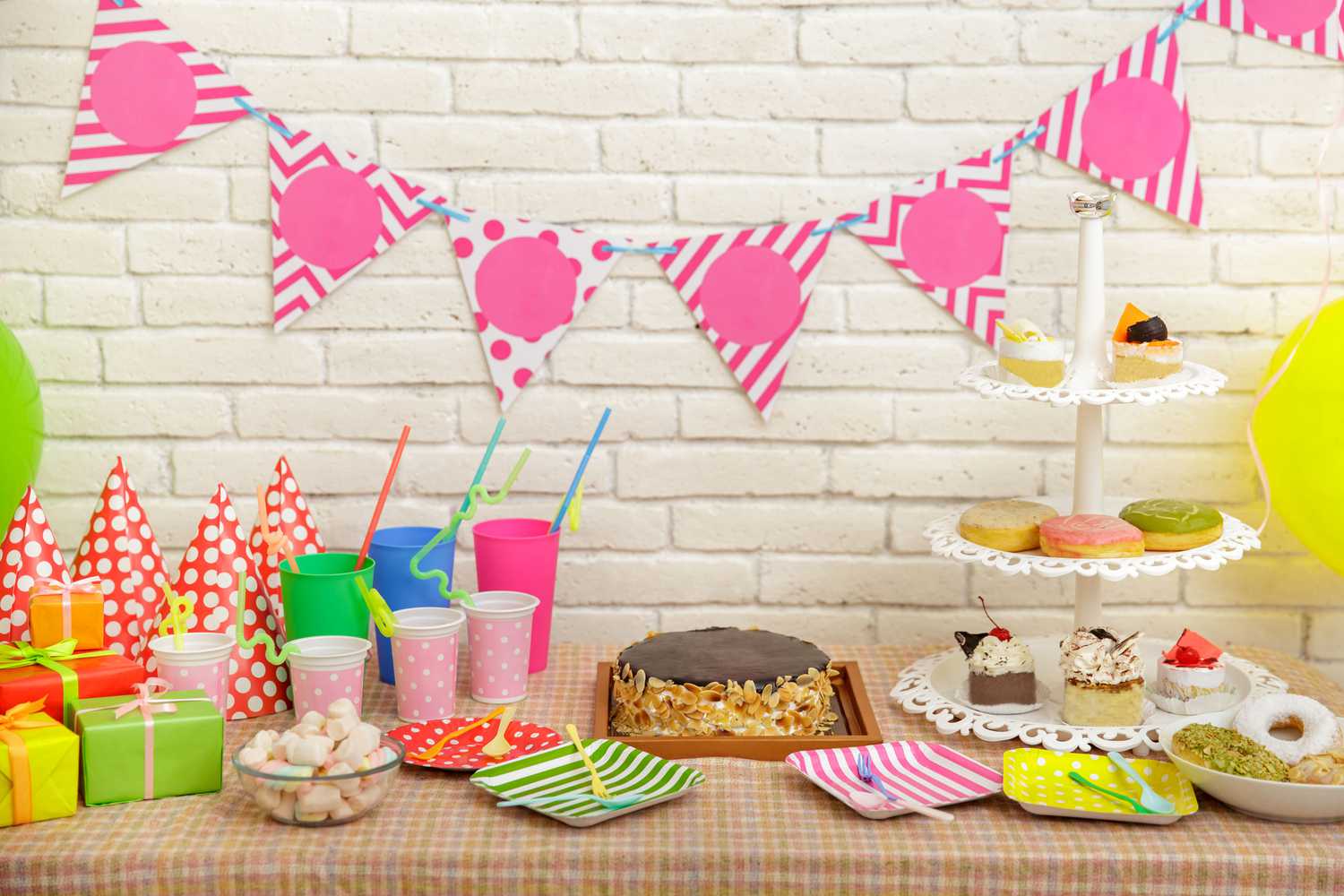 It's that time of the year again! Your darling little child is turning a year older and you want to make it as special as ever. So, are you planning to throw your child a big party with all their friends?
Have other birthday parties by fellow moms set the standards too high, increasing your stress level? No one wants to disappoint their child. It's time to plan! Let us help you a little, will you?
In This Article
Kids Need Snacks
Just a cake, big return gifts, and some entertainment will not make the cut. Kids are forever hungry and you need to feed them to keep them happy and manageable. You don't want them to get hungry and cranky, do you?
So, what do you do? Give them snacks of course! There are plenty of snack options to choose from. When it's kids, it's got to be easy, isn't it? Wrong! Snacks for a birthday party are the most complicated part of planning a kid's birthday party. Why? Because – they have to be healthy, can't be junk, must be interesting, tasty and easy to eat for kids of different age groups.
Top 10 Lip Smacking Birthday Party Snack Ideas For Kids
Snacks are smart, easy to make, and mess-free when compared to whole meals. However, they cannot be the regular boring variety or the store bought ones. They need to be creative, satiating, and interesting enough for a child to actually pick it up and put it in their mouth!
Don't worry, we got you covered. Here are 10 birthday party snack ideas for kids to make the party a grand success:
1. Mini Pizzas
These are the smaller version of the delicious pizzas kids just love. Pizzas are the all-time party favorite snacks among kids and adults alike and sure to make your party menu a hit.
Ingredients
Coin pizza/mini pizza base (You can buy them readymade from your nearest bakery to save time)
For Sauce
Tomato sauce – ½ cup
Chili sauce – 2 tbsp
Chili flakes ½ tsp
Mixed herbs – 1 tsp
For Topping
Capsicum (chopped)
Onion (chopped)
Tomato (chopped)
Sweet corn
Jalapeno (chopped)
Olives (chopped)
Cheese (grated)
Chilli flakes
Mixed herbs
How to Prepare
Sauce 
Take a medium sized mixing bowl.
Add all ingredients for the sauce to the bowl.
Mix well to ensure everything is well combined.
Sauce is ready.
Pizza
Half cook the pizza bases and set aside.
On the half-cooked base, spread ½ tbsp of the sauce prepared.
Top with all chopped vegetables as per your choice (you can get creative and create faces/shapes too).
Garnish with 2tbsp cheese.
Place on a tawa with a low flame.
Cover and cook for few minutes till cheese melts (ensure you don't burn the base).
Top with chili flakes and herbs.
Serve with a little ketchup if needed.
You can also you an oven to prepare your pizzas in mig batches. This saves on your time too.
2. Potato and Cheese Croquettes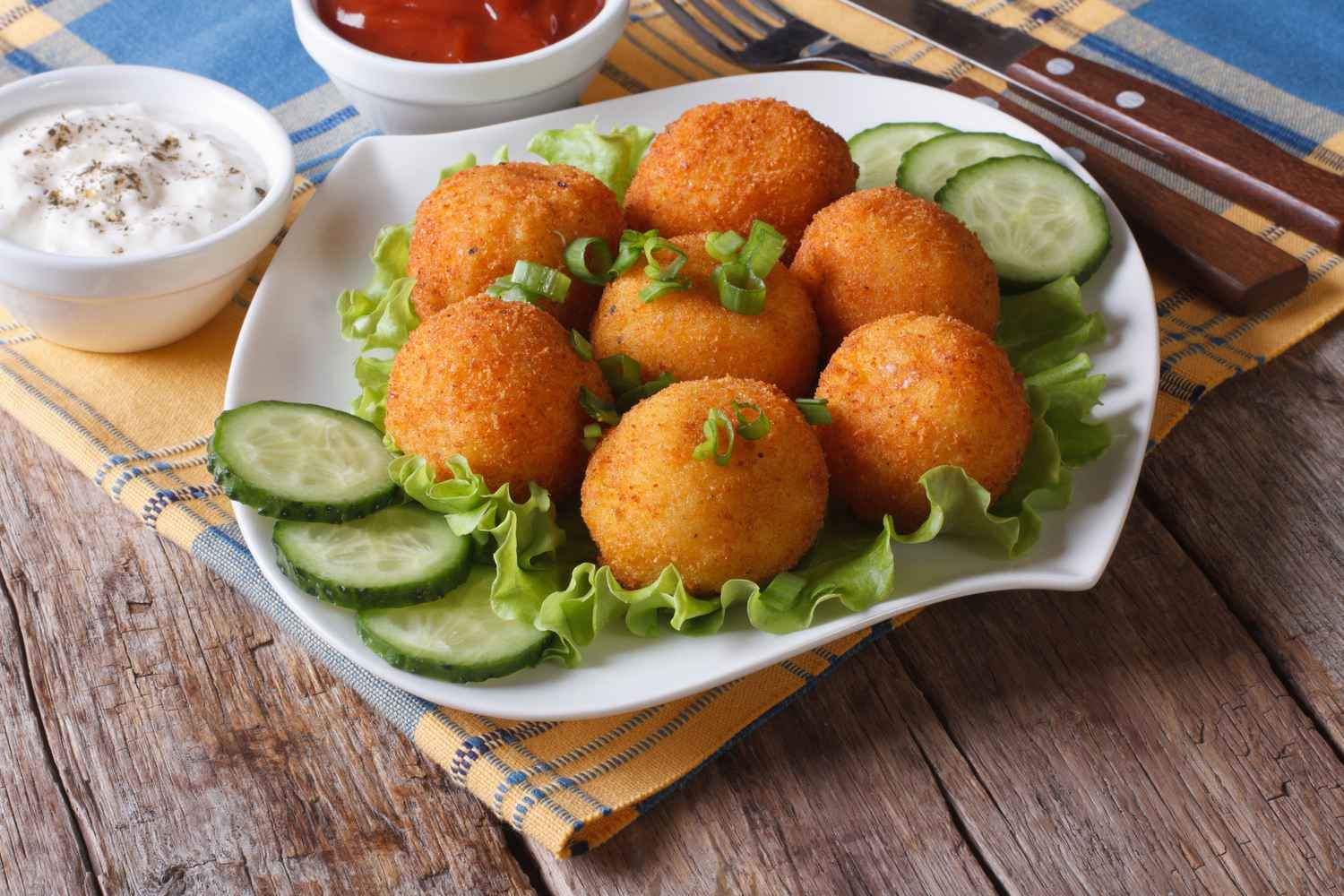 Kids are bound to love anything with potatoes in them. That is why we are sure these snacks will be a hit at your birthday party. This is one of the best kids' birthday party finger food ideas.
Ingredients
Cheese – 50 gms
Oil – as required
Egg – 1
Bread crumbs – ½ cup
Flour – 1 cup
For Mixture
Potatoes (boiled and grated) – 1 cup
Oregano – 1 pinch
Marjoram – 1 pinch
Salt – to taste
Chili flakes – 1/4 tsp/li>
Pepper powder – ½ tsp
Parsley (chopped) – 1 tsp
How to Prepare
Take a mixing bowl and all ingredients for the mixture and combine well.
Take a little mixture, form it into a ball. Make a hole with your finger in the center and stuff with cheese. Now cover the hole, roll the ball well into a dumpling.
Next, shape it into a croquette or a finger.
Take another bowl and add flour, required pepper and salt, mix well and set aside.
Whisk the egg in a bowl.
Now take the croquette, roll it in the flour mixture, dip it in the egg and roll it in bread crumbs until coated evenly, and set aside.
Heat the oil on medium flame and deep fry the croquettes till golden brown.
Drain on to a paper bowl to drain excess oil.
Serve with some ketchup and a side of cucumber or carrot sticks to add a healthy touch to the snack.
[Read : Healthy Snacks for Children Prepared at Home]
3. Taco Bar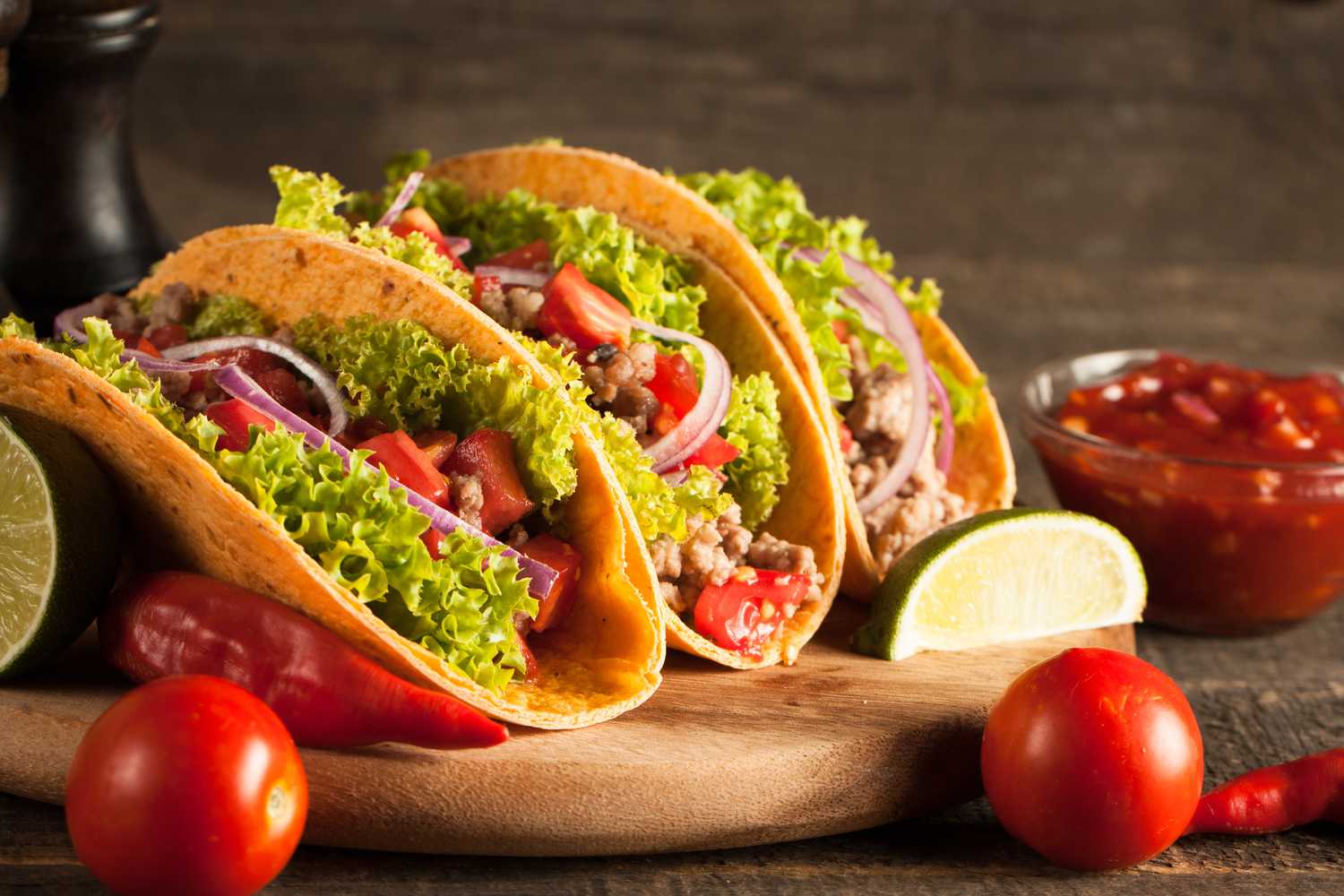 Kids love tacos and a taco bar is the perfect way to add some fun to the snacks. Here is the recipe for tacos with a side of pico de gallo.
Ingredients
Taco shells from store
White onion – 4 big
Tomatoes – 4 big (deseeded)
Jalapeno – 1
Garlic – 2 cloves peeled
Cilantro – half a bunch or lesser as kids don't like leaves
Lime
How to Prepare and Serve
Finely chop all vegetables and mix together to make salsa or pico de gallo.
Season with lime and salt and refrigerate.
Place taco shells and the salsa next to each other.
Kids can have fun with this snack since it allows them to personalize their taco. You can allow kids to scoop salsa into their taco shells with a spoon and eat immediately. In case kids are too young to do tacos on their own, you can fill the salsa into the taco and serve on the go.
4. Veggie Platters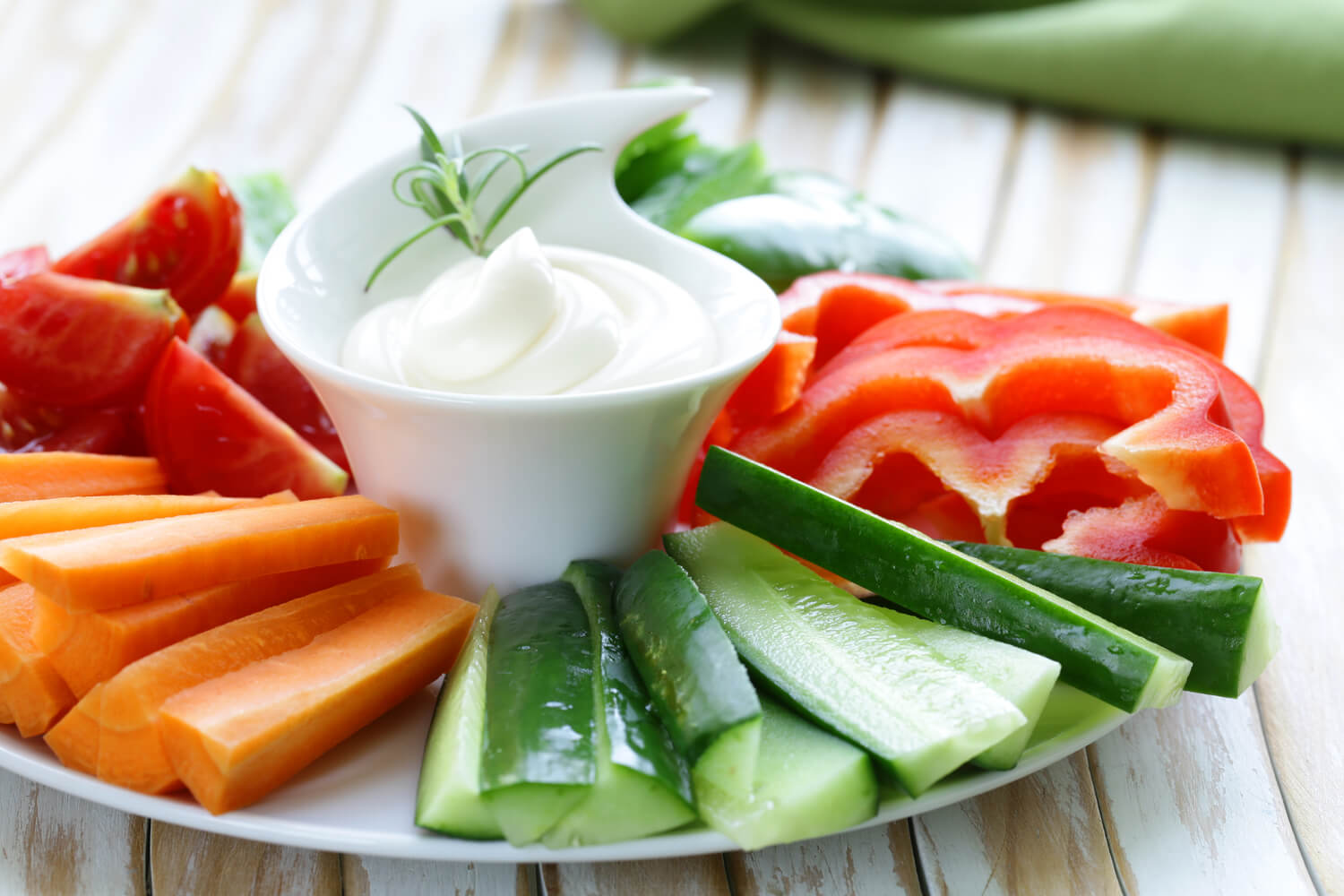 Looking for some easy homemade snacks for a birthday party? This is one of the healthiest kids' birthday party finger food ideas you can never go wrong with. Add in a dip and you have food for the adults too!
Ingredients
Cucumber
Carrots
Baby corn (blanched/roasted)
Red pepper
Yellow pepper
Cherry tomatoes
For Dill Dip
Mayonnaise – 1 cup
Sour cream – 1 cup
Dried parsley – 1tbsp
Dried dill weed – 1 1/2tbsp
Onion powder – 1/2tbsp
Salt to taste
Worcestershire Sauce – 2tsp
Lemon juice – 2tsp
Pepper to sprinkle
How to Prepare
Veggies
Peel the cucumber and carrots.
Cut all vegetables roughly the same size, in length to make easy finger foods.
Arrange the vegetables in a nice pattern with the dip in a bowl in the center.
Ensure there is an adult to serve the dip to the kids.
Dill Dip
Mix all ingredients well together and refrigerate.
Serve it fresh out of the fridge and don't let it sit out for more than 2 hours.
5. Mini Burgers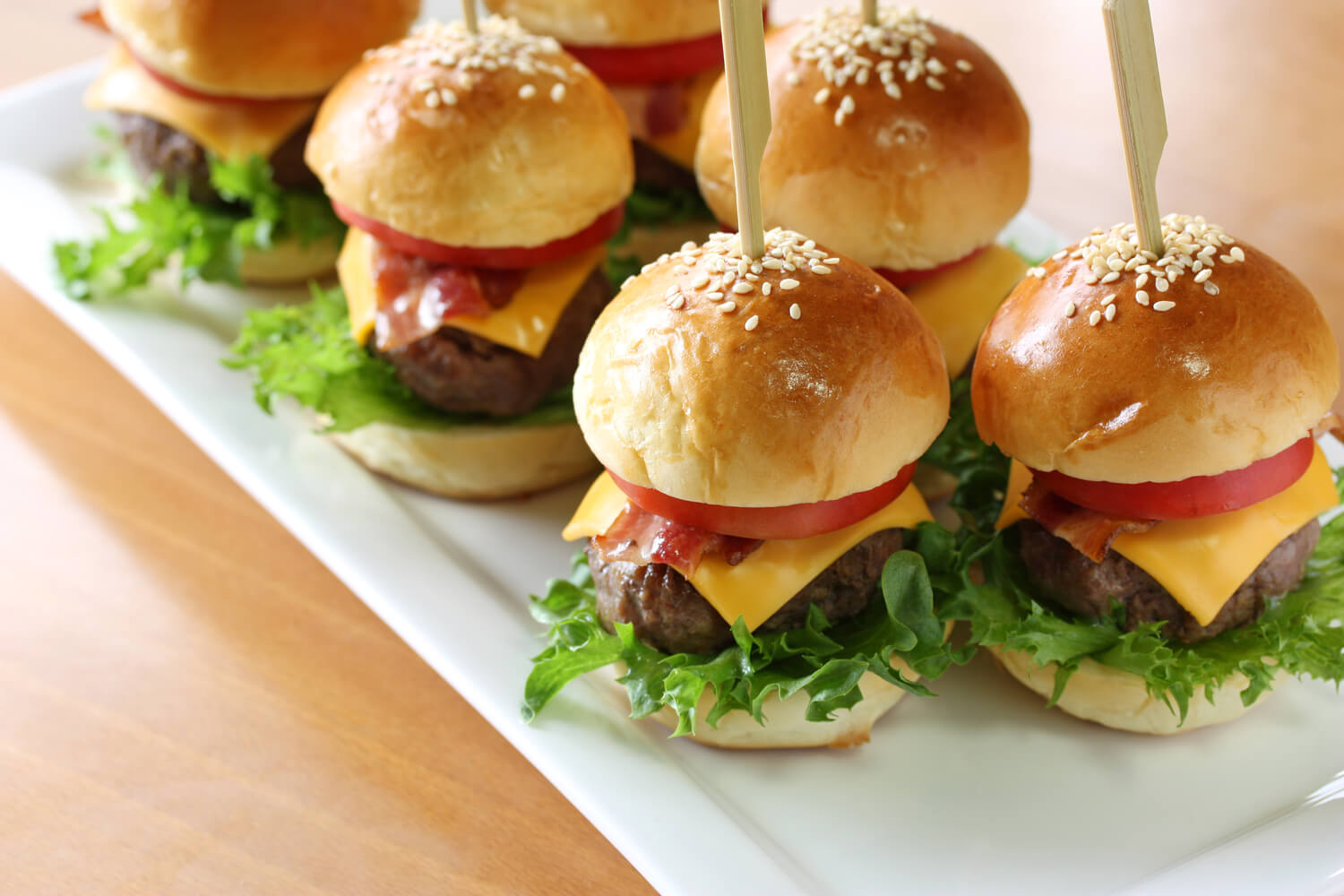 Another "mini" birthday party snack food ideas, kids will love. You can personalise this as Indian snacks for children's birthday parties by using some local spices. This is an excellent party snack idea if you plan to have adult guests as well.
Ingredients
Mini burger buns – sliced into halves
Bread crumbs – ½ cup
Flour – 1 cup
For Patty
Potatoes (boiled and mashed) – 4 big
Carrots (shredded) – 2 big
Green peas (boiled) – 1 cup
Coriander Powder – 1 tsp
Cumin powder – 1 tsp
Red chili powder – ½ tsp
Dry mango powder – 1 tsp
Salt to taste
For Slurry
Flour – 1tbsp
Corn flour – 1tbsp
Salt to taste
How to Prepare and Serve
Mix the ingredients for slurry with a little water and keep aside (it should be a liquid consistency but not too watery).
Combine all ingredients for the patty and mix well.
Make small patties with your hands, to fit the burger buns.
Dip the patty in cornstarch slurry.
Coat with bread crumbs.
Shallow fry in oil or ghee.
Lightly toast the buns with ghee.
Place the patty on half a burger bun.
Top it with a piece of cheese slice.
Cover it with the other bun.
Poke a toothpick through it to hold it all in place (it's easy for kids to take it off the plate too).
You can add some store bought burger mayonnaise to add to the taste but it is not a healthy option. If you are planning to serve the burgers to the adults, just add a thin slice of onion and tomato to either side of the patty and serve (kids will find it difficult to eat and cause a mess).
[Read : 10 Yummy Sandwich Recipes For Children]
6. Sandwiches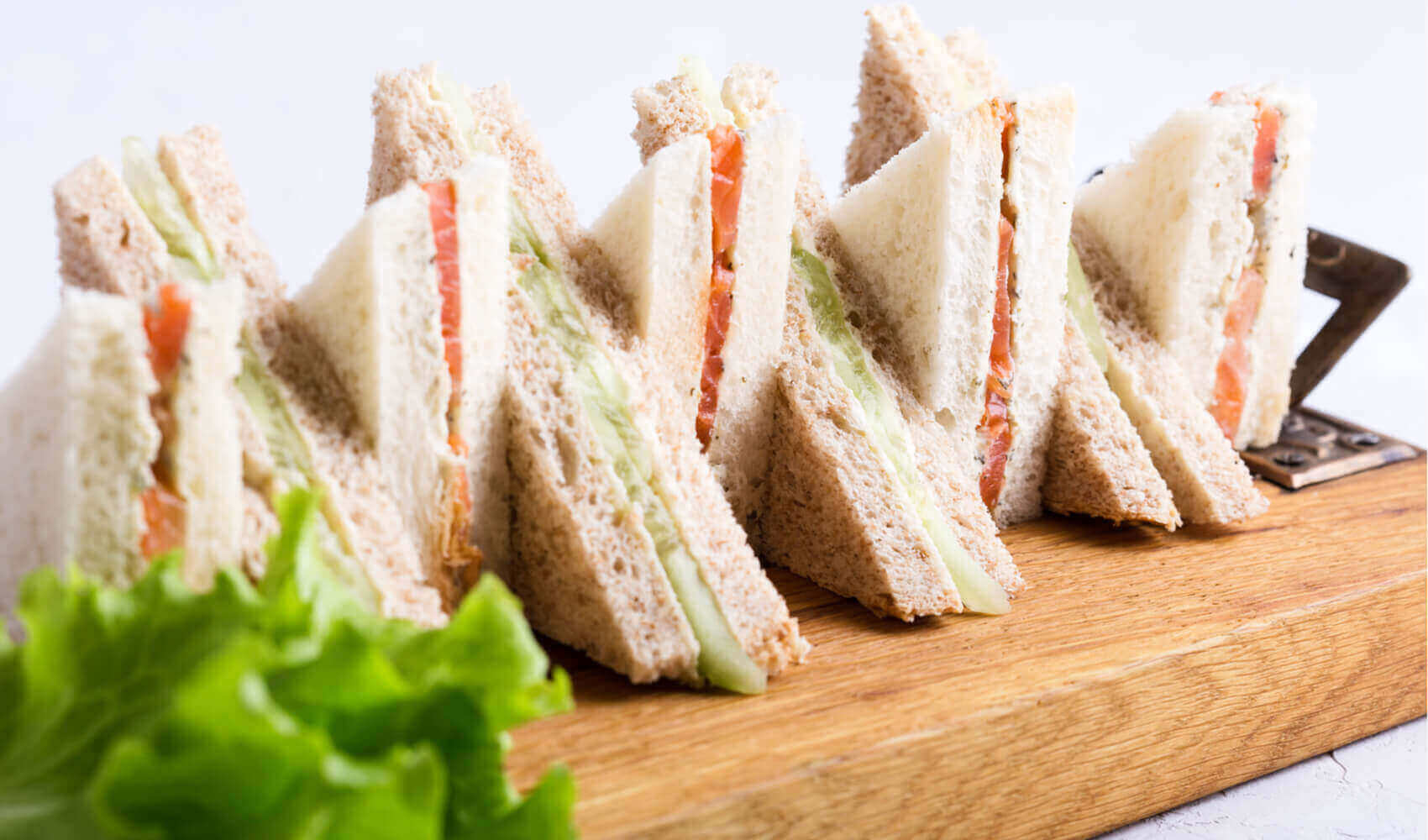 One of the birthday snacks ideas Indian households love! These are perfect for both kids and adults if you are looking for easy homemade snacks for birthday party.
Ingredients
Bread
Cucumber (sliced)
Tomato (sliced)
Salt
pepper
Butter
Mayonnaise/tomato sauce or any sauce of your choice.
How to Prepare
Spread butter on bread slices and then apply any sauce of your choice on one side of the bread.
Arrange the cucumber and tomato slices on the sauce side of the bread and season it as required.
Place another bread on top with the sauce side facing downward.
You can choose to cut off the brown crust if you wish. Now you can cut the sandwich into two triangles or four pieces to make it easy for tiny hand to hold.
7. Tortilla Chips and Dips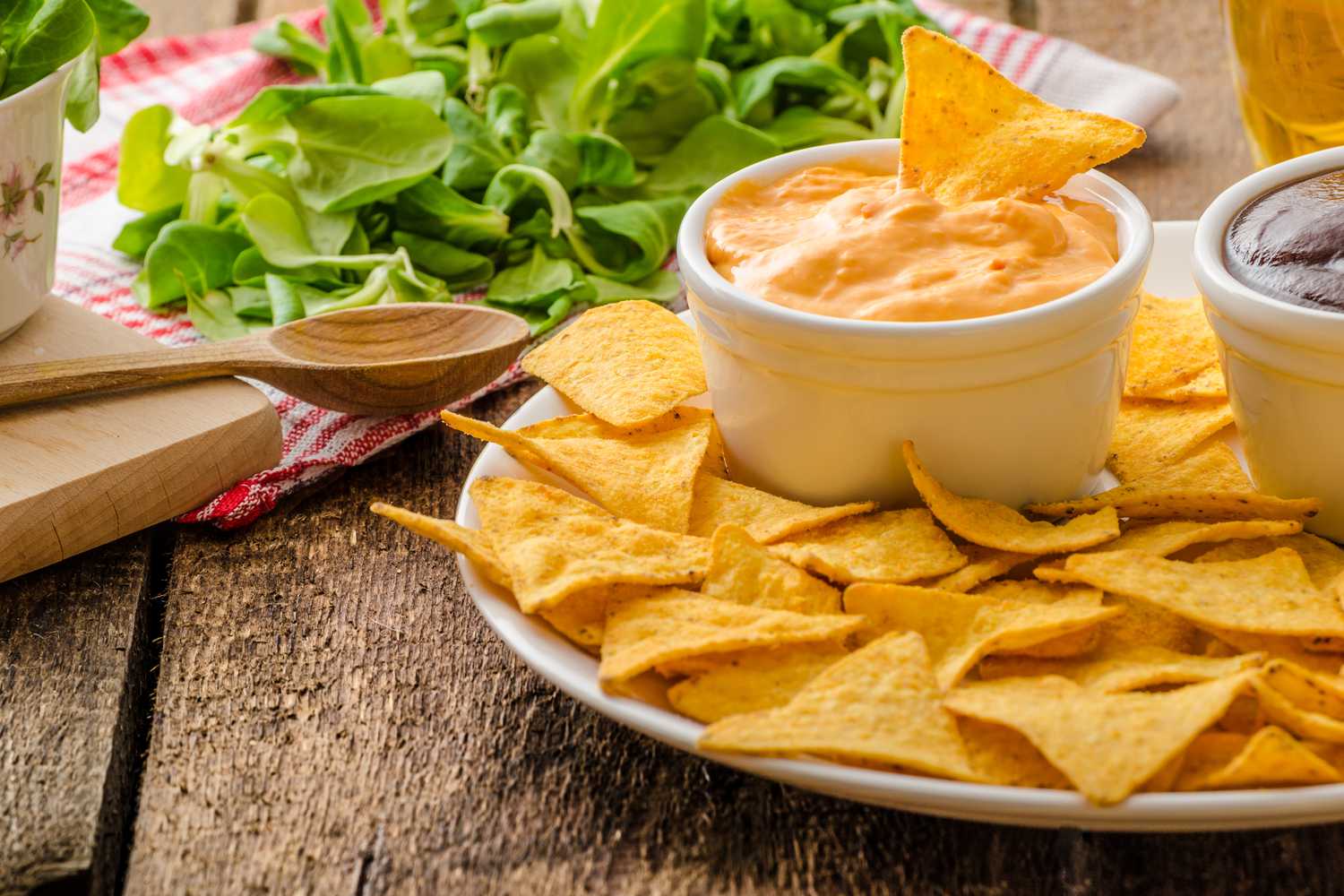 A tasty and easy to eat snacks for birthday party at home. Store bought chips go well with a homemade dip.
Ingredients
Store bought tortilla chips
For Cheesy Garlic Dip
Sour cream
Mayonnaise
Seasoning
Parmesan Cheese
Mozzarella
Sugar
How to Prepare
Dip
Mix all ingredients well in a bowl.
Add seasoning as per taste.
Consistency must be creamy.
Refrigerate for 2 hours.
To serve, you can place the tortilla chips in a big bowl and have multiple small bowls with the dip. Children can easily dip the chips in the dip and have fun eating the snack.
8. Cupcakes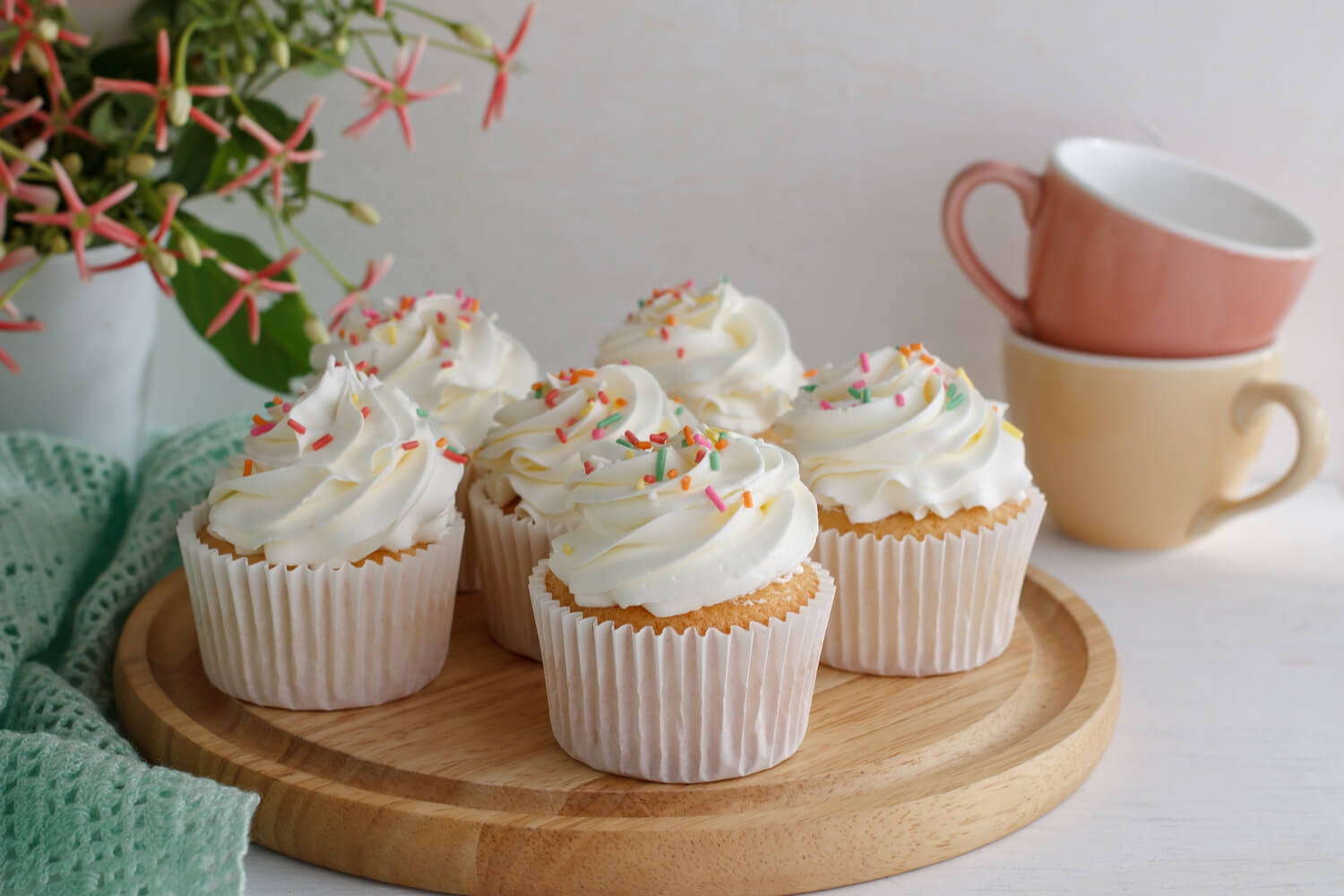 Add a little frosting to vanilla cupcakes and this can be the safest dishes for birthday party at home.
Ingredients (all at Room Temperature)
For Cupcakes
Unsalted butter – ½ Cup
Granulated white sugar – 175 gms
Eggs – 2 large
Pure vanilla extract – 1tsp
Cake flour – 1 1/2 cups
Baking powder – 1 ½ tsp
Salt – ¼ tsp
Milk – 120 ml
For Frosting
Unsalted butter – ½ Cup
Pure vanilla extract – 1tsp
Confectioners' sugar (icing or powdered sugar) – 230 gms
Milk – 2 tbsp
How to Prepare
Cupcakes
Pre-heat oven to 350 degree.
Line 36 mini muffin cups with liners.
Beat butter until smooth with a hand mixer.
Add in the sugar and vanilla extract and beat until its light and fluffy.
Scrape down the sides with a silicon spatula.
Add in eggs one at a time and beat well.
In another bowl, sift all dry ingredients together for the cupcake and split into 3 parts.
In the mixing bowl add the dry ingredients and milk part by part alternatively (beginning and ending with flour mixture).
Fill the muffin cups with 2ybsp batter (leave 1/3rd of the cup for the muffin to rise).
Bake for 10-12 minutes.
Insert a toothpick and pull it out to check if it comes out smooth.
Remove and place on wire rack to cool down.
Frosting
Beat butter until smooth with a hand mixer.
Add in the sugar and vanilla extract and beat until its light and fluffy.
Scrape down the sides with a silicon spatula.
Add some milk to get the right piping consistency.
Fill a piping bag with a decorative tip. Pipe the frosting in some pattern in the cupcakes. Add some colour sprinkles to make it more attractive to kids.
[Read : 10 Quick And Easy Cupcake Recipes For Kids]
9. Fruit Salads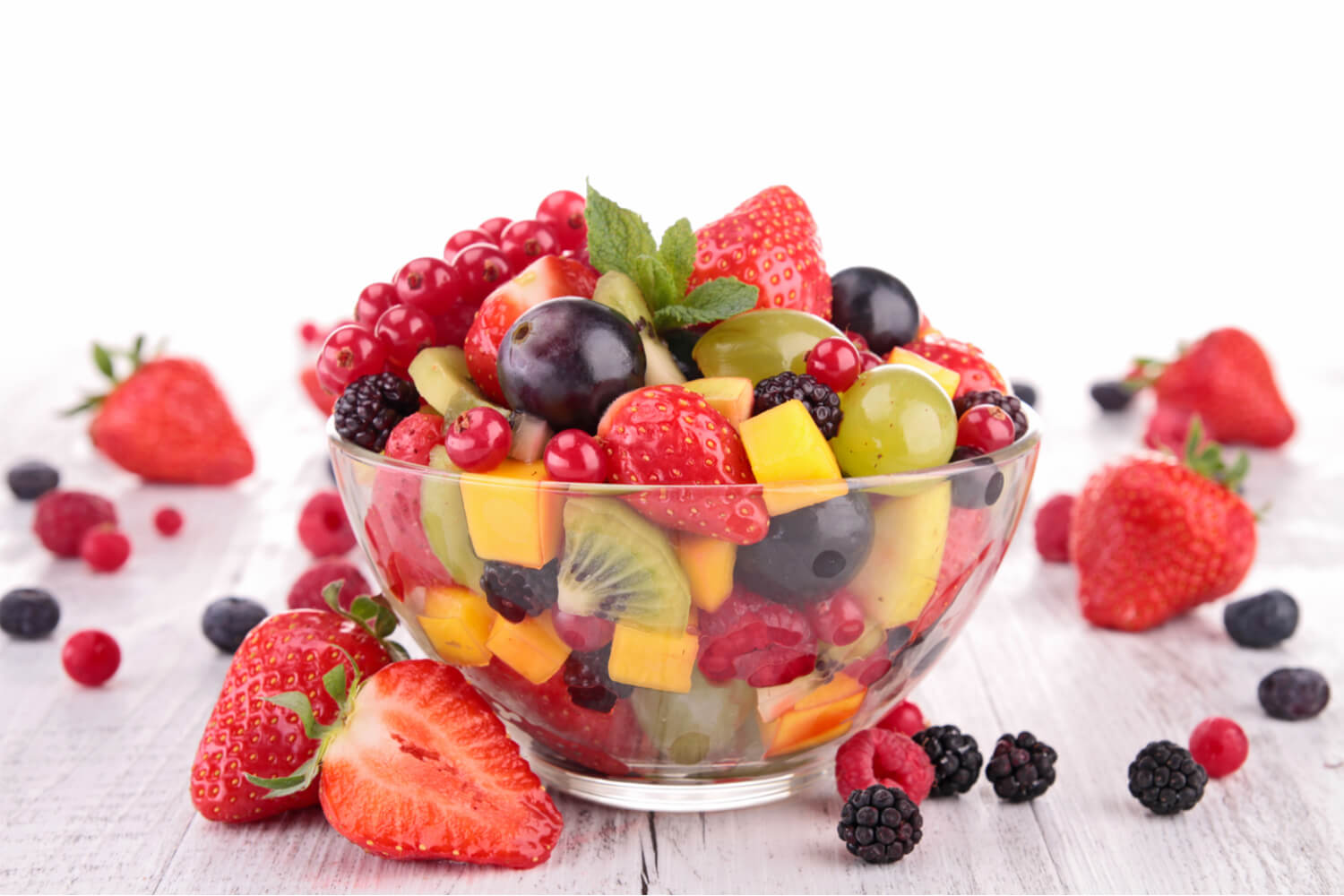 Another birthday party snacks for adults. Choose wisely and the kids might love it too.
Ingredients
Watermelon (deseeded and cubed)
Pomegranate (deseeded)
Bananas (peeled and sliced)
Grapes (green and seedless black)
Orange slices
Strawberries (diced)
Kiwi (diced)
Pineapple (diced)
How to Prepare
Add all fruits to a mixing bowl.
Add some honey and lemon zest and toss all together.
10. Popcorn
These are perfect for not just movies but for snacks for birthday party at home too.
Ingredients
Dry corn kernels
Butter/ oil
seasoning
How to Prepare
Add some butter or oil to a hot kadai with a lid.
Add the corn kernels and spread them around and cover with lid.
Corn kernels will pop up, shake the kadai well to avoid kernels from not popping.
Now open the lid, add some seasoning of your choice and you are done.
You can serve them in small paper cups to reduce the mess.
Providing the right food options is crucial in any party, especially for kids. Having snack options that can suit kids'taste buds and meet the parent's approval is the key to a successful party. These birthday party snack ideas for kids are easy to make and appeal to the kids too.
Read Also: Top 20 Recipes That Involve Cooking Without Fire For Kids