Are you looking for some natural remedies to soothe your baby's skin? Have you heard a lot of your friends and family raving about aloe vera gel but you are not sure if it is safe to use on your baby's sensitive skin? Continue reading to know some of the benefits of aloe vera for your baby and ways to use it.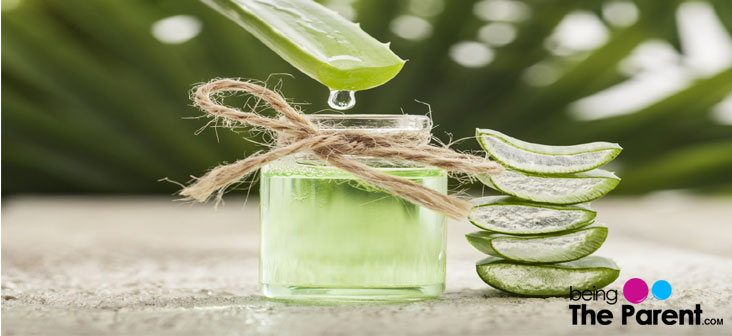 What Is Aloe Vera?
Preparation Of Fresh Aloe Vera Gel
5 Amazing Benefits Of Aloe Vera For Babies
Precautions While Using Aloe Vera On Babies
What Is Aloe Vera?
Aloe Vera is a species of the cactus plant that can be easily grown as a potted plant at home. It require minimum care and you don't have to water the plant every day and trim it every week. Aloe Vera or Ghritkumari (घृतकुमारी) as it is called in Hindi, can indeed perform miracles on improving your baby's skin. Aloe Vera – in the juice or gel form – is widely used in consumer products like skin lotions, cosmetics, ointments and medicinal beverages. It chemical free and 100 % natural. Being a natural healer and a great alternative to a lot of medicines, isn't it apt that the Egyptians rightly called aloe vera "The Plant of Immortality?"
You can use fresh aloe vera gel on your baby's skin to reap amazing benefits.
Preparation Of Fresh Aloe Vera Gel
Cut two aloe vera leaves with sharp knife and wash them thoroughly. Then cut off the edges of both the leaves and split the top layer of the leaf lengthwise. Carefully peel off the transparent aloe vera gel from the leaf and use it fresh.
Active Components Present In Aloe Vera
It contains 8 enzymes that help in reducing inflammation
Minerals like calcium, copper, selenium, chromium, magnesium, potassium, sodium and zinc are present in it which helps in the proper functioning of the above enzymes
Aloe Vera provides sugars like glucose and fructose that has anti-allergic and anti-inflammatory properties
5 Amazing Benefits Of Aloe Vera For Babies
Aloe Vera is very safe to use on your baby's skin. Some of the amazing benefits of aloe vera on babies include:
Beneficial in treating baby eczema: Aloe Vera can be used to treat baby eczema (an inflammation of skin with red and itchy patches) without any side effects
Excellent treatment for sunburns: Baby's skin is very sensitive. Prolonged exposure to the sun can easily cause sunburns. It is the condition of redness, burning and inflammation of the skin, which is caused by exposure of the baby's skin to sunlight. Aloe Vera is very soothing on sunburns and brings a cooling effect on the skin. Also read: Keeping Your Kids Sun-Safe This Summer!
Nourishes and promotes hair growth: Aloe Vera is very useful in improving hair growth in babies. The fleshy insides of the aloe vera are scooped out of the leaves and it is nicely blended with distilled water. The thick juice that is obtained can used as a last rinse on baby's hair. It helps in maintaining the pH balance of the scalp and also serves as an excellent conditioner making the hair smooth and silky
It is a natural healer: Aloe Vera can be used to heal minor burns, bruises, scrapes or cuts on baby's skin. Due to its moisturizing effect it prevents air from drying the wound and improves blood circulation through the area. It is also used to treat mosquito bites and insect bites due to its soothing properties
Soothes various rashes including the diaper rash: It is also a great home remedy for any kind of rash that occurs because of bacterial, fungal or viral causes. Aloe Vera is also very effective in treating any kind of nappy rash due to the presence of an anti-inflammatory component called B-sistosterol. The infection fighting properties and abundance of skin friendly Vitamin E present in aloe vera helps in the treatment of diaper rashes which are very common among many babies due to the constant use of diapers
Precautions While Using Aloe Vera On Babies
Aloe Vera has amazing benefits for babies, but at the same time it is necessary that we adhere to some precautions too. Some of them include:
Although aloe vera is safe to use on your baby's skin still it is better to consult your doctor before using aloe vera gel on your little one's sensitive skin as it can interfere with any other medication that is being used on your baby and may reduce its effect
Also if you notice any rash, itchiness or redness on your baby's skin worsens after using aloe vera, immediately wash off the gel from your baby's skin. Consult your doctor for treating the same
Avoid giving aloe vera juice to babies as oral consumption can be harmful for them. Speak to your doctor before you begin using aloe vera orally
Nursing mothers should also avoid consuming aloe vera juice orally as your baby can easily ingest some of it through breast milk
Similarly pregnant women should also stay away from drinking aloe vera juice as it can harm the fetus
Today more and more people around the world are using aloe vera due to its amazing benefits. Aloe Vera is safe to use on babies as it is gentle and works very fast. Did you use aloe vera on your baby's skin? How do use aloe vera on your baby? Do share your experiences in the comments section below.