Raising your baby can be fulfilling to say the least. By the tenth month, the baby's basic traits should have formed. He/she would be able to accomplish so many things that was unimaginable a couple of months back. Words like 'mama' and 'papa' should form the staple content of his/her speech. Also, having moved to a more inclusive diet, the baby should enter a phase of vigorous physical growth by this time onwards. Be careful while purchasing clothes and diapers as the earlier sizes may no longer fit your baby.
What most babies can do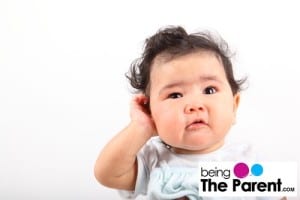 At ten months, most babies are distinctly different from the infant version. He/she would have developed the initial traits of an adult. Apart from learning how to crawl and sit, a baby would be able to utter many different words and sounds. This would form the basis of his/her communication. Also, the crying should come down because of the other forms of expression that are available. During this period of time, a crawler can be a great addition to your nursery. It would allow you to take your baby for short walks to the park. You could also consider weaning your baby if you haven't done so yet.
By this period, the baby should be able to begin use for the pair of limbs with dexterity. Various positions of crawling, sitting and motion about would be easily facilitated by the strong arms and legs. Some babies also exhibit some behavioural problems like biting, head banging, and hair pulling – the cause of which is not known much but is estimated to be a type of stress release.
A stark feature of children of this age is the response mechanism. Your baby would be able to indicate his likes and dislikes in a manner that would be understandable by those around him/her. This may include vocal communication as well as signs and gestures. Also, the senses would have developed a great deal.
What some babies can do
Some babies of this age would be able to remember people outside of the immediate circle. He/she would learn to avoid places or things with which an unpleasant experience can be associated. If by the end of the tenth month, your baby is not able to assume a sitting posture, then it may be time to consult a doctor or a physician. At ten months, certain syllables can prove to be difficult for a child to pronounce. Some, however, may succeed in this endeavour. He/she may be may even succeed at sounds like 'l' or 'r', marking an advanced level of vocal development.
What few babies can do
Parents would do well to remember that every baby has his/her own trajectory of growth. No two babies should be compared with each other. At ten months, very few babies may be well ahead of their age by managing to take the first stumbling steps on their feet. This, of course would be aided by some sort of support. Toilet training is something that is still a couple of months away but starting now would bring no harm. A small proportion of children may even respond positively to this. His/her recognizing ability would have advanced to include the immediate acquaintances as well, apart from parents or siblings.