Your pregnancy has brought a lot of cheer and joy in your life. You are thrilled, to say the least. You have a full-time job and a career that is demanding, challenging and truly satisfying. And now you hear that motherhood is a full-time job as well! It requires unconditional devotion, and demands compromises and adjustments beyond your level of comprehension, at this point.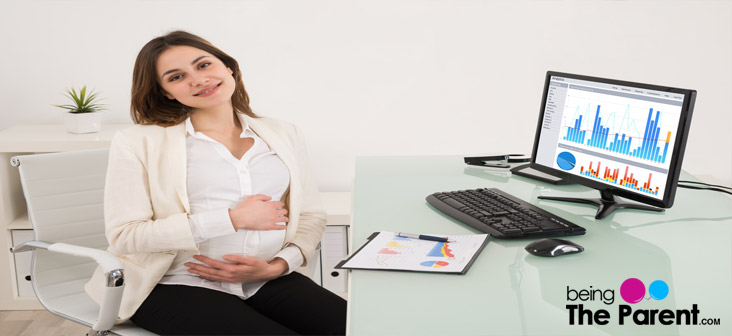 You slowly begin to experience early pregnancy symptoms like bloating, nausea, vomiting, headaches, extreme tiredness and subtle mood changes. Some people around you notice changes in your temperament while others are indifferent to the change. And now you worry about balancing work during this beautiful and truly fulfilling stage of life.
8 Tips to balance work during pregnancy
Below are some tips that can alleviate the pressures of your demanding work-life while you are pregnant, make this phase of your life a bit easier.
Inform your boss about your pregnancy: You need to inform your boss, soon enough, about the good news that is along the way, and keep him / her apprised about your health, periodically. This is particularly important if you need some time off from work for your visits to the doctor and other check-ups, need some of your workload transferred in case you are having a difficult pregnancy, and you do not wish to be mommy-tracked. Informing your boss helps both of you set the right expectations of each other in terms of work during this time of your life
Share the news with your colleagues: Informing your close colleagues in the first trimester is important to help them know of your fragile emotional, physical and psychological condition. You may choose the right time to inform colleagues who are not a part of your immediate work group based on your judgment. Understanding colleagues ensure a fun, relaxing and compassionate work environment during pregnancy which will help you handle the stress and physical discomfort better. Also, some of your colleagues who have already had children can help you with some wise advice to make pregnancy even more beautiful
Speak to your HR partner about work options: If your doctor has informed you of a particularly difficult pregnancy or the need for a bedrest, it is best to speak to your HR partner about it, after speaking with your immediate supervisor or boss. Your HR partner can help you better understand company policies and work options such as leave, flexible schedule, work-from-home, maternity leave, and returning to work part-time after the maternity leave, thus helping you make a judicious decision about the same. Make sure you have a good work-during-pregnancy and post-pregnancy plan etched out and agreed upon if your health is a concern
At work, deal with pregnancy symptoms with maturity: Symptoms such as morning sickness, nausea, dizziness, vomiting, and headache could cause you to be irritable and absolutely not in your element while at work, during pregnancy. Carry a paper bag and washcloth with you at work, in case you cannot prevent vomiting at your desk. Also, keep some candies, cookies or crackers at your desk to rid yourself of the nauseous feeling and sudden hunger pangs. Do not over-exert yourself while trying to prove yourself at work, especially during pregnancy. If your work involves running errands and being on your feet, try to sit and rest your feet, periodically. Since exhaustion and tiredness are the bitter truths of pregnancy, try and ease your work commute, if and as much as you can

Pay attention to your diet and exercise routine: Being occupied is no excuse for neglecting hunger. In fact, you must eat healthy and nutritious food during your pregnancy. Carry small portions of different kinds of food such as vegetables, salads, and fruits, and eat them at regular intervals. Avoid eating junk food, and keep yourself from gaining extra weight. Make sure you invest about 20-30 minutes each day in exercise. Simple stretching exercises and meditation can help you make a fresh and inspiring start to each new day. If your work mandates you to sit at your desk all day, make sure you get up at regular intervals and take a short walk around your work area or in the office premises
Take your medication on time: Do not forget your pregnancy vitamins and iron tablets in the wake of work pressure. You certainly do not want to compromise on your child's health and development, in exchange for an exceptionally managed project and career accolades
Prepare for all kinds of days at work: During pregnancy, you will feel depressed and exhausted on some days; while on other days you will feel excited and full of energy. Take a break on the days that you feel drained out and request your colleagues to take some workload off you. On the days that you feel pumped up, work extra hard and complete as much as you can
Plan ahead of time and display professional etiquette: Discuss important project timelines with your boss and plan their execution well ahead of time, to avoid disappointments and misunderstandings. Let your clients and contacts know that you will be 'out of office' on your maternity leave during the specific period. Also, introduce them to the interim contact before you take off on your leave, and ensure a seamless and easy transition for your clients
These positive changes and adjustments can help you make work during pregnancy an enjoyable and fulfilling experience. Enjoy your pregnancy, be honest about how you feel, and take every day as it comes. Have a beautiful and safe pregnancy!