Watermelon, a tropical fruit is considered as the champion of all the fruits available during the summer season. It is indeed a real treat for babies and kids during a really hot summer day. A baby's diet changes according to his age and also according to the different seasons. Here are some amazing benefits of watermelon for babies. But just remember that when a new food is introduced to your baby for the first time it is important to observe how well the baby is able to handle it and how his body reacts to it.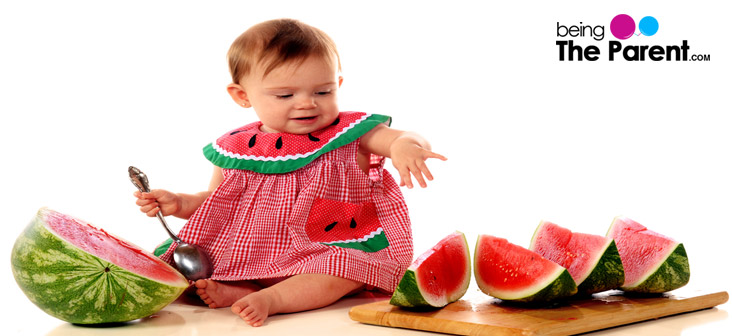 When Can I Give My Baby Watermelon?
Watermelon can be introduced to babies once they turn 6 months and can be a part of your baby's regular diet when your baby is around 8-10 months old. Due to its high water content, watermelon is considered one of the best summer fruits for your baby.
Nutritional Benefits Of Watermelon For Babies
"Watermelon For Babies"
Nutrients
Value per 100 g
Water
91.45 g
Energy
30 kcal
Protein
0.61 g
Total lipid
0.15 g
Carbohydrates
7.55 g
Fiber
0.4 g
Sugars
6.2 g
Calcium
7 mg
Iron
0.24 mg
Magnesium
11 mg
Phosphorous
112 mg
Sodium
1 mg
Zinc
0.1 mg
Vitamin C
8.1 mg
Thiamin
0.033 mg
Niacin
0.178 mg
Vitamin B-6
0.045 mg
Folate
3 ug
Vitamin A
569 IU
Vitamin E
0.05 mg
Vitamin K
0.1 ug
6 Amazing Health Benefits Of Watermelon For Babies
Rich in vitamin A: The Vitamin A content that is present in watermelon helps in developing a healthy and glowing skin in babies. It is also good for developing good eye sight. The presence of this vitamin helps in developing soft tissues and the mucous membrane
Good source of vitamin C: The Vitamin C that is present in abundance in watermelon helps in strengthening the immune system and maintaining blood cell count and hemoglobin through the absorption of iron. It also prevents the occurrence of diseases like scurvy which occurs due to its deficiency
Aids in digestion: Watermelon is a rich source of dietary fiber. This helps to keep the digestive tract healthy, relieve any signs of constipation and regularizes bowel movement
Keeps the baby hydrated: Due to its large water content, watermelon helps to keep your baby hydrated by maintaining water balance in the body. When there is a hot scorching sun during the summer season, there are chances of heat stroke to occur in babies. Watermelon maintains the hydration levels during those hot, tiring days
Bone development: Calcium and magnesium that are present in watermelon are very essential for bone development and also for the secretion of hormones in the body. The magnesium helps in building strong and healthy muscles, and promotes the smooth functioning of nerves in babies
Vitamin B complex: Vitamin B complex include number of vitamins providing different benefits. The overall development of the nervous system, strengthening the protein content and the carbohydrate metabolism in babies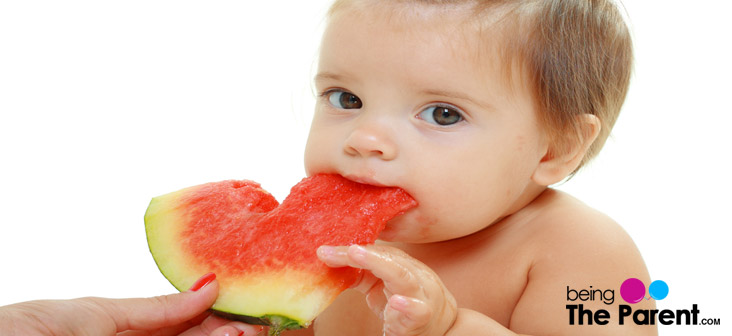 Precautions To Be Taken While Feeding Your Baby With Watermelon
Though we find from the above points discussed that watermelon is indeed a fruit with amazing benefits but there are certain precautions to be taken before feeding it to your baby. These include:
Watermelon should be given to babies after the baby is 6 to 8 months old
Fruit texture is also very important when giving it to babies. Try and give only bite-sized pieces of watermelon to your baby. If your baby will not eat the watermelon pieces, try mashing them up a little bit
Make sure the watermelon that is bought from the store is of high quality
Do not feed your baby with precut watermelon that is readily available in certain grocery stores
The cut fruit stored in refrigerator should be taken out and brought to room temperature to avoid your baby from catching a cold
Water melon juice that is readily available in stores can increase the risk of dental cavities and also make the babies lose interest in solid food
Some babies can develop allergic reactions like rashes, diarrhea, vomiting, running nose and light-headedness if they consume watermelon. Look out for any signs of allergy
While giving watermelon to babies care should be taken that each and every seed is removed so that the risk of choking is avoided
How To Choose Good Quality Watermelon For Your Babies
Select a fully grown watermelon that is heavier, looks smooth and is a little dull on the top
To know if the watermelon is fully ripe, give it a tap with your fingers. A fully ripened watermelon should sound hollow when tapped
Look for any signs of bruises, cuts, spots or areas where it is over ripened
Watermelon that is precut should be avoided as it comes with the risk of E Coli contamination that can upset your baby's stomach
The juice that is available in stores is not recommended, as it increases the risk of dental cavities
Do not buy frozen or canned watermelon
How To Store Watermelon At Home
A Watermelon that is not cut can be stored at room temperature for a period of 4 to 5 days
If the uncut fruit is actually stored in the refrigerator, it can be stored for about two weeks
Once the fruit is cut, it is to be carefully wrapped up with a plastic wrap so that it can be stored in the refrigerator
This enables the cut fruit to be fresh and also to avoid the fruit to absorb any other flavor
Once the fruit is removed from the refrigerator, it should be allowed to come to room temperature before it is given to babies
Foods that go well with watermelon include bananas, blueberries, peaches, carrots, avocado, yogurt, etc
Watermelon has great benefits for your baby but it is better to consult your baby's doctor before you start including it in your baby's diet. Serve your baby watermelon in different ways as it helps in overall health of your baby. But be careful about the choking hazards and any signs of allergic reactions.