Is your baby ready to wean? Are you looking for the perfect food for your infant? Well! At this stage, the highly recommended food to start with is Oats. Find out Health Benefits Of Oats For Babies.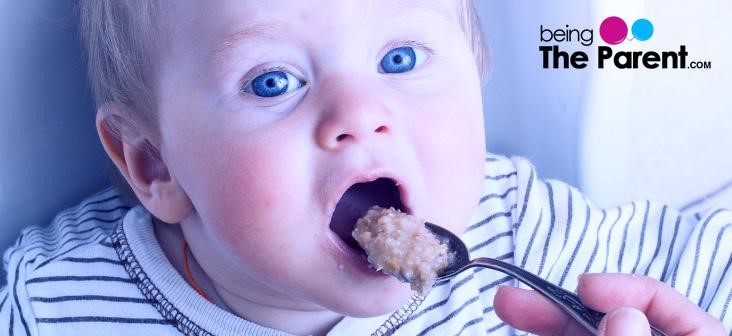 If you want to include oats in your baby's diet and need to you need to know more about the this power cereal, we are here to help. Find out how oats help your kid fight diseases, what are the different ways to give oats to your babies, and what is the difference between Rolled Oats, Steel Cut, and baby oats?
Can Babies Eat Oats?
What Are Baby Oats?
When Can Babies Eat Oats?
Is It Good To Give Oats And Oatmeal To Infants And Toddlers?
How To Introduce Oats To Your Baby
Health Benefits Of Oats For Babies
How Does Oats Benefit Your Baby's Skin?
Can Babies Eat Oats?
According to the World Health Organization, Oats are a perfect cereal to give your baby as a first food after breastfeeding. In fact, it is believed that oats are better than rice. Oats are easy to digest and have high nutritive values. So, the answer is Yes, you can give oats to your babies as it is packed with Vitamins, Calcium, protein, and minerals. Find out the food chart for 6-month olds here.
What Are Baby Oats?
Baby oats are thin cut flakes with a fine texture. These small flakes of oats are easy to prepare to eat for a baby. You can prepare it with water or a breast milk or a formula milk.
But do you really know the difference between Baby oats, rolled oats and steel cut oats? Actually, the nutritional value of all the three is almost same, the difference is only in their processing method.
Steel cuts are less processed and chopped into thick flakes
Rolled oats are steamed and flaked to flatten
Baby oats are steamed too, and flaked into small & thinner pieces
So, overall steel cut oats are less processed and find good for babies. However, as they are thick, we need to grind them into small flakes to make it perfect for a baby.
When Can Babies Eat Oats?
Oats can be given to a baby after completing six months. There is not any fixed time to give your child an oat. You can give it any time of the day. Being a nutritious and easily digestible food, oats can be an ideal food for babies who are going to initiate their first meal.
Is It Good To Give Oats And Oatmeal To Infants And Toddlers?
Yes, it is absolutely a good idea to give your infant a diet of oats and oatmeal. They are great source of fiber, riboflavin, Vitamin B and B6, protein, magnesium, calcium, iron, phosphorous, and selenium. Oats provide high energy, and enhances the immune system. Giving oats to your child from an early age will have health benefits later in life.
How To Introduce Oats To Your Baby
To introduce the oats to the baby, we need to follow few steps:
Choose the correct type of oats for babies i.e. semi-processed steel cut oats are ideal for baby.
The method of cooking is another major point to follow. Boil the oats thoroughly so that it turns into a puree and is easy to swallow.
Avoid adding fruits & vegetables while preparing oats for babies. Especially, for who is going to eat it the first time. After a few days, if you don't find any signs of allergy then you can add fruits and vegetables to it to make it more interesting and yummy. Few food items are Banana Oat Smoothie, Baked Oatmeal Apple Cereal, Oatmeal Scramble, Oats Porridge, Apple oats Porridge, etc.
Health Benefits Of Oats For Babies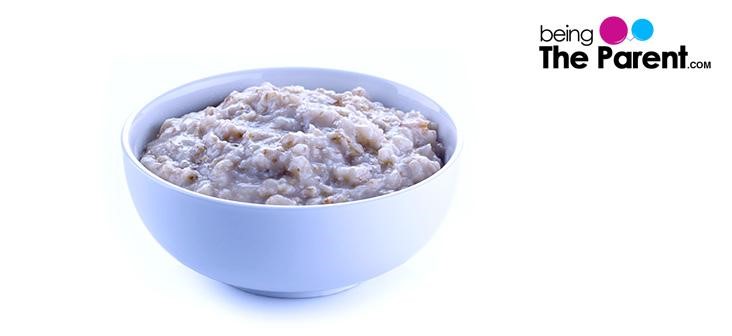 A bowl of oats is not just a stomach filling dish, it is a bowl full of nutrients.
Highly Nutritious – Oats are one of the most nutritious foods for babies, as it contains minerals like calcium and phosphorous – good for the bones, iron for hemoglobin, and potassium and sodium for the brain, muscles, and spinal cord. It also contains Vitamins for the suitable growth of the baby's body. It improves the immune system.
Fiber rich – Oats are rich in dietary fiber and thus easily digested by babies.
Great for Baby Skin – It makes baby skin soft and smooth. It helps in reducing itching, eczema, rashes, and inflammation.
How Does Oats Benefit Your Baby's Skin?
Oat cereal is great for baby skin because it has anti-inflammatory property which helps soothe and reduce rashes and infections. It helps in reducing itching and red rashes. It moisturizes the skin and makes it soft and supple.
Decreases The Risk of Asthma – According to the research, the babies who fed oats from an early age have lower chances of having asthma and wheezing.
A Rich Source of Magnesium – Oats are a good source of magnesium, which helps in regulating the blood, gaining weight, and developing muscles.
Enhances the body's immune response to diseases – Oats enhances the immunity system of the baby to bacterial infections.
Next time you go grocery shopping, grab a packet of oatmeal and give it to your little one. Keep reading Being the Parent for more interesting articles.