Asthma has become a highly common health issue in the recent years thanks to the ever increasing air pollution.
Children are not spared from the grip of asthma and if not controlled with the right measures, it can be fateful for children. This condition is quite difficult for the little one primarily because: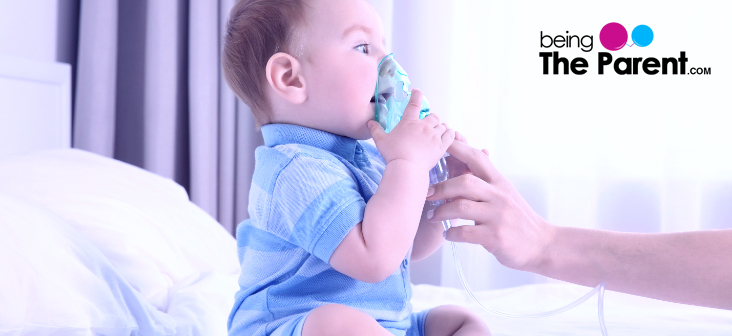 Children have really small airways, and their blockage can cause serious asthmatic attacks.

Determining if a child has asthma or not can be very difficult because they may not be able to communicate their feelings or they might not be able to complete the tests to find out if they have asthma.
Generally, asthma is diagnosed with a medical examination that measures the amount of airflow in and out of the lungs. So, very young children may not be able to complete the airflow test which requires the individual to blow very hard into a tube. Therefore, parents and caregivers must be very alert to any symptoms shown by the child with regard to asthma as they may not be able to properly communicate how they feel during an asthma attack.  
Asthma usually is hereditary and runs in the family. If you are suffering from it, more chances are that your child may also have it, if not now, later. You can inform this to your child's paediatrician who may refer you to an allergist or teach you ways to prevent your child from contracting asthma. The allergist would perform certain skin and blood tests to see if your child has certain allergies which may trigger asthmatic symptoms in the child. In case the child is diagnosed with asthma, doctor will prescribe medications for treatment.
Symptoms
Most children who suffer from this show symptoms of it before they turn 5 years old. For very young children, parents and even doctors may be find it difficult to recognise whether the symptoms are due to asthma or not. Since the bronchial tubes in infants and toddlers are already very small and narrow, when they are ill with cold, cough and other illnesses, it inflames the airways and makes it even smaller which irritates the child sometimes, leaving them breathless. This may necessarily not be a case of asthma and only due to the sickness. But since the child is too young to speak how they feel, it makes it difficult for the adults to diagnose whether it is asthma or not.
Some common symptoms of asthma in children include:
Vigorous coughing, especially at night

A wheezing or whistling sound when breathing out

Trouble in breathing or fast breathing which causes the skin around the chest or neck to pull in tightly

Frequent chest colds
It is possible that your child may only show one of these symptoms or may show several of them together. If you doubt that symptoms maybe just due to cold or bronchitis, wait till it recurs. In case of recurring symptoms, it is an indication that your child maybe suffering from asthma. These symptoms may worsen when the child is surrounded by asthma triggers such as smoke, strong odours, pollen, pet dander, dust mites, etc.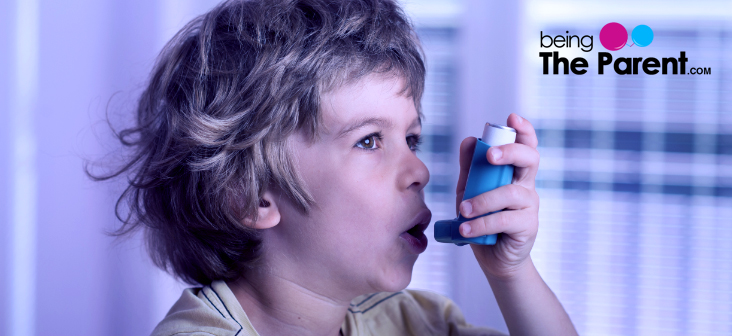 Treatment
Whether mild or severe, asthma is a serious illness because the chances of it becoming life-threatening is alarmingly high. Undiagnosed asthmatic symptoms and poorly controlled symptoms in small children can result in frequent trips to the emergency ward and increased suffering which children may not be able to express. Hence, it is very important that an asthmatic child receives proper and timely treatment. Asthma treatments will usually vary as per the severity and frequency of the symptoms and there two-relief types of medications that the doctors may prescribe;
Quick-relief medicines to control it immediately if it gets out of hand. This will immediately put an end to the coughing, wheezing, shortness of breath and tightness of chest. This will typically be in inhaler form and is advised to keep it with the child at all times and use when symptoms start to appear.  

Long-term control medicines which are given to children to prevent inflammation of the airways. This can be taken on an everyday basis to prevent asthma symptoms and attacks.
Some natural remedies that can control asthmatic symptoms.
A number of herbs have been claimed as natural remedies for asthma when included in your daily diet. They help prevent inflammation of airways.
Roasted garlic can help reduce inflammation

Ginger is also an anti-inflammatory herb

Turmeric & honey mixed with warm water on an empty stomach

Omega-3 fatty acids

Echinacea and Liquorice Root.