If you have ever had mouth ulcers, you know how painful they are. They are irritable and make it difficult to eat or drink anything. When as an adult you are so bothered by it, what if your little one gets it? What are the symptoms? What do you do to make your baby feel better? Should you take her to the hospital? Read on to know 12 Home Remedies For Mouth Ulcers In babies.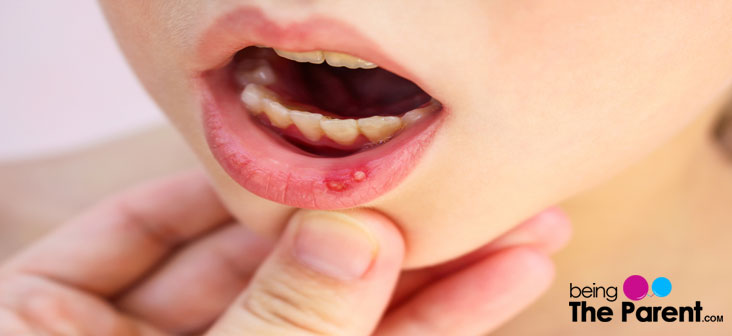 ---
What Are Mouth Ulcers?
What Causes Mouth Ulcer In babies?
Symptoms Of Mouth Ulcer In Babies
How Is Mouth Ulcer Diagnosed?
12 Home Remedies For Mouth Ulcer In Babies
---
What Are Mouth Ulcers?
Mouth ulcers are essentially sores formed inside the mouth. They are also known as canker sores. Mouth ulcers are usually white in color with redness around it. They are not contagious, but are very painful.

What Causes Mouth Ulcer In babies?
Mouth ulcers could be caused by a variety of reasons:
An injury in the mouth can lead to infection, resulting in a sore
Deficiencies of certain nutrients, such as Vitamin B, zinc and iron, are known to lead to mouth ulcers
Stress is another reason, and yes, your little one can be stressed too, especially if she is down with some other illnesses
Certain medication, such as non-steroidal anti-inflammatory drugs, can cause mouth ulcers
Certain viral attacks can also lead to formation of mouth ulcers
Any food allergies in babies can cause mouth ulcers
What Are The Symptoms Of Mouth Ulcer In Babies?
Unlike adults, the child will not be able to pinpoint the pain inside the mouth. So if you notice any of the following symptoms, you might want to examine her mouth to see if you can spot one or multiple mouth sores:
Difficulty in eating
Indications of pain
Swelling
Fever (as a result of the infection)
Increased crankiness or irritability
Redness
How Is Mouth Ulcer Diagnosed?
A mouth ulcer can usually be diagnosed easily at home by its looks. It is usually white in color and has redness around the borders.

12 Home Remedies For Mouth Ulcer In Babies
Usually, mouth ulcers do not require any treatment as they go away on their own in a week or two. However, your child might be in distress throughout this time and it might be difficult to manage her pain, unlike the case of adults. Fortunately, there are few things you can do in your house that can help relieve your little one's pain. Here are 12 home remedies for mouth ulcer in babies:
Honey
Honey is your best option if your child is over a year old. Just apply a bit of honey on the sore and let it work its anti-microbial wonders. The added advantage is that since it is sweet, your child will not resist the application too. However, remember that it is unsafe to give honey to a child below 12 months
Turmeric
Turmeric is a wonder drug with anti-inflammatory, anti-bacterial and antiseptic properties. Make a paste of honey and turmeric and apply on the affected area. It will not only reduce pain but speed up the healing process too
Coconut
The cooling effect of coconut is also known to soothe the pain associated with mouth ulcers. Either let your child drink coconut water or apply a small amount of virgin coconut oil in the affected area
Ghee
Ghee or clarified butter is another home remedy that will give your baby relief from mouth ulcers. Just apply it on the sore
Buttermilk
If your child likes buttermilk, encourage to have an un-spiced glass of buttermilk. It contains lactic acid, which is known to be antibacterial and hence heal mouth ulcers
Curd
Just like buttermilk, curd also contains lactic acid, which can kill the bacteria causing mouth ulcers. You can either give your child plain curd, or make it into tasty smoothies to make it interesting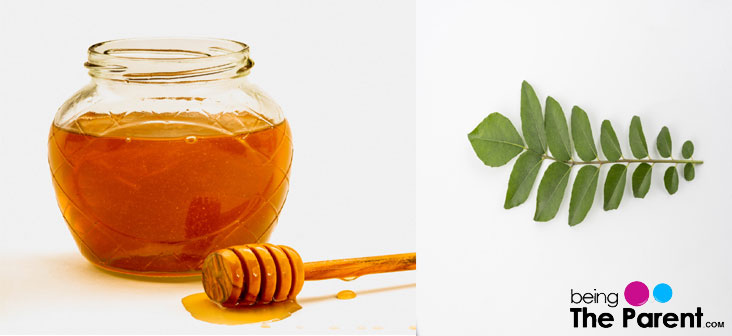 Curry Leaves
Curry leaves help to heal ulcers in two ways. On one hand, it is vitamin rich. So if a deficiency caused the mouth ulcers, then curry leaves can fight that. On the other hand, curry leaves have antimicrobial and anti-inflammatory properties. So it can act as a home remedy too. Make a paste of curry leaves and buttermilk and ask your child to either drink it or use it as a mouthwash
Aloe Vera
If you have access to an aloe vera plant, break a leaf and apply the gel directly to the ulcer
Tulsi Leaves
Tulsi also has many anti-bacterial and antimicrobial properties. Ask your child to chew on a tulsi leaf and the juice from it will heal the ulcer
Salt water rinse
A salt water rinse can help soothe mouth ulcers, just like it soothes sore throat
Water
Although drinking water might be painful, encourage your child to remain hydrated
Ice cream
We left the best for the last. Much to your child's delight, any cold treat can help numb the ulcer and reduce the pain
Hope the above 12 Home Remedies For Mouth Ulcers In babies helpful. Along with all these home remedies, make sure you take care of the oral hygiene of your baby too. Also avoid giving oily and spicy stuff to your baby as this will only aggravate the issue. Even after trying out the above home remedies, mouth ulcers still bother your baby, make sure you talk to your doctor and don't leave it untreated. It can lead to a bigger problem
If you have more home remedies to share, please leave it in the comments section below.