Formal schooling is an important time in your child's life. It provides them with valuable knowledge while helping them build social skills and form long-lasting relationships with their peers. Another benefit of school is the opportunities for physical activity that it provides. Most schools have playtime built into their programs as well as physical education classes. Not to mention all the different school sports that kids can participate in. 
But what happens when school's out, and you still work full-time? It can be hard to fit in supervised physical exercise when you're working. 
It's not easy, but it's not impossible. Read on for an in-depth discussion about the benefits of keeping up physical activity outside of school and some things you can try at home.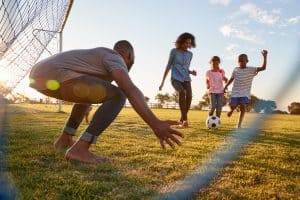 Why It's Important to Keep Your Children Active 
According to an article on HealthyChildren.org, which is sponsored by the American Academy of Pediatrics, physical activity in children and adolescents will lead to an improvement in both strength as well as endurance. It also helps in burning fat, building lean muscles and healthy bones. It develops their coordination and their motor skills. Emotional well being also benefits from it.
It's also recommended that children (and adults) get at least half an hour of physical exercise per day, be that a swift walk or a game of tennis.
In addition to the above benefits, getting moving also:
Provides kids with a break from their screens: Outside of term-time, our kids normally get more screen time than usual, which includes recreational TV and tablet time. That's why exercise and getting outside, even if it's no further than the mailbox, is so important. It allows kids to refocus their minds, move their bodies, and just be kids.
Helps them focus on their schoolwork: If kids can release some of their excess energy and stay active, they may have improved focus for educational activities. This is important during regular schooling as well, but it's even more important when school's out.
It provides you with breaks: You love being a parent, but sometimes you need some time for yourself. If you are home with your kids all day, or even if you usually work but solo-parent on the weekends, it can feel a little overwhelming. If your child goes outside in the yard for some physical activity or activity with their sibling, it gives you some personal time.
Easy Physical Activities to Try at Home
If you're looking for good exercise ideas for your kids, check these out:
Basketball: If you have a spacious driveway, a basketball hoop will make a great addition to your home. It's a smart investment since you're sure to use it for years. Your child can play solo, with their siblings, or with you! To keep it fair, keep your child's height in mind when installing the hoop!
Walks: A simple 30-minute walk in the neighborhood is another good activity. If you want to spark your child's creative side, take them on a chalk walk. As you walk, bring a tub of sidewalk chalk with you. You can create beautiful images while getting exercise at the same time, and the kids will love it.
Water Activities in the Yard: If the weather is warm enough, set up some fun water activities in the yard to make it feel like a day at the pool. If you happen to have a backyard pool, that's even better. Swimming is an excellent exercise. If you don't have a pool, consider a kiddie pool or slip-n-slide for added fun. You could even just get out the garden hose and splash around! Just make sure to put on plenty of sunscreen!
Biking: If your kids have bikes of their own, and they're old enough, encourage them to go for a short ride in the neighborhood. If your kids are too young to ride around by themselves, be sure to join them. This is a lovely morning or weekend activity that all the family can join.
Host a Family Field Day: If your kids love their school field day, why not bring field day to the backyard or nearby park? You can design fun relay races and other related activities that will get them moving and engage their minds at the same time. Create little prizes they can win to help them get in the spirit.
Conclusion
Staying active outside of school classes is so important for the growth and development of your children. So even when lounging on the couch seems like the most seductive option, find some time to get up and move!