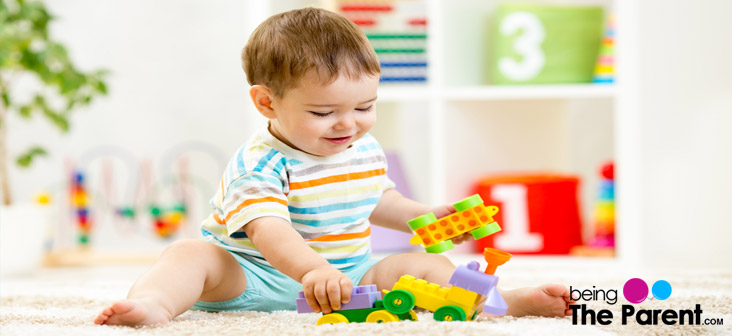 Toys are a baby's world and the very first thing a baby gets exposed to after birth. Toys are not merely a source of fun for the baby, but it's their world. A baby and his toys are completely inseparable. Babies are supposed to play with their toys in a pre-defined manner, but when they alter the parents' view, we term it as not playing. The reality is different though as the throwing, piling or hiding is their way of learning different perspectives and is termed as play in their world. The effect of toys in a child's development can be seen from the chart.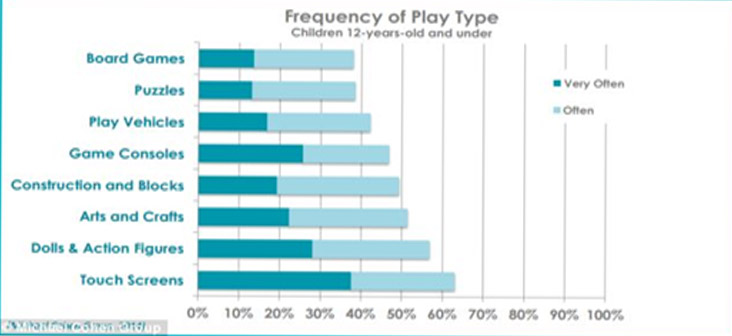 (Source)
8 Ways Toys Can Help Your Baby Learn
Every toy helps the baby in teaching certain aspect, like toys which stimulate hand – eye coordination, cause and effect relationship, one which engages the child, etc. Let's elaborate the eight ways where toys have played an important role in making a baby learn.
Cause and effect relationship: The very first toy that a child gets after birth is a rattle, and when we jiggle it, some sound comes.The baby loves the bright colors of the rattle and starts feeling it by licking or putting in his mouth, he tries throwing or holding it at times. The best thing that he understands is that when we jiggle the rattle, a sound should come. Thus, his inquisitive mind gets an approach of the relationship between the rattle and the sound
Study and discover the environment: For babies who are newborn to about 10 months, the market is flooded with toys that foster curiosity, teach them about different shapes and size, help them in teaching crawling, explore their sense of touch, feel, taste and vision. One such game is the activity gym which has lights, hook on toys and music. A baby generally enjoys the gym time as they lie down and try to grab the toys that are hanging and keep enjoying the music. This helps the baby in developing the upper body and his neck which is a prior necessity to start rolling, crawling or to try out any other physical aspects
Understanding spatial effects: The baby relates to the concept of throwing, dropping, shaking or hitting a toy against some surface. They relate to this concept when they hit two things together with force and a loud noise is produced, whereas when they hit them lightly, a soft but very little noise comes out. This helps them in getting a clue between heavy and light, high and low, up and down, big and little and many other spatial effects
Hand-eye coordination: A ball is a round and bouncy toy which interests a small baby to a big adult. Rolling, throwing and catching a ball helps to develop hand-eye coordination. Another important aspect of hand-eye coordination is stacking of eggs, blocks or cups. It also teaches them about volume. They see how a small object can fit into a bigger one.Initially, the babies will not stack them in the right order but most likely pile and drop them as they like

The concept of gravity: Babies from 6 months onwards enjoy throwing anything and everything while sitting on a height. They can throw a spoon, car, pencil, toys, their sippers, feeding bottles or anything that interests them and they are elated once the object is fetched then by parents or relatives. They even learn that few objects when thrown will bounce back, some would roll and others will stop, a ball, if thrown up, will automatically come down. All in all, they get introduced to the concept of gravity
Sorting and differentiating: Around the eighth month, most babies have gathered enough strength to hold the toys with the help of their fingers and starts picking the toys and keep them inside a box. But as the baby grows, they are in a position to put the respective shapes in their selected slots which help the baby to learn the relationship between two objects, the concept of sorting and systematic arrangement. More so, it allows the fostering of finger skills, and "I can do it sense of skill"
Concept of physical deftness and an element of creativity: Playing with swings, doll houses, child-sized or ride on vehicles help in providing confidence, balance, and strength. Also, with assistance from elders, playing with clay, finger paints or crayons help in stimulating the artistic growth and also develops fine motor skills which are later used for writing
Development of language and even societal skills : In today's time, books are also presented as toys and if a story is read to the baby with full action and with pictures that make sound and light, then not only the vision of the baby but the communication skills also get developed. Likewise, if babies indulge in pretend to play with the dolls or stuff toys, the expression of emotions and feelings is improved and the baby gets a sense of playing with everybody
Thus, the bottom line is that toys are not only related to fun but also assist in the holistic development of a child, By making efforts in order to make the learning more effective we need to teach them through educational toys and also being a part of the learning so that we can instil positivity and confidence in them which in turn will help them to retain the learning and provide encouragement at each step.