Off late, almost every other woman opts for hair treatment. Be it hair smoothening, rebonding, keratin boost, hair perming or coloring and why not? It is good to keep up with new trends. Hair treatments have been become such a common phenomenon that we do not even think twice before going through with them.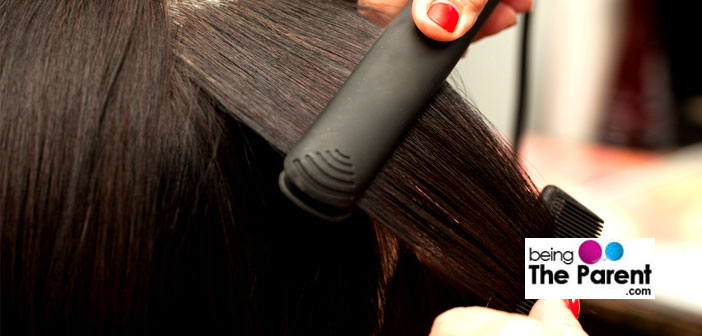 What Is Hair Rebonding?
Is It Safe To Get Hair Rebonding During Pregnancy?
What If I Go For Rebonding My Hair During Pregnancy?
What Is Hair Rebonding?
One of the most popular hair treatments is hair rebonding. Hair rebonding is a method of straightening your hair. This process requires using chemicals to relax and break natural hair cells. These chemicals then rearrange hair cells to make them look poker straight and sleek. The process of hair bonding goes somewhat like this – Your hair is washed with shampoo and blow dried. Then a thick coat of relaxant (chemical) is applied to your hair and is allowed to sit in your hair for 30-60 minutes. Your hair is then washed again with shampoo and blow dried. Next, the stylist will apply keratin lotion and straighten out your hair with a hair straightener. After this a neutralizer (chemical) is applied to your hair, left for 30 minutes and is then washed off. In the end, the stylist will apply some hair serum and straighten your hair with a straightener for the last time. These relaxants are powerful enough to change your hair structure, making your hair look straight.
Even though we are aware of the collateral damage of these treatments, we take things lightly because the aftermath mostly only affects the hair. But, if you are pregnant, then the after effects will not only damage your hair but they could also harm your baby.
Is It Safe To Get Hair Rebonding During Pregnancy?
Here are some of the effects hair rebonding could have on you and your baby if you are pregnant.
Complications in pregnancy and delivery: Most of the relaxants used in the salons contain sodium hydroxide. Sodium Hydroxide when mixed with water gets extremely heated up and can cause burns and allergies. Sodium Hydroxide is a potent chemical and it could create complications during the delivery
It can cause nausea: A woman's body becomes a lot more sensitive during pregnancy. The harsh chemicals used during rebonding can cause severe headaches and even make you nauseous
It could harm the baby: The chemical used in hair bonding are likely to get absorbed by the scalp and enter the blood stream. These chemicals travel through the blood stream, pass through the placenta and could harm the baby
Irritation in the respiratory tract: Some of the chemicals used during hair rebonding emit fumes. These fumes can easily affect a pregnant woman's already sensitive body. Fumes can cause severe irritation in the respiratory tract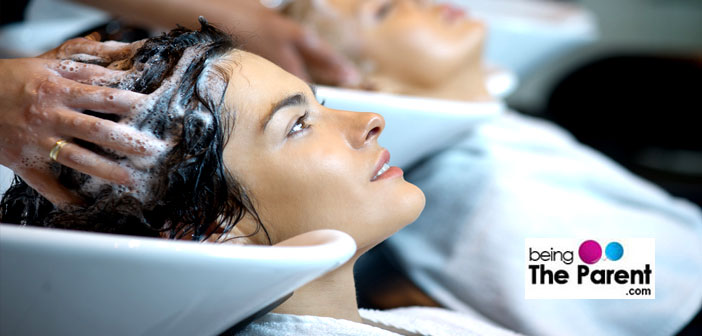 What If I Go For Rebonding My Hair During Pregnancy?
Despite these complications if you still decide to go for hair rebonding keep following things in mind.
Opt for a reputed place: Pregnancy is no time to take risks. If you want to go for hair treatments like rebonding make sure you go to a well known salon. Make sure your stylist is well experienced and a professional and has done hair rebonding before
Opt for 'No-Lye' treatment: No-lye treatments only use calcium hydroxide and guanidine carbonate. These chemicals are relatively less harmful than others. Hence make sure you insist no-lye treatment
Take breaks during the session: Hair rebonding can take several hours. Sitting in on position especially during pregnancy can give you backaches and body pain. Hence make sure you are seated in a comfortable and a well ventilated area. Also take breaks between sessions and walk around in the salon. Overall, just make sure you are comfortable
Consider the alternatives: To avoid the after effects on chemical hair rebonding you can opt for other safer options. Varying from temporary straightening to ironing your hair. These methods do not require chemicals and are completely safe to use during pregnancy
Pregnancy is one of the most special yet crucial periods in a woman's life. What you eat and what you do is going to affect your baby as well. Pregnancy is the time to play safe and avoid anything that poses a threat to you and the baby. Also, during pregnancy a woman's body undergoes many changes. Your hair might not be as receptive as it was towards the rebonding treatment. Hence, it is best to wait till you have delivered your baby to opt for hair rebonding and other such treatments. If you really have to go for it, seek your doctor's advice and ensure you take all the necessary precautions.