Most women believe in being well groomed and looking their best at all times. There is no reason or rule book that debars pregnant women to keep away from parlors or home services to look beautiful—at least for those who wish to. Pregnancy is a time when your skin looks radiant, thanks to the healthy diet that women follow. As you radiate and glow in your pregnancy, you may feel that you are getting hairy everywhere, especially down there. Since you may not be able to shave your legs and visiting a parlor may not be possible, you may take the route to hair removal creams. Lets discuss the same.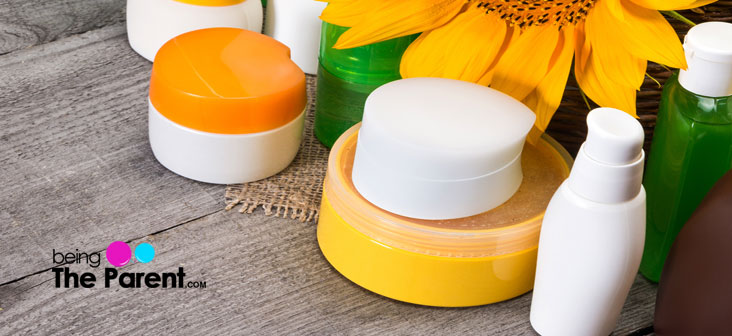 Why Am I Growing A Jungle During Pregnancy?
How Safe Is Using Hair Removal Creams During Pregnancy?
How Hair Removal Creams Work?
Benefits Of Using Hair Removal Creams During Pregnancy
Safety Measures For Using Hair Removal Creams During Pregnancy
Why Am I Growing A Jungle During Pregnancy?
Along with that comes additional and frequent hair growth on the face/upper lip, tummy, nipple area and sometimes even the pubic region that can be quite disturbing. But it is also an indication of active hormones at work. These changes will return to normal within six months after you've had the baby. Many women prefer to bleach facial hair for camouflaging them, and while some want to opt for laser treatments, the same is not largely recommended. So till then, rather than visiting the salon frequently and sitting for a long session, it makes sense to get rid of it at home. But the big question is, as is with anything else during pregnancy – is it safe?
How Safe Is Using Hair Removal Creams During Pregnancy?
During Pregnancy, a lot of pregnant women use and recommend hair removal creams and to some extent they are safe to use without any harmful side effects. But it is important to understand that each individual is unique and therefore reacts differently to different chemicals. What suits one may not suit the other. And during pregnancy, you don't want to get into unnecessary hassles that might harm you or the unborn child. So, it is always better to exercise caution and consult your doctor whenever doubts arise. Always remember that during pregnancy it is better to be safe than sorry.
How Hair Removal Creams Work?
To get rid of unwanted body hair, you could try using epilators or go for waxing, but these can be uncomfortable and painful. So if you feel that hair removal creams are your preference instead, then you might want to check the ingredients first before taking the plunge. These creams alter hair protein (keratin), break and wipe them away when the cream is rinsed off. Hair-removal creams consists of active ingredients like barium sulfide powder and calcium thioglycate. Getting rid of body hair with hair removing creams is hassle free and the results can last up to two weeks. Brands like Veet and Nair are the safest, tested and tried by thousands of pregnant women all over. Never go for a local brand and if you're getting a service done at a salon, make sure you check the brand first. Also, the expert working with you must be trained to handle pregnant women. If that's done, you can close your eyes, relax and enjoy your session.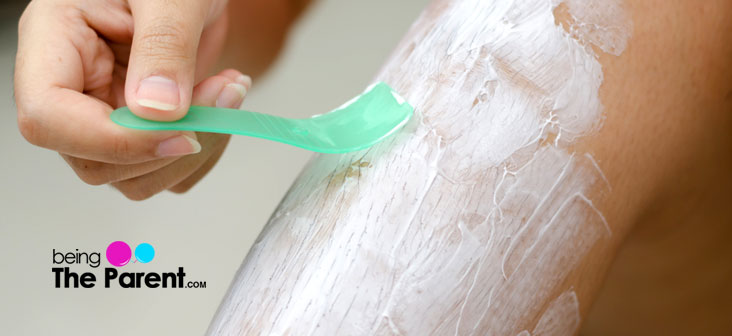 Benefits Of Using Hair Removal Creams During Pregnancy
Many pregnant women find using hair removal creams as convenient and an easy process of removing hair. Compared to shaving, waxing and epilating during pregnancy, use of hair removing products seems a lot easier and hassle free. During pregnancy when the hair growth is lot thicker and frequent, pregnant women feel that using hair removal creams helps in less frequent hair growth thus making it more convenient to use.
Safety Measures For Using Hair Removal Creams During Pregnancy
Even while using brands that you have been using for ages, make sure to follow some simple steps to be on the safer side:
Always do a patch test on a small area of the skin first, before actually using the product. If you notice allergic reactions, avoid using it and discuss it with your doctor
Read the label for ingredients (if you aren't sure) and watch out for any special instruction that might be useful
Choose a product that is exclusively for sensitive skin; you cannot predict how your body will react to chemicals when you are pregnant
Avoid using the cream on broken skin
Avoid using it on your face
Make sure you rinse it off after the stipulated time. Keeping it on longer than required may not be a good idea
Most hair removing creams have a strong smell. Make sure that it doesn't cause headache or nausea
Always use strong smelling creams in well-ventilated rooms, so that the smell does not bother you much
Doctors normally recommend refraining from the use of chemicals during the first trimester of pregnancy when the fetus undergoes significant development changes. As pregnancy advances to the second or third trimester, you can introduce mild, harmless chemicals in the form of hair removing creams without fear of causing any harm to the fetus.
Pregnancy is a beautiful phase of life, but also one in which you need to tread with extreme caution. Now-a-days, people head to beach resorts or to some quiet romantic place for babymoon and during such times, you don't want to be embarrassed with unwanted hair all over. Most of the active ingredients in hair removal creams are absorbed and passed on to the bloodstream without causing any major damage. So, there is no reason to fret over it. As with everything else during pregnancy, deal with unnecessary hair growth with care and let your skin radiate with beauty. Let other women keep guessing your secret mantra. Shine your way through pregnancy!