Paneer or cottage cheese can easily be called as the best by-product of milk. The attractive white color, nice taste, easily cooked, delectable, great to eat and widely popular in India and the European and American foods, paneer can be prepared in a thousand different ways. And if you have a baby who is to begin solids, paneer can be one super food that must be included in your baby's diet.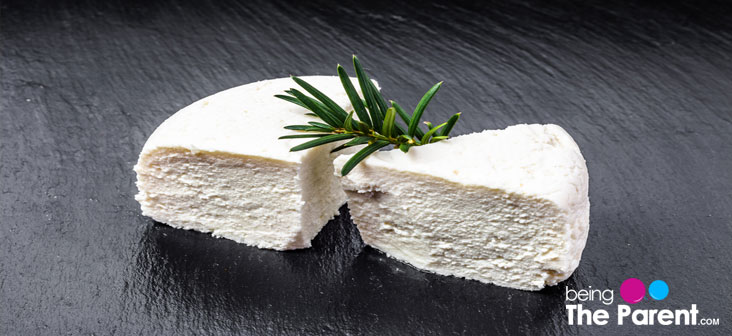 Benefits Of Eating Paneer For Babies
When Can I Introduce Cottage Cheese To My Baby?
8 Must-Try Easy-To-Make Paneer Recipes For Babies
How To Make Paneer At Home?
Benefits Of Eating Paneer For Babies
Better nourishment: Loaded with proteins and healthy fats, paneer and cheese provide nourishment to your growing child and meet his nutritional needs
Stronger teeth and bones: Being a byproduct of milk, paneer also has a high content of calcium and phosphorus, thus aiding in making your baby's bones and teeth stronger and healthier
Better growth: Paneer is full of essential vitamins, minerals, calcium and phosphorus, and helps provide nutrition for proper growth and development of your child's body and brain
Immunity booster: Regular servings of paneer on your child's diet can help him stay away from common infections like cough, cold bronchial asthma as paneer is known to boost the hemoglobin count
Weight gain: Your baby's muscles need proteins to form and grow, and paneer is full of proteins and calcium, along with fats and other vitamins and minerals. Some paneer in your baby's diet would definitely help your child in gaining weight
When Can I Introduce Cottage Cheese To My Baby?
Cottage cheese or paneer can be safely introduced to the baby by the time he is 6 months old, although it is advised to check with the pediatrician first- especially if your family has a history of allergies. To avoid the risk of feeding your baby contaminated paneer, you can always make it at home with pasteurized milk. If you buy packaged paneer, make sure you check that it is made from pasteurized milk, carries low amount of sodium and has not crossed the expiry date.
Keeping in view the immense benefit paneer can give your child, here are 8 tasty, easy to prepare paneer or cottage cheese recipes that will be a hit with the fussiest of eaters. Plus, they do not take a lot to get ready too!
8 Must-Try Easy-To-Make Paneer Recipes For Babies
Shredded Cottage Cheese: You can simply shred a small block of cottage cheese and serve it to your baby in a clean and sterilized bowl as a finger food. Let your little munchkin enjoy the taste of paneer as it is without adding salt or sugar. Remember, salt should not be given to babies under one year of age, but you could sprinkle a dash of pepper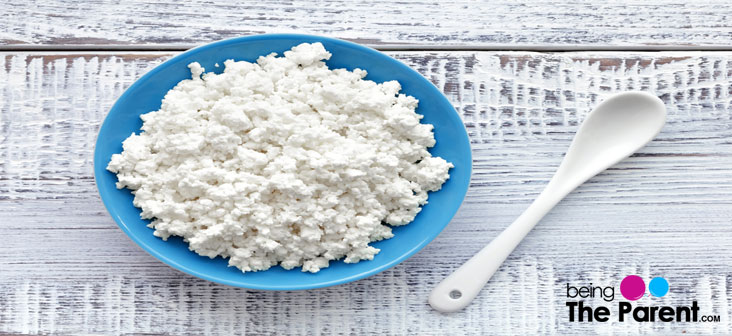 Mashed Cauliflower and Paneer:Cut a few florets of cauliflower, wash and steam it in pressure cooker for about 15 minutes, and give it a rest time of about 5 more minutes. You can mash the cauliflower with a fork or using a blender and add mashed paneer to up the taste quotient. The ratio of cauliflower should be 2 and a half times more than that of paneer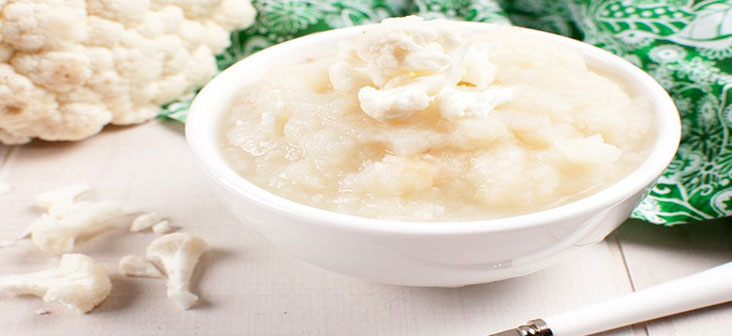 Vegetable and Paneer Puree:If you have introduced vegetable purees to your child, you can add a little twist by adding some paneer in the purees. You can use peas, potatoes, carrots, asparagus spears and steam them for about 15 minutes. Mash the veggies using a fork or a blender to a fine consistency, by adding some breast milk or water. Add mashed paneer and a dash of pepper and enjoy seeing your baby finish this healthy dish in minutes!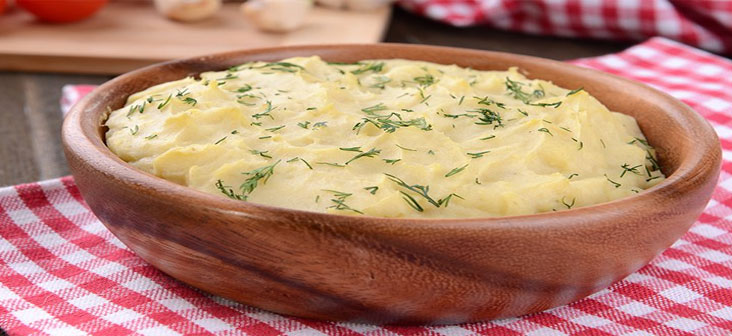 Paneer Rice:Boil half a cup of rice and blend the same to get a puree like consistency – adding breast milk or water if necessary. Add equal quantity of mashed paneer and mix it finely using a fork. Serve the baby at room temperature. You can add pureed peas or potatoes to the dish for added flavor and nutrition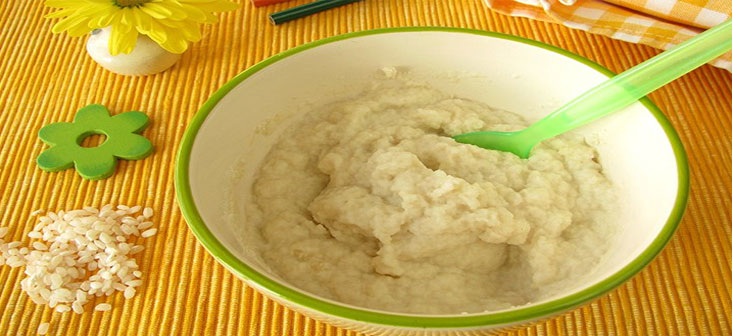 Fruity Paneer:Apple puree, banana puree or peach puree can be made healthier if you also add some mashed paneer. The dish will be nutrient dense and for added taste, a pinch of cinnamon should be fine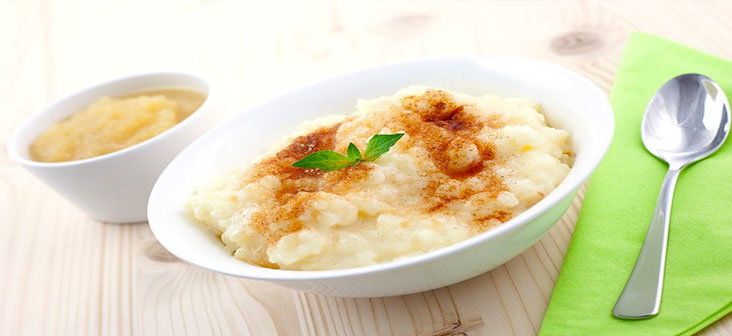 Egg and Cheese Salad:If you have introduced eggs to your baby, this recipe will be greatly enjoyed by your baby. Chop one hard-boiled egg and add some chopped cheese. Whisk both together with a spoon and a nutritious salad is ready for your baby. For babies above the age of 1 year, add a pinch of salt and pepper for that added zing. You can also add a tablespoon of cottage cheese to scrambled eggs for a creamy, rich delight
Strawberry, Peach and Cottage Cheese Wonder:If your baby has started off with finger foods and has most of his teeth, you can try feeding him this simple recipe that has oodles of colors and flavors. Place deseeded and chopped peaches and de-stemmed strawberries in a microwave for about 2-4 minutes until the fruits are soft. Place chunks of paneer is a deep dish bowl and pour the softened fruits over the tops. This flavorsome dish is sure to make your baby smile ear to ear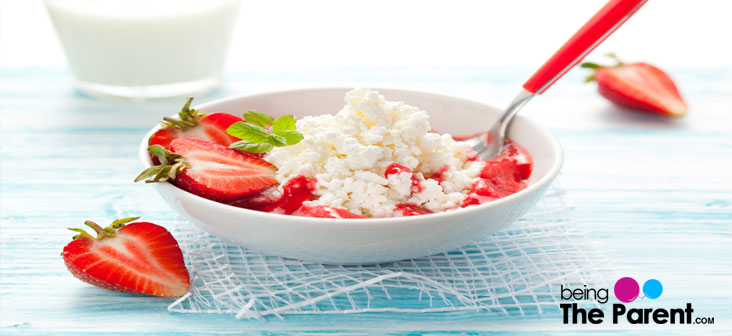 Mashed Avocado and Cottage Cheese:A healthy dip or a snack, a mashed, ripe avocado served with mashed paneer is a nutritional powerhouse and can be had as it is. It tastes yummy!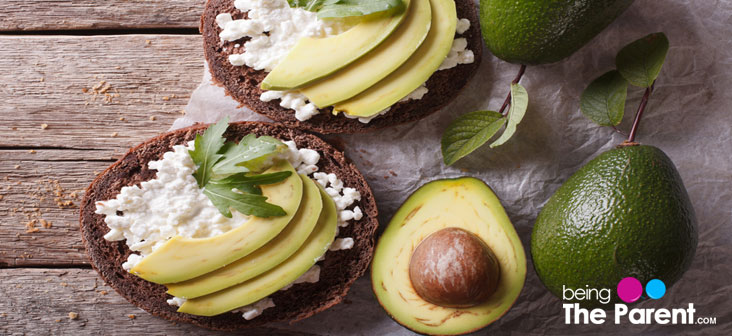 How To Make Paneer At Home?
We understand your baby is precious, and if you are one of those mothers who love to ensure that all that your baby eats is home-made, then buying packaged paneer may be a deal to you. Here is how you can easily prepare paneer at home.
Ingredients
A litre and a half of full fat milk – for the softest paneer. You can use slim milk as well, but what is paneer that is not soft?

1/4 cup of curd or 2 tablespoon lemon juice or vinegar

A vessel to boil the milk

Muslin cloth
Directions To Make Paneer At Home
Bring milk to a boil and let it boil for a minute or so
Add curd/lemon juice/vinegar and gently stir the milk. Curd yields the softest paneer while lemon could lend some of its smell to the paneer
Once you see the milk begins to curdle, switch off the flame and let it rest for a minute
Pour the curdled milk in a muslin cloth and squeeze excess water from. Make a knot at the top of the cloth and hand it so that the liquid will drain
Once the excess whey is drained, place the paneer with the cloth on a flat surface and place a heavy pan on it. This will render it a leveled thickness and shape
Once cooled, cut into cubes and use it or refrigerate it in a bowl containing water to retain its softness and freshness
Your homemade paneer is ready to be used!