Motherhood is the most fulfilling phase, and as rightly said, birth is not about making babies, it's about making mothers. The moment she takes her baby in her arms, a mother forgets all her pain and discomfort. There are a lot of changes that take place in a woman's life after pregnancy. Pregnancy weight gain is one such thing, especially the post-pregnancy pouch, which can hamper a woman's self-esteem. But then your body needs time to heal and recover after delivery, especially if you have had a C-section. You might have heard that if you worked out systematically, it is possible to get back to your pre-pregnancy shape. Pushing yourself to lose those extra pounds and to get your body back into pre-baby shape after a C-section can lead to unnecessary complications and prolong the healing process. So calm down. Here are some effective ways that will help you to reduce tummy after c section.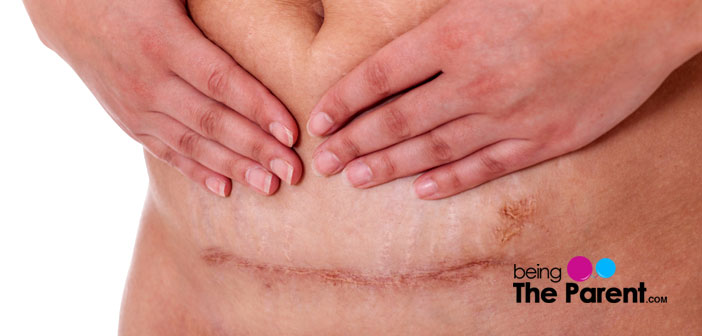 How To Reduce Tummy After C Section?
6 Tips To Reduce It
Yoga To Reduce It
5 Exercises That Help To Reduce Belly Fat After C Section
Abdominal Belt To Reduce Tummy After C Section

How To Reduce Tummy After C Section?
Birthing is a beautiful process, but having a baby through C-section can be worrisome. Postoperative recovery is very important. Exerting yourself after a C-section can delay the healing process. Wait for the stitches to dissolve and the incision to heal before you start to indulge in any weight loss activity after C-section. Reduce tummy after c section is not easy, and it becomes all the more difficult if you have gone through a C-section delivery. This is because, after C-section, you cannot do standard abdominal exercises for some time. But then here are some alternative ways to have a visibly flatter tummy after C-section.

6 Tips To Reduce It
Here are some ways in which you can reduce tummy after c section naturally before starting any strenuous exercises:
Eat healthy:

 Make sure your diet is rich in carbs and low in fat. More energy is needed for 

lactating mothers

. A high carb diet, along with sufficient vitamins and minerals is very important. At the same time, avoid food with saturated fats and sweets. Stay away from ghee, butter, fried foods, and also from sugary beverages and aerated drinks. Include more fruits, vegetables, and protein in your diet

Drink plenty of water:

 Drinking water will not only help to maintain fluid balance but also helps to burn off any excess fat from your body post a cesarean delivery. So go ahead and up your water game

Breastfeeding:

 Breastfeeding is one of the easiest ways to lose those extra kilos that you piled up during pregnancy. You will have to 

breastfeed your baby

 exclusively for the first six months after a C-section. This will help to reduce the belly fat

Move your body:

 A C-section causes a lot of stress on the pelvic floor and abdominal muscles. This is because a C-section can cut through some of the stomach muscles resulting in a pouch-like stomach after delivery. It is recommended that you take at least 6-8 weeks after a C-section before starting to move aggressively or exercise. Walking is a low impact exercise that burns calories and helps to increase your metabolism. One of the easiest methods to start getting in shape after delivery is by going for a walk. Walking will not push you to the extremes. Going for a brisk walk at least three times a week can do wonders in regaining the belly shape

Massage:

 

Post-pregnancy massages

 have great advantages. And there is no harm in getting a massage after a C-section as well. The only thing is that you have to wait for two weeks before you get a massage. This is a period during which any complication associated with surgery surfaces. Once that period is over, you can indulge in massages without any problem. Still, you have to keep a couple of points in your mind. During the initial days, avoid the abdominal area and concentrate more on the back, legs, and hand. Normally 4 Weeks after the surgery, your body will heal, and 

scar tissues will start to form

. You will now be able to lie on your tummy without any pain. From this stage onwards, you can concentrate the massage on your abdominal area. Massage in the abdominal area helps to break up the belly fat. The massage also helps to lose the fluids in lymph nodes, thereby reducing your waist

Tummy Binder:

 An age-old process of tucking in the tummy is the tummy binder. In this, the post-C-section tummy is tied up with a muslin cloth like a bandage. This pushes the stomach in too. But you can do this only 2 Months after to reduce tummy after c section when your incision has properly healed
Yoga To Reduce It
Practicing yoga is a good option to reduce tummy fat. It will help to tone and strengthen the stomach muscles. Practice yoga only 6-8 weeks after delivery. Do consult with your doctor to get a green signal from him before you engage in yoga. You can start with simple breathing exercises for the first 2-3 weeks. It is an effective way to reduce tummy after c section. However, if you have not practiced yoga until now, hire a certified yoga practitioner and start with relatively safe asanas during the initial period. Yoga also helps the new mothers to deal with all the stress and strain of having a new-born around and an erratic schedule.
Some of the yoga poses that you can indulge in after C-section that will help to reduce the belly fat include:
Pranayama:

 Helps to tighten your muscles and tuck in your tummy

Bhujanga Asana:

 This asana will strengthen your abdomen muscles and tone them

Bhujangasana or snake pose:

 This will help to lose the fat around your belly

Suryanamaskar or Sun Salutations:

 Once your body gets used to doing these normal asanas without any stress, you can move on to Suryanamaskar or Sun Salutations. It is an easy way to get back in proper shape by stretching the abdominal muscles and helps lose that extra flab around the belly naturally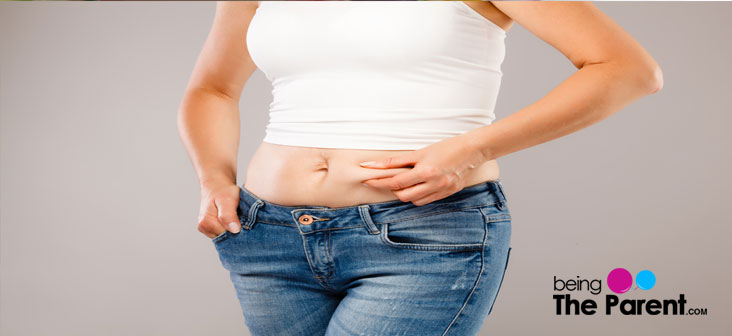 5 Exercises That Help To Reduce Belly Fat After C Section
Once the doctor permits you to start exercising, you can design your own exercise routine. The exercise will help to reduce your tummy by strengthening the abdominal muscle and burning the accumulated fat around the hips and core. Start with mild exercises. If possible, hire a physical trainer to design an exercise routine that is suitable for your body and health. Also, wearing a compression garment will put gentle pressure on the C-section wound so that pain due to movement can be avoided. Some of the exercises that you can indulge in once you recover from C-section you can reduce tummy after c section are:
Forward bends that help to strengthen the lower back

Bridges to strengthen the hip

Kegels to strengthen the pelvic floor

Pelvic tilts

Planks. This exercise strengthens the abdominal muscle just as crunches do, but are not as intense as crunches and sit-ups. Planks put zero pressure on the C-section wound
Abdominal Belt To Reduce Tummy After C Section
Wearing an abdominal belt to reduce tummy after c section will help to support your body and also helps to regain the firmness of the tummy after delivery. At the same time, using a maternity belt can have adverse effects on the C-section wound, especially if the woman is overweight. Therefore, consult the doctor before trying any such items to reduce belly after a C-section. Don't forget that a C-section is a major surgery which comprises of an incision that is made in the deeper layers of the abdomen. Hence, the healing takes time, and any wrongly applied abdominal pressure can, in turn, interfere with the healing process.
Here are some of the benefits of wearing an abdominal belt to reduce tummy after c section:
The abdominal belt will hold the abdomen firmly in place thereby healing the stitches faster

The movement of the body after a C-section will usually be painful, especially during sitting down and getting up. An abdominal belt by holding the loose flab on the tummy together will help to ease such movements

The muscles on the back weaken during pregnancy. Wearing an abdominal belt will support the back muscle and helps to recover its strength
To know more about this read: Maternity Belts – Do They Help In Losing The Belly Pouch?
Motherhood is meant to be celebrated and enjoyed, and you can only do this when you are in the present moment, with a calm state of mind and a healthy body. So go ahead and try these tips to get that tummy fat out of your way.