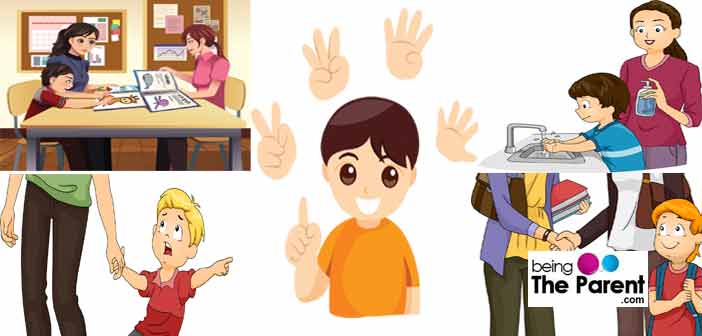 "The roots of education are bitter but the fruit is sweet", these famous words of Aristotle remind us about the struggle of getting our toddler cross the hurdle of the first interview. The exercise ranges from deciding the school to securing admission and settling your tot in the new atmosphere. In today's competitive world, the admission process in schools has also become more complex and tough. Unlike before, a child as well as his parents are subject to interviews and in some cases, written tests too. The school admission is particularly considered a Herculean task. It is a testing time more for the parents, than the kids. Getting the child acquainted with the atmosphere and preparing him to perform as per the norms of the school is a tiresome task. Following are a few tips to help you pass through this nerve wrecking experience and effectively prepare your child for a successful school admission.
Why Do Schools Conduct Interview For Admission?
Most schools have mandatory oral interviews, while some of them do conduct written entrance tests also. Though there have been many debates and opinions on the way these tests are conducted, it may well be mentioned here that these school interviews assess the students, their readiness for school, and to some extent, the parents. School interviews help school authorities figure out any special needs of your child so as to enable any required learning support. School interviews also let your child's readiness for kindergarten entry, and help to get to know a student beyond the academics. It also helps parents to to question and ask anything they would like to know about a school.
20 Tips To Prepare Your Child For The First School Interview
Your child's academic journey is about to begin and as every parent, you are excited for this new chapter in your life. The first step towards your child's academic life is preparing him for his first school interview. Most parents train and prepare their child for the first school interview on their own. Presented below are some pointers to help you prepare your child for his first interview, and we hope that we'd succeed in taking some stress off you.
Built the rapport with your child: According to Psychoanalyst Erik Erikson, a child goes through various stages of psychological transformation. The age between 0-2 years is about hope and trust. The trust developed by the child for the parents can be used in building the confidence in a child. You should develop a good open relationship with your child so that he/she feels that he can trust you
Research: Do a thorough research about the school in which you want your child to be admitted into. All schools are very specific about what they expect from their future pupils. Inquire what will be asked during the interview and written test(s). Jot these down and start preparing bang on! You can even get in touch with the parents of kids who are already studying in the respective school and get hands-on advice from them. Collect as much information possible including the questions commonly asked in the particular school. This will help you in preparing your child to face the interview and you will not be caught unawares
Keep a peer check: See if someone else you know is also trying to get admission in the same school. Keep a check whether your neighbors or your ward's friends are taking admission in the same school. If so, you can develop a bonding with them and allow your child to mingle with the same crowd so that he won't feel that he is in a strange place
Brush the basics: Even if the school authorities do not particularly mention about questioning shape and colors during admission, it is expected that your child would know them. Start with the name of respective school, parents, their profession, home address, country etc. Also brush up other essentials such as colors, alphabets, numbers, fruits, vegetables, shapes, flowers, national anthem of the country and the like

Make a routine: Make sure that you regularly spend time on and with your child to teach him. Make a routine when you let go of the fun part and ask him to focus on the learning part. Though this will be tricky for a toddler, but gradual persistent approach will show results
Play smart: The authorities will judge your child's communication, interaction, motor, cognitive and academic skills. Identify your child's shortcomings and work harder on that aspect. It could be speech, body language, attention, handwriting, anything. Puzzle solving is another great way to hone a kids' dexterity and problem solving skills
Devise a plan: Involve your kid in household activities such as putting away his own dishes, arranging toys, pouring milk etc. Incorporate skills (communication/interaction/motor) into daily routines and play. All these skills require time to develop and should be started as soon as possible rather than a month before the admission test
Be strict with cleanliness: Imagine your tot being rewarded a chocolate by the headmistress for faring well through the interview, and he litters the chocolate wrapper on her table! Yes, cleanliness habits reflect in the interview. He may also be asked whether he washes hand before eating/after using toilet? Teach your child to be neat and clean right from the childhood. Keep practicing cleanliness exercises in play way method. Teach cleanliness rituals to your kid, practice, preach and follow the same

Dress appropriately: Dress your child neatly. Oil and comb the child's hair properly. Avoid glittery and frilly dresses, and try to make your child wear minimal accessories. Dress the child in comfortable, airy clothes. Even for you, try wearing simple formal clothes. Avoid bright and gaudy colors and glittery ornaments
No cramming zone: Parents of a toddler must know the fact that we are not talking to an adult person but to a child who cannot understand the difference about the worldly mannerisms and cannot follow everything in a single practice. We need to go slow with a child. One step at a time. Train him, don't foster him with the habit of cramming
Praise and encourage the precious: Encourage your child for each good act. Give some small gifts for their small achievements. Never understate your child. But over praising also can cause trouble. So praise and encourage positively. The Stanford Marshmallow experiment has shown that through simple gifts such as cookies or chocolates can be used as a tool to teach a kid life skills in a simple way
Tackle the tantrums: As our little chums are closer to us more than anything in this world we tend to shower them with all the love in the world. This sometime makes them a little aggressive and demanding. You have to make them understand that they have to behave themselves while outside. Throwing tantrums in public should be handled with trick and compassion. This helps the child to be calm in the school

Encourage him to talk: Most children shy from expressing their views in front of strangers. To overcome this hurdle during admission, target their social interaction. You may let your kid recite poems to elders; insist on conversing in English at family gatherings or with your office mates. Ask him to introduce himself by making eye contact, shaking hands and answering questions. Encourage him to order his meals at a restaurant or answer the phone
Make learning fun: Boost the learning process of your child by helping him observe hoardings, the colors and alphabets in them, the number plates of vehicles, certain words written on books, newspapers or the display boards at shops and malls. Make learning more fun and interactive
Stimulate curiosity: The authorities may want to test the observation skills and alertness. Always point to the things in your child's surroundings and encourage him to understand the scenario. Ask him questions and allow him to question about each thing. Be patient and answer to all questions. Clear the doubt(s) in any possible way you can. This is actually a preparation to face the interview. This way the child automatically becomes confident and well informed.This helps in developing his interests and knowledge
Develop social etiquette: First impression is the last impression. Teach your kid to greet good morning, shake hands, and refrain from picking nose. Make sure he addresses "mam/sir" not aunty/uncle to authorities. Give some tips on greeting someone with a handshake and hello. Ask him/her to calmly voice their opinion instead of crying. Provide him with a clean handkerchief and polished shoes. A child who says "sorry" and "thank you" definitely creates a good impression and not only of the kid but of the entire family. Good posture and pleasant expressions are also crucial

Don't stress your child: Do not pressurize your child with your worries. This will make him nervous. Ensure healthy and enjoyable preparation. Allow him to rest and provide healthy food. Reward his efforts rather than pressurizing him attainment of goals
Do your homework: Parents are also asked various questions when they come to a schools seeking admission for their child. You might be asked about your interests, activities, lifestyle and work. Some schools also ask parents how they deal with challenging situations like fussy eaters and striking the child. Be sure you do not run a surprised face there!
Briefing about the big day: Brief your child about the school and the questions to be asked in the interview. Take your child to the school before the interview and show him/her the campus, allow him to interact with people over there. Most of the school allows this in order to break the normal belief that Kindergarten interview is a nightmare for the kid

Spread glee: Most important thing, ask them to smile generously. Crack jokes or make them happy so that they will be relaxed. Children especially between the ages of 2 to 4 years perform well in happy surroundings. They bring out their best in academics and also co-curricular activities when they are happy. A child's smile is heavenly and pays off all the dues
Apart from these, familiarize your child with the interview/test environment by conducting mock tests. If you falter, feel free to approach performance coaches; they'll help you and your kid in preparing for admission. Also, rehearse the anticipated questions for your (parent's interview). Do not overdress or empower the ambiance with your perfume or a Gucci bag. Lastly, Chill! Stay positive and make this admission preparation fun for your little one.
"Don't limit a child to your own learning, for he was born in another time".
– Rabindranath Tagore