Pregnancy is a phase that demands extra nourishment. Therefore a mom to-be has to be very careful in choosing her diet which should meet not just her needs but that of the growing baby as well. Dairy products are excellent sources of calcium, protein, Vitamin D, phosphorus and other vitamins and minerals. Therefore, it goes without saying that a pregnant woman must include dairy products in her diet on a daily basis.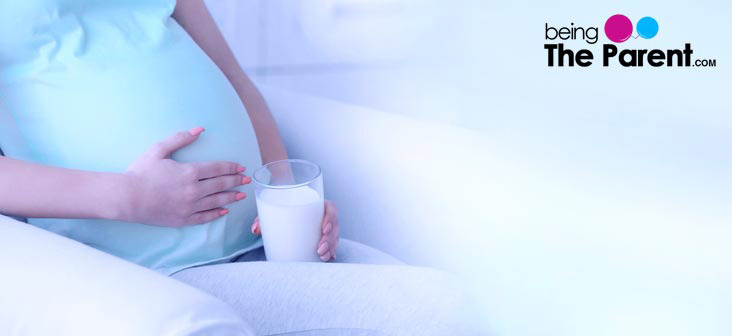 What Dairy Products Are Good During Pregnancy?
Of the dairy products that need to go into the diet of a pregnant woman, milk, cheese and yogurt are most important. These are essential because they are packed with nutrients that support your baby's growth and development. Protein helps build tissues while calcium and Vitamin D play a predominant role in the development of healthy bones and teeth.
How Much Dairy Do I Need During Pregnancy?
Normally, 3 to 4 servings of calcium rich foods are enough to make up for 1,000mg of calcium requirement in a day for pregnant women. What you need to be careful is to check the fat content in the dairy products you choose. Those with a higher fat content can affect your weight gain. Ideally, you could think of 2 cups of cottage cheese (low fat), I cup milk, 1 cup buttermilk, 1 cup yogurt (1 3/4th if it's the low-fat variety), 1 cup pudding/custard, 1 ounce grated cheese, 1 ½ cups ice cream/ frozen yogurt. (Source)
You could even opt for evaporated milk in your cooking or steamed milk instead of tea. It is also a great idea to go in for yogurt or sour cream dip for crispy veggies. It all depends on how creative you can get to maximize calcium intake in your diet in the form of dairy products.
Dairy Products To Avoid During Pregnancy
Of course, dairy products are extremely beneficial for pregnant women, but not all of them. You must be careful to avoid an unpasteurized product because it could include harmful bacteria that could harm the fetus. Therefore, it is very important to check the label of products very carefully before you buy. Similarly, you must opt only for pasteurized milk; don't go for unpasteurized goat or sheep milk. Also, take care to avoid soft cheese (brie and camembert) and soft blue cheese whether pasteurized or unpasteurized. These contain a high level of listeria, a bacterium that could cause miscarriage or could cause severe illness in your baby soon after birth. Processed cheese, feta, mozzarella, cottage cheese, cheddar, parmesan can be safely consumed.

What Is Lactose Intolerance During Pregnancy?
During pregnancy, the functioning of the digestive tract is slower due to the hormones that the body is producing during this period. Many pregnant women suffer from lactose intolerance. This is quite common and is the intolerance towards lactase which is an enzyme that digests a sugar called lactose. Lactose is a predominant ingredient in dairy products, so eating them could cause abdominal pain, cramping, bloating and discomfort. Though research has shown that pregnancy alone does not make you lactose intolerant, some studies prove that women who were already lactose-intolerant before pregnancy can actually digest lactose during pregnancy (Source)
Remember, lactose intolerance is not the same as cow's milk intolerance, though the symptoms might be similar. If you are intolerant to cow's milk, your body reacts to the protein in the milk. The immune system is responsible for this allergy. Do not confuse between the two.
How Can You Get Enough Calcium During Pregnancy If You Are Lactose Intolerant?
If you're pregnant and lactose-intolerant as well, it gets a little difficult to make sure that you get your regular calcium intake without dairy products, but it is not impossible.
Drink lactose-free milk/soya milk/ almond milk
There are some over-the-counter enzyme supplements that you could opt for. These supplements help you digest lactase so that you can consume dairy products. However, make sure that you consult your doctor before going in for any supplements
Sometimes it helps to divide it up. For instance, instead of consuming a whole glass of milk, you can drink a half glass of whole milk, four times a day, depending on your convenience. That way, the fat in the milk slows down digestion making it easier to digest lactose
Include lots of green vegetables and fruits in your diet such as spinach, broccoli, cabbage, lettuce, turnips, brussels sprouts, carrots, figs, berries, guava, kiwi, black currant and more
Your doctor could also recommend calcium supplements to meet the daily dietary requirement
Pregnancy is a phase when your body is undergoing intense change within to support the growth of the fetus. Therefore, it is important to exercise extreme caution with your choice of foods. Some of the nutrients are a must during this period such as calcium and what better source of calcium than dairy products? At the outset, consult your doctor to know what you can include in your diet and how much. Having a diet chart helps you because it helps you understand your nutritional needs and where to get them from. It can be a bit tedious to strictly follow a regimen, but when you think of the benefits in terms of your health and that of your baby, no effort is a waste. Take care and enjoy pregnancy!