Pregnancy is a phase filled with happiness and care from loved ones and also a time when lots of dos and don'ts do the rounds. A pregnant woman is usually quite sensitive and tends to get a bit superstitious because some beliefs involve the well-being of the little one too. Some taboos include intake of food while others include general day to day activities. Here are some myths that ought to be shoved under the carpet and are best left ignored because there is no scientific evidence to prove that they are no good during pregnancy.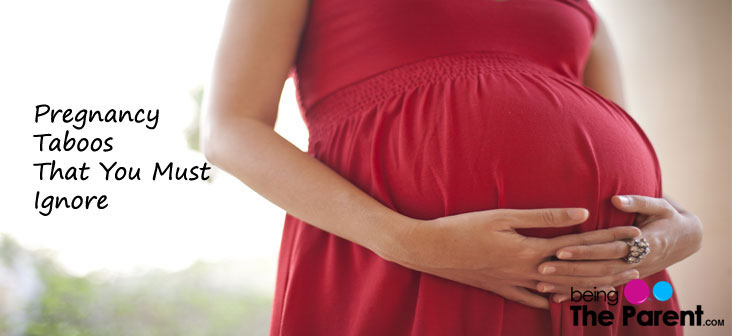 7 Pregnancy Taboos That You Must Ignore
Some Other Interesting Pregnancy Taboos From Around The World
Should Pregnant Women Believe In These Pregnancy Taboos?
7 Pregnancy Taboos That You Must Ignore
1. Don't Spread The "Good News" Until The End Of The First Trimester:
Most people, especially in India believe that you must keep the news of your pregnancy under wraps until the first trimester is over. Only very close family members and siblings of to-be parents are informed. Others are known to cast an evil that might result in a miscarriage/ abortion
2. You Must Look At Pictures Of Beautiful People/Beautiful Babies:
This is meant to ensure that you stay happy throughout the three trimesters and finally have a safe delivery. Obviously, this is neither feasible nor does it make sense to follow
3. Eat, Eat And Eat:
It's true that a pregnant woman needs to feed herself and her baby as well, but that is no excuse to simply devour. What is more important is to take the right foods at the right time and in the required portions. Binge eating is no good. The diet needs to be healthy and balanced. In fact, on an average, a pregnant woman requires 300 extra calories a day
4. Eating Saffron Ensures The Birth Of Beautiful Baby With Fair Skin:
This is a belief in almost all parts of India and is strictly enforced among expectant mothers by mothers and grandmothers. Saffron aids digestion, helps build immunity and is rich in vitamins and minerals. It helps a person relax. Well….for all these reasons, it can certainly be recommended for a pregnant woman, but fairer skin of the baby? Well…it's far-fetched and I doubt if it has ever played that role. Also read:Will Drinking Kesar Milk During My Pregnancy Make My Baby Fair?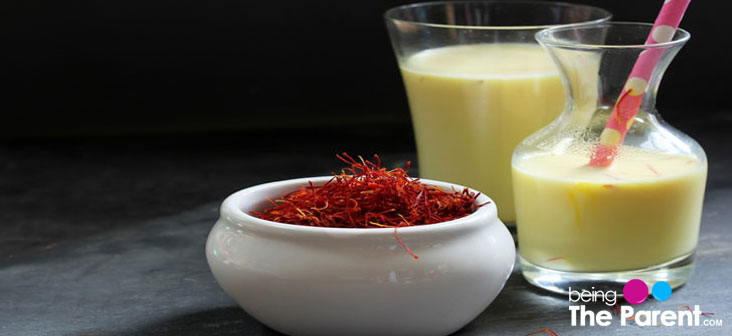 5. Papayas Might Cause Miscarriage:
This is largely believed in India. The moment you break the news of your pregnancy some fruits are completely banned and papaya is one of them. In fact, even some doctors in India advise against papaya during pregnancy. The truth is, unripe or semi ripe papaya is rich in latex, which might provoke uterine contractions. But a fully ripe papaya is devoid of the latex and so can be safely eaten. Most parents and in-laws in India consider papaya to be heat-producing and therefore harmful for the fetus. That is unfortunately not a reason to avoid it during pregnancy
6. Twin Fruits And Vegetables Can Result In The Birth Of Twins:
Ridiculous as it sounds, but followed nevertheless. In many parts of India, pregnant women are warned against consuming fruits and vegetables that may be attached to each other by default, such as bananas, cucumbers, mangoes. It is believed that a woman who consumes these might give birth to twins
7. Take Rest, Avoid Exercises And Hard Work:
It is widely believed that a pregnant woman must rest, refrain from lifting heavy objects and must relax. While that might be true to an extent, exercises aid easy delivery. Doctors recommend Yoga, walks, swimming, light weight training, aerobics and pelvic floor exercises. Of course, depending on your condition, you need to get an expert to decide on exercises tailored to your specific needs. Always remember that physical activity is more beneficial for you and your fetus
Some Other Interesting Pregnancy Taboos From Around The World
It is interesting to note that each country has its own set of myths and taboos concerning pregnancy and pregnant women. In Nigeria it is believed that eating yams might make your baby too big to deliver. While in Tanzania consuming fishes are held responsible for delayed delivery, in Indonesia, on the other hand, consuming eggs are held responsible for the delay. In some countries pregnant women are barred from attending funerals and visiting relatives who have taken ill. Keeping scissors anywhere close, cutting hair, coming out during an eclipse are all to be avoided. Some cultures believe that eating crabs could lead to a difficult labor while others associate pear and plum to blindness at birth among babies.
Should Pregnant Women Believe In These Pregnancy Taboos?
No, Pregnant women should not believe in these taboos as most of them are just myths. Remember that list is endless and the beliefs are varied and mostly not scientific. In most cases, this makes life for a pregnant woman quite tedious. Most of us understand that these are simply myths and superstitions that can be easily ignored, but in most cases, the women are easily convinced into following it under emotional pressure. In such situations, it is best to exercise logic and consult a doctor to know what should and what should not be done. You can comfortably turn a blind eye to the rest. And this becomes easier if you don't get too emotional.
Be logical, stay safe and enjoy your pregnancy!
Are you aware of any more pregnancy taboos that are not included in the list above? Did you follow any during your pregnancy? Do share it in the comments section below.