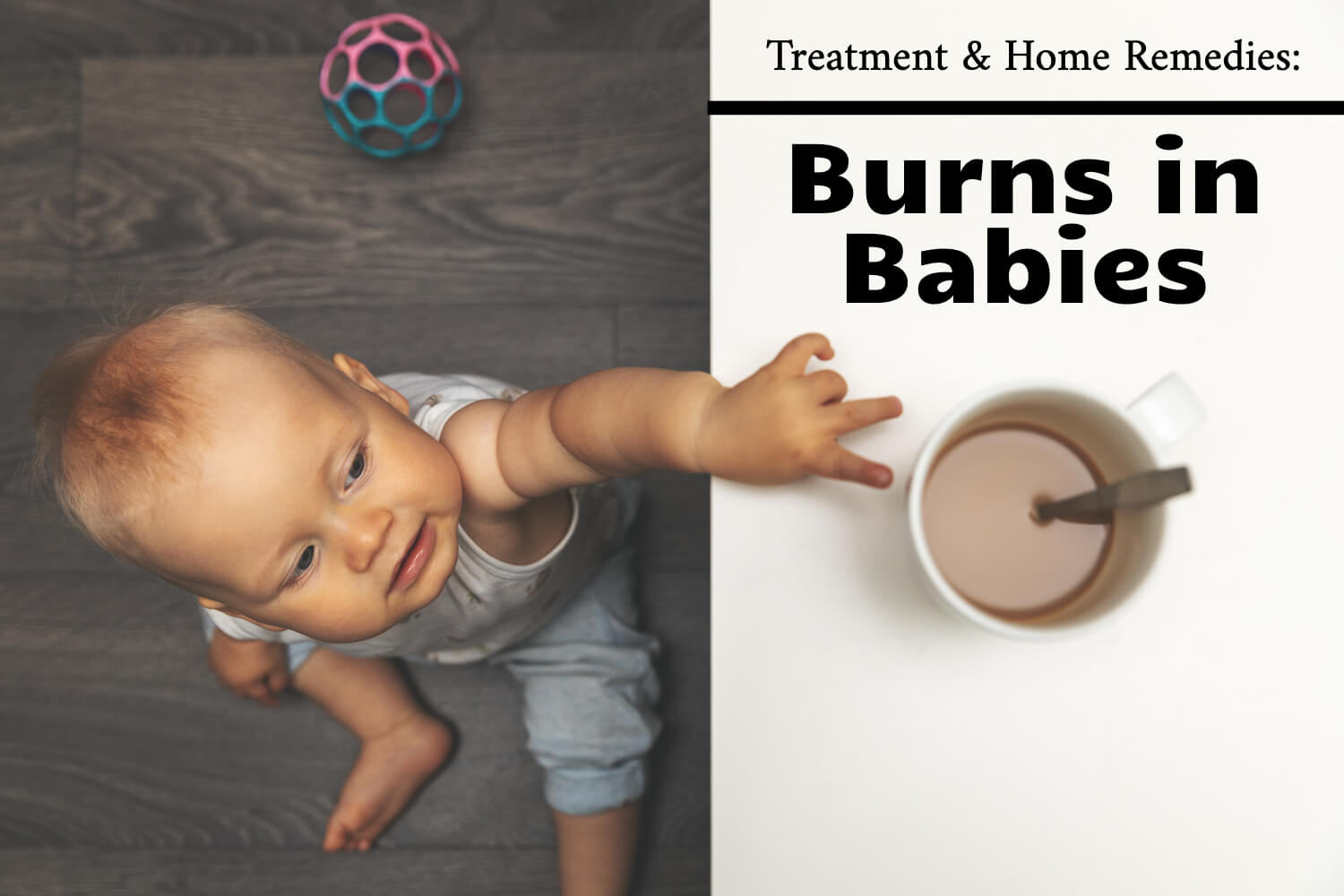 As a parent, for us, the safety of our baby is our priority. As cute as babies are, you don't want to take your eyes off them. But because of their clumsy and curious nature, babies tend to get injured more often. Whether it's spilling the water or putting their hand in hot water, babies can race your hearts in seconds. Burns in babies is one of the major causes of injuries. Babies have very tender skin and baby burn, unfortunately, is not uncommon.
A Baby's skin is 30% thinner than an adult's skin. It cuts, bruises and burns easily. No matter how small or big a baby burn is, you should start the treatment as soon as possible to help it heal faster. If you delay, the severity of the burn can increase and can also lead to permanent damage to the skin. Accidents happen when you expect them least! So, if you have a baby, or you are expecting one, preparing yourself is very crucial. A complete guide about baby burns is given below.
In This Article
What Are the Common Causes of Baby Burns?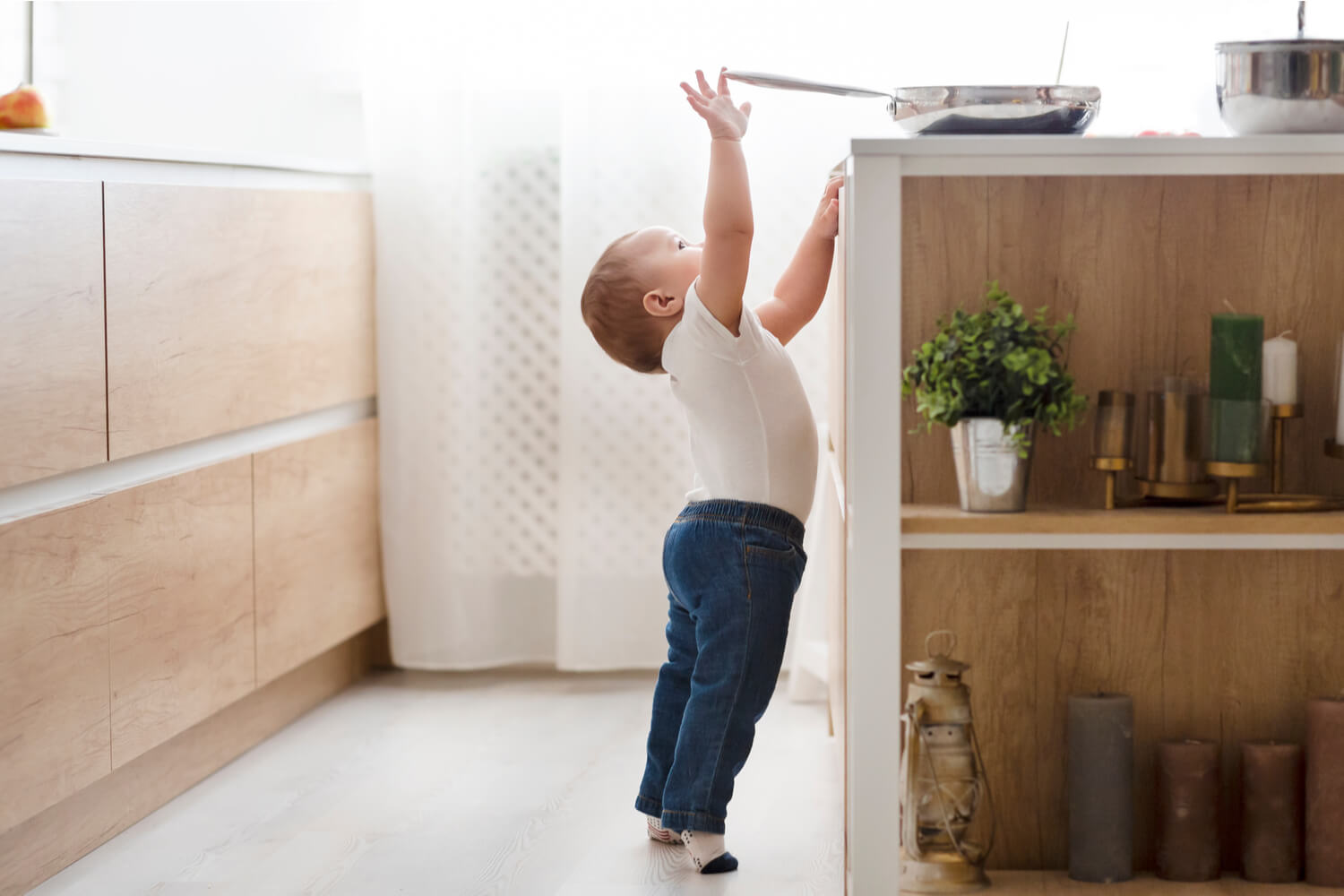 Baby burn is any damage to the skin tissue of a baby due to heat, electric contact, overexposure to the sun, or chemicals. Scalds, burns from hot liquid or steam are major causes of baby burns. The common causes of baby burns are:
Hot running water from the tap or shower
Spilling  hot liquids like soup, milk, or tea
Hot food or hot cooking liquid like oil
Burning incense stick, match stick, or lighters
Hot utensils like saucepans or kettles
Flame of candles or gas stoves
Vehicle exhaust
Overexposure to the sun (sunburn)
An iron, hair straightener, curler, or hairdryer when on
Electric burns from sticking their fingers in an electric outlet
My Baby Got Burnt! What do I do?
Burns are painful and frightening for your baby, and you panicking won't help them. So, if your babies get a burn, keep your guilt and worry aside and attend to your baby. Things that you should keep in mind while your baby gets a burn are:
Carefully take your baby away from the source.
If clothes are on fire, make sure you blow them off with a blanket.
Check the intensity of the burn, so you can decide whether to take the baby to the hospital immediately. If it's serious, rush your baby to the hospital. For this, it is important to have information about the hospital or nearby burn center handy.
Use cool running water for 15 minutes to cool the burnt area. Do not use ice or even ice water as it can cut the blood supply and harm the skin even more.
Remove the clothes over the burned area immediately. Do not remove the clothing if it is stuck to the skin.
You can raise the burnt area of your baby's body to prevent swelling.
Use a sterile dressing to cover the wound. Do not use any material that can stick to the wound. Do not use anything else other than the burn ointment for babies, recommended by the doctor.
After you have given the first aid, give your baby acetaminophen or ibuprofen for pain as per the dose recommended by the pediatrician.
[Read : Baby Proof Your Kitchen]
What Are the Different Types of Burn Categories?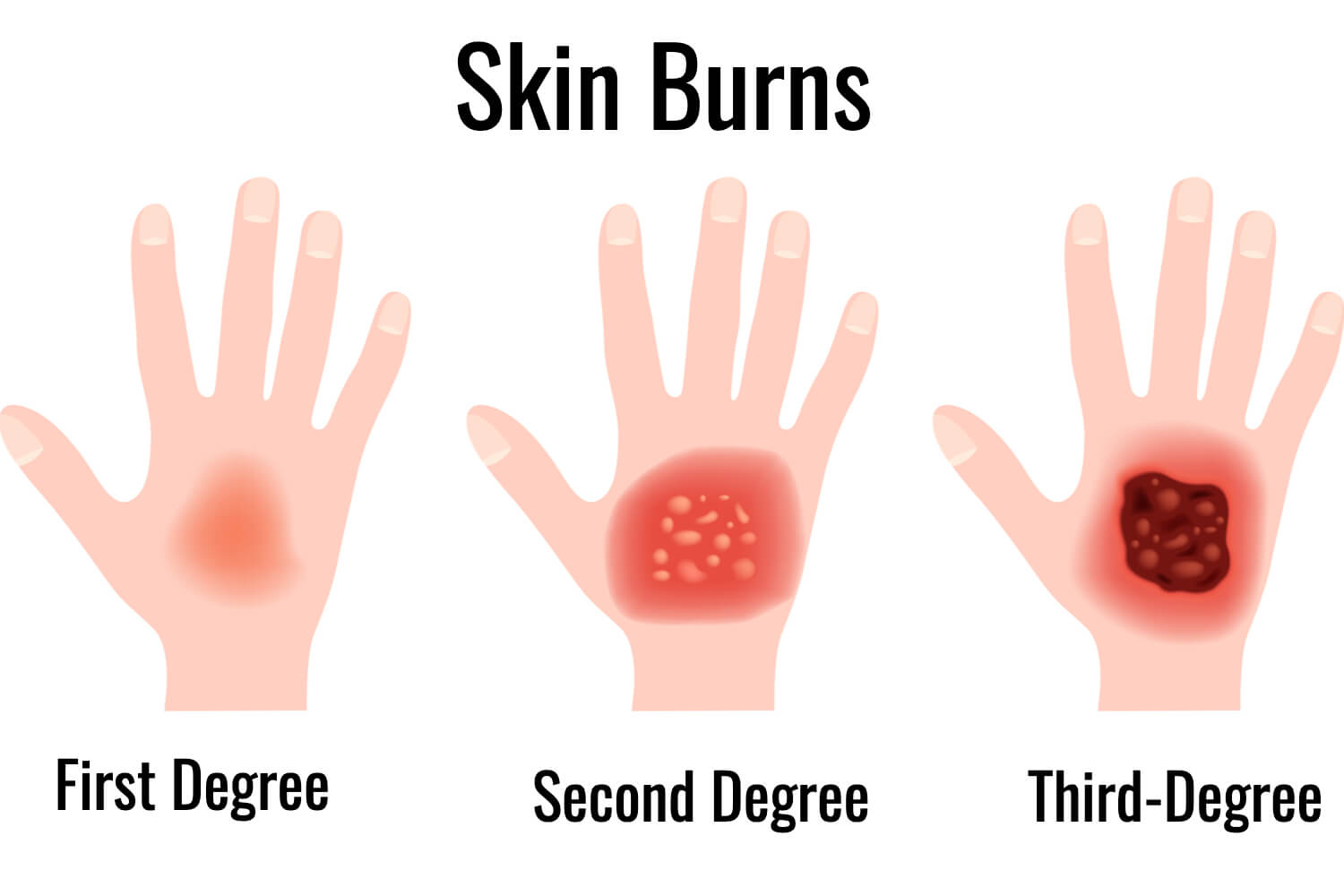 Baby burns are classified into three categories. This classification helps you to know the intensity and treat the burn:
1. First Degree
This is the mildest burn, limited to the outer layer of skin. The area will become red and there can be pain (like in sunburn) or minor swelling. The skin will not have any blisters.
2. Second Degree
The burn extent to the second layer of skin. The area will be red and blistered, and it will hurt.
3. Third Degree
This is the most serious burn and the area can be white, leathery, brown, or charred. Depending on nerve damage, there can be pain or no pain.
Treatment of Minor Burns in Babies
If your baby has a minor burn like a first-degree burn, you can treat it at home. This is what you can do to treat the burn:
Use cool running water to cool the burn. Do not use ice or rub the burn. If there is a blister, do not break it.
Cover the burn with a bandage. A bandage or any dressing should not get stuck to a burnt area.
Keep the burnt area clean and re-dress it timely. Do not apply home remedies like butter or toothpaste.
Home Remedies to Cure Burn in Babies

Minor baby burns can heal within days. The home remedies for baby burn treatment are:
Cool water (never cold)
Cool compresses or wet cloth
Apply the Aloe vera gel from a leaf directly
Honey
Moisturizing creams
[Read : 8 Amazing Benefits Of Aloe Vera For Babies]
When is the Right Time to Call the Doctor?
That sounds like the most important question! Call or go to the doctor if:
It is a second- or third-degree burn.
Burn covers a large part of the baby's body.
Burns are on hand, feet, face, genitals, or joints.
It is an electrical or chemical burn as it can have various symptoms.
You notice signs of infection like swelling, increased pain, fever, drainage, or pus.
The baby has inhaled smoke or is having breathing problems.
Do I Give First Aid While Waiting For Help?
Yes, you got to do something while you are waiting for help. If the burn is very serious, call the doctor, so they can assist you on the phone. Keep the burn under running cool water for 15-20 minutes. Cover the area with something sterile that does not stick to the burn. Do not use ice, oil, butter, or any other ointment as they can worsen the injury.
Baby Burns and Treatment
Different burns need different types of treatment:
1. Sunburn
If the sunburn is mild, you can treat it using cool compresses or bathing the baby with cool water. If the baby is having fever, chills, or blisters, then it's serious and requires hospitalization.
2. Chemical or Electrical Burn
Both of them might not have visible symptoms but can have internal damage that requires hospitalization. If it's an electric burn, make sure to cut off the supply first and then hold the baby. If it's a chemical burn, use a lot of water to wash it off. Call the doctor in both cases.
3. First-Degree Burn
It can be easily treated at home. After cleaning the area, you can apply the burn ointment to babies.
4. Second-Degree Burn
Depending on the intensity, the baby might or might not need to be hospitalized. It will need regular dressing by the doctor.
5. Third-Degree Burn
It can need longer hospitalization time and skin grafts.
[Read : Electricity Safety for Kids]
Are There Any Tips to Keep Baby Safe From Burns?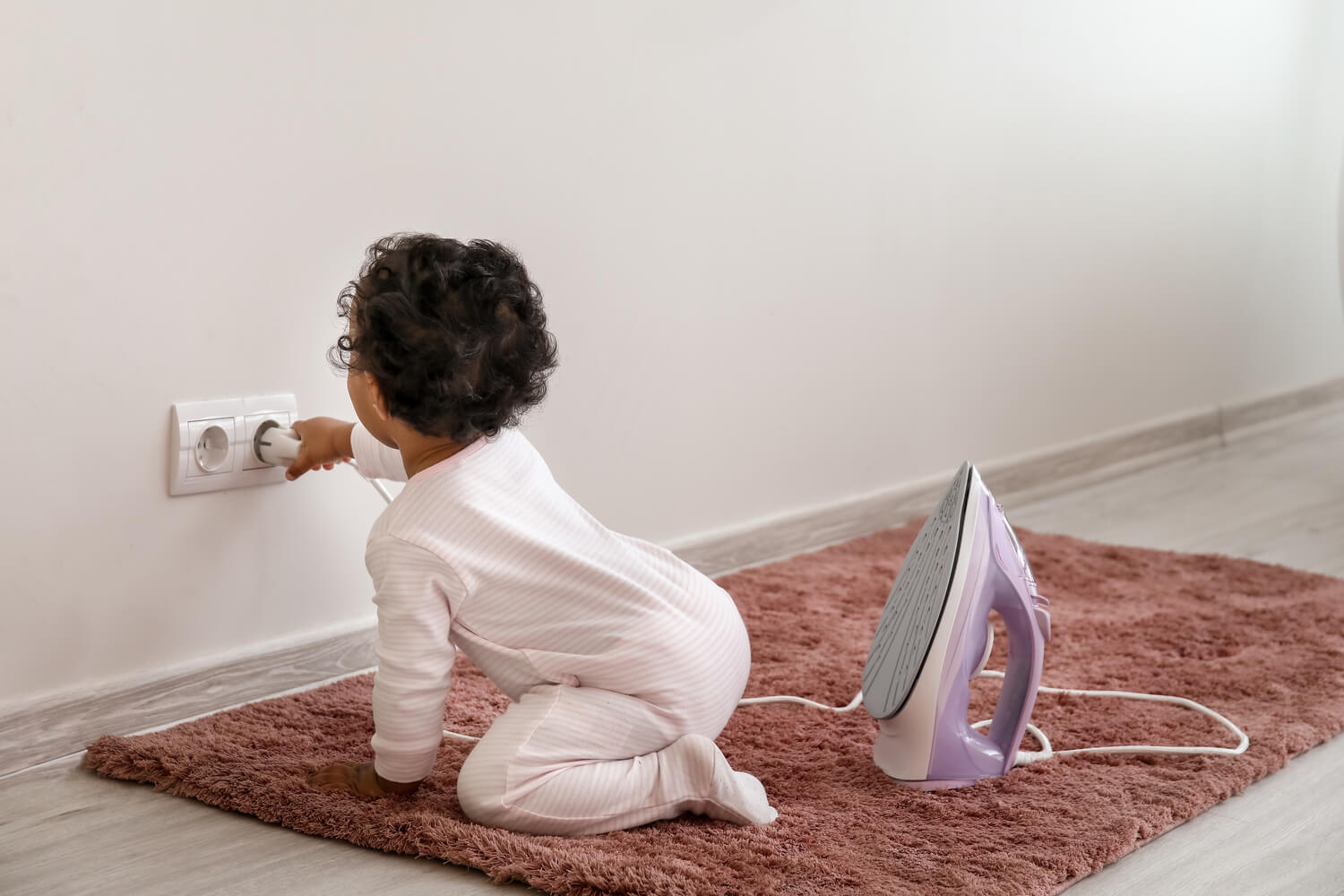 Some simple things that you can keep in mind to keep your baby safe from burns are:
Do not keep hot drinks or hot food in the reach of the baby.
If you are busy with some work, make sure your baby is in a safe place.
Fit smoke alarms and a fire extinguisher in the house.
Don't leave baby alone anywhere near lit candles, gas stoves, or firecrackers.
Make sure to unplug the iron, hairdryer, straightener, or curler.
Never leave the baby alone in the bathroom or near the bucket of hot water.
Lock up flammable liquids, matchsticks, and lighters.
It is important to remember that the situation requires you as a parent to keep your calm and think objectively to understand what steps you can take immediately to relieve your baby of the misery. So act quickly and keep all safety measures handy!
FAQ's
1. How Long Do Burns Take to Heal For Babies?
In terms of burn severity, first-degree burns are the mildest. They will heal within 3–6 days since they affect only the top layer of skin. Second-degree burns that impact the top layer of skin and part of the layer below can take 3 weeks or more to heal. Burns of the third or fourth degree, however, often take months to heal.
2. Is Vaseline Good For Burns?
Minor burns can be treated with petroleum jelly or Vaseline. Applying it twice or three times a day may help the burnt area retain moisture and heal faster.
3. Is Toothpaste Good For Burns?
Not at all. If toothpaste is applied to a burn, it can worsen the burn. Applying toothpaste on a burn can exacerbate burns' pain and increase the likelihood of infection and scarring.
4. What Ointment is Good For Burns?
You can prevent infection of the burn using over-the-counter antibiotic ointments like Neosporin or Bacitracin. However, it is always better to seek the advice of your doctor, as many ointments carry a risk of allergic reaction.
Read Also: Childproofing Your Home: Do It The Right Way