If you are about to have a baby, then you might be wondering if you should add a nursing pillow (also known as feeding pillow) to your shopping list. Your list consists of only "necessary" items, such as clothes for the baby, nursing bras for yourself and the likes. Is nursing pillow a necessity? You know your parents did not use it. And you have seen everyone you know using the regular pillows to prop up the baby while feeding. Then, may be feeding pillows are just a fancy luxury? Read this article before you strike this item off your shopping list.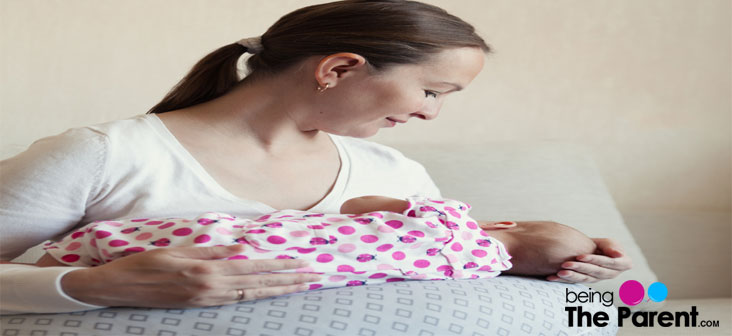 What Are Feeding Pillows?
Feeding pillows often known as nursing pillows, come in variety of style and shape. They go around your waist in order to give support to your back, neck, spine and arms while nursing or feeding. They help to support the baby in proper position while feeding. These pillows are not just meant for breastfeeding moms. Even moms who bottle feed their babies can use them.
Feeding pillows can be a big help if you are recovering from a C- section. They are easily available in the market.
Are Feeding Pillows Great Investments?
If you are a first-time mother, this might be news to you. If this is not your first child, you already know the drill. Breastfeeding your child is no walk in the park. It can be long (most lactation consultants say babies feed in 5 to 15 minutes, but in reality, some take up to 30 minutes per feeding) and it can be frequent (they have to be fed every 2 or 3 hours!). So do not be surprised if you feel that all you do during a typical day (and night) is feeding your child. Now ask yourself, is investing in a pillow that can help you during this long and frequent breastfeeding spell a good investment? We say yes!
How To Use Feeding Pillows?
Congratulations, you have decided to invest in a feeding pillow! This decision will definitely make your life a little easier and feeding time more relaxed. Now that you have the feeding pillow, here is how you should be using it to make the most of it:
Find a quiet place: Feeding your baby gives to time to bond with him. So make sure you have no distractions. Find a peaceful spot in your house to feed your baby
Place the pillow on your lap: Once you have decided where to feed your baby, just position rightly on your lap or around your waist
Be comfortable: Adjust the height of the pillow according to your comfort level. Most of the feeding pillows come with a belt or Velcro. It is up to you if you want to fasten the belt or Velcro securely and snugly
Feed your baby: Now you are ready to feed your baby. Keep your baby down onto the feeding pillow. The pillow will help you by supporting your baby. Proper positioning and support will help your baby latch on properly

In case you are bottle feeding the baby, your partner or any family member can also use this pillow to comfortably feed the baby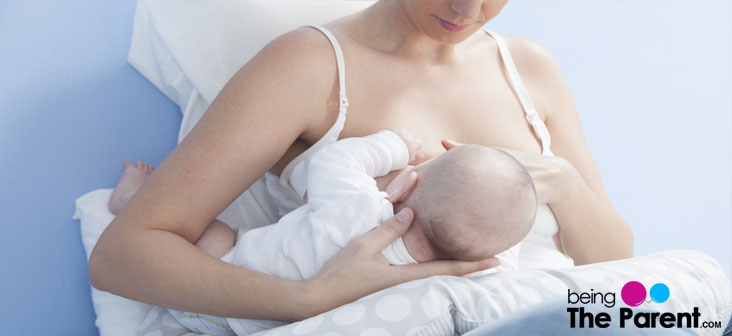 What Are The Benefits Of Using Feeding Pillows?
5 key benefits of using a feeding pillow are:
Are There Any Problems Associated With Feeding Pillows?
Some of the problems with respect to using feeding pillows are:
Not handy: They are often big in size and bulky to carry. This means that you can only use them inside your house and not carry them when you are traveling. This is a big minus because once you and your baby are used to feeding pillow, you might find it difficult to get the same amount of comfort in normal pillows
Universal fit: They come in only one size, so there is a chance it might not fit you
Back aches: This is not specific to feeding pillows. It is applicable even for normal pillows. If you lean forward a lot during nursing, you will end up with bad back aches
Bad latch: While most babies find a nursing pillow comfortable and get a good latch when using it, at times, they might not take to the feeding pillows well. And unfortunately, you have no way of predicting if they will like it or not
How To Shop For The Right Feeding Pillow?
Keep the following tips in mind as you start looking for a feeding pillow.
Nursing pillows can be used for not just breastfeeding but for formula feeding as well. In view of this, consider buying a large pillow so that even a bigger baby can fit on it. This will increase the usability of the pillow
Most nursing pillows come in "C" shape or "O" shape. The "O" shaped pillows can be strapped around your waist. This gives more support and balance. But if you are buying an "O" shaped pillow, make sure you buy a size that can fit around your waist right after delivery (you might still have a bulging tummy then). "C" shaped pillows have a universal fit
Make sure the cover of the pillows can be removed and cleaned easily
Pick a material that is soft, comfortable and preferably organic as your baby will come in contact with it very frequently
Have you ever used a feeding pillow? Do let us know your experience.