You are incredibly lucky to progress to your third and final trimester of pregnancy without abandoning the fun of making love throughout the first and second trimester of pregnancy. This was possible because you own a low risk and uncomplicated pregnancy. And we hope that your pregnancy continues to be as fun as it has been till now.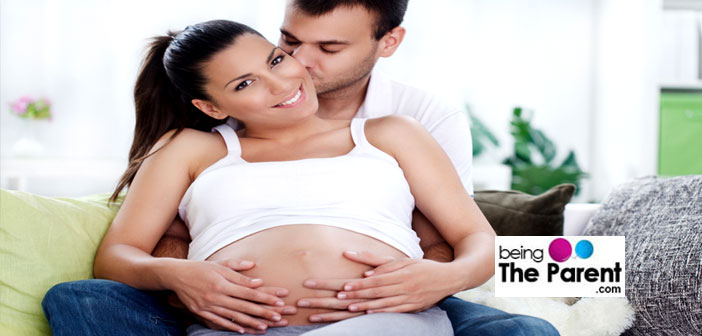 Why Have I Developed An Aversion For Sex In The Third Trimester Of Pregnancy Suddenly?
Despite the fact that you relished lovemaking during the first two trimesters of pregnancy, your sex drive tends to sink low during the third trimester of pregnancy. This is often due to several reasons such as:
The vaginal discomfort increases as the pregnancy progresses.
The growing breasts start to secrete colostrum, which is a yellowish milky substance. Colostrum is your baby's first food and it starts to ooze out through your nipple when you are in your third trimester. No wonder these leaky breasts scale down your sex drive.
The worry that sex could result in early labor is another reason women develop an aversion towards sex during their third trimester.
The anxiety of approaching labor pain and delivery is another reason for developing a strong dislike towards sex during the third trimester.
Physical inconveniences like growing belly with the extra weight of the baby, swollen ankles and increased leg cramps, backache, fatigue will make you say no to sex.
Frequent feeling of urination may be another reason for your decreasing urge for sex.
Your baby drops down into the pelvis in later weeks of the third trimester. This develops pressure and hardship during intercourse.
Even though there are no concerns of miscarriage, a lot of new doubts and notions may arise during this period of pregnancy.
Is It Safe To Use A Vibrator In The Third Trimester Of Pregnancy?
It is generally considered that using the vibrator during pregnancy won't do any harm if the cleaning instructions are strictly followed, you will not allow forceful penetration, and also if you are having an uncomplicated pregnancy. But during your third trimester, we prefer you not use a vibrator because deep penetration can cause harm at this stage of pregnancy.
When Should I Decide Against Sex During The Third Trimester Of Pregnancy?
All the risk factors we mentioned under the topics "Making love in the first trimester" and "Making love in the second trimester" are also applicable in your third trimester. The majority of these risk factors will not pop up at this trimester if you are lucky to not possess them in your previous trimesters.
Anyway we recommend you not to have sex four weeks prior to your due date even if you seems physically healthy. This is because you should always expect the unexpected just before your body prepares for the delivery.
New complications that may arise during your third trimester, which will make intercourse risky are:
When there is a leakage of amniotic fluid: If your water is broken, the possibilities of your child catching infection will increase. This is as the result of the mucus plug (that guards your cervix to restrict semen or another foreign body to get into your uterus) gets destroyed once the membrane breaks. This will expose you and your baby to various infections. You should avoid intercourse in such situation
History of premature delivery: If you have a history of giving birth before thirty-seventh week, making love in the third trimester, especially during the second half, is forbidden. Even though you are not experiencing the contraction of any sort, an orgasm can trigger strong contractions leading to premature labor and delivery
You have abdominal cramps, heaviness, or back pain: Having abdominal cramps with or without loose motion, heaviness, dull back pain are indications of preterm labor. If you have got any of the above symptoms, intercourse will increase the chances of premature delivery. If you are feeling any of this symptom during intercourse stop making love straight away
There is bleeding from vagina: Vaginal bleeding at this stage may be due to placental abruption. It is a very critical situation which can occur anytime during the last twelve weeks of pregnancy. This is a condition in which the placenta gets detached from the uterine wall. And heavy bleeding occurs which can result in premature labor and other complications. Remember, the placenta has a crucial role in maintaining your baby's health and life. So pay attention if you find spotting when you are on your last trimester. Stop having sex and observe carefully if the bleeding is increasing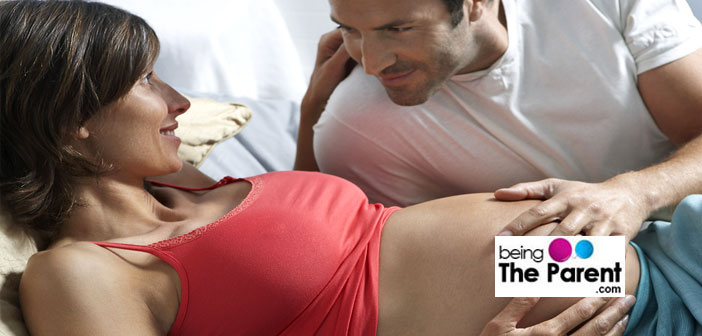 What Are The Best Positions To Have Sex During The Third Trimester Of Pregnancy?
Not all the sex positions you enjoyed in the past two trimester suit you when you are on your third trimester owing to your growing belly. You can try the following positions and figure out a position that suits you and you are comfortable in.
Doggy style: In doggy style, you ought to kneel down on the couch in such the way that your belly is supported by the couch. Your partner can kneel down behind you and penetrate from the rear. This position takes off pressure from your back and pelvis and hence worth trying if you have back pain or pelvic pain
Spooning: This position is very much appreciated when you are on the third trimester when your bump grows bigger and not easily be able to get closer. During this sort, you and your partner should lie down side-by-side. Your partner should lie behind you. Now you can enjoy the sex as he gets into you from behind. This position cannot put pressure on your belly. The penetration will be shallow providing more comfort
You on top: Considering yourself on the top during sex is a good idea to keep off the pressure from your belly. Leaning forward and holding the headrest of the bed or handle of sofa depending upon where you are having sex, will provide extra support to your belly. This way you can also control the pace according to your comfort level. If you find it hard to support your big bump, you can attempt kneeling over him
Rear entry: You should bend over a table, chair, bed, or sofa relying upon the height you prefer while resting both of your arms towards the edge of it. Now your belly won't touch anywhere thus, won't be under pressure. Your partner can enter into you from the rear side
Which Sex Positions Should Be Avoided During The Third Trimester Of Pregnancy?
We strongly recommend you to avoid the sex positions in which you have got to lie down on your back. When you are on your third trimester the possibilities are high that your major blood vessels get squeezed by uterus slowing down the blood flow towards placenta. Squeezing major blood vessels will also make you dizzy. It would be sensible if you do not make it an option to go for missionary position during your third trimester. Also, positions allowing deep penetration should also be avoided.
Can Sex In The Last Trimester Of Pregnancy Harm My Baby?
Not really. But you must keep in mind that though the baby is protected in the amniotic sac and the enclosure is sealed by the mucus plug, yet contractions in late pregnancy can be triggered. This is because oxytocin, released during lovemaking enters your blood stream thus inducing contractions. Also, semen can also trigger contractions and labor as it contains natural prostaglandins. Thus you may be advised against sex if you have had a history of premature delivery.
Why Is It That My Husband Is Shying Away From Sex In The Last Trimester?
Many women say that though they wish to enjoy sex while they are still a couple but their husbands seem to be having different thoughts. That is because most men are scared to hurt the baby and so things like sex may just not be on their mind for a while. As you have changed, so has his perception of you – you are going to be a mother very soon. It is not only your looks, but how he feels you as well. The physical changes, added to the new responsibilities that are coming his way, he may develop sexual fears. However, as a couple, you need to talk these fears and apprehensions out and come clean on your physical needs – and thus make your marriage stronger.
If this is your first pregnancy, end of the third trimester is a transitional period of you from woman to a mother. So either you don't want to have sex with a moving baby inside your bump, or your husband does not seem up for it, or perhaps you like sex but are tired of selecting a position from limited choices, cheer up and get ready to receive your bundle of joy.