Times have changed. Years of "mom-does-everything-for-the-children" are over. Now, in most families, both mothers and fathers take equal or near-equal responsibilities when raising their children. When splitting responsibilities, what are some of the things dads can take up? Now technically, with the exception of breastfeeding, moms and dads can do everything else interchangeably. But let us face it. Moms are great at some things. And dads take the cake at few things. If you incorporate these gender roles while you engage your children, it will help both parents contribute productively to their child's development.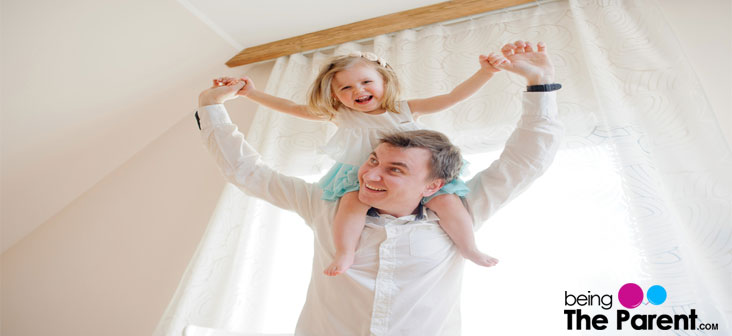 10 Things Dads Do Better Than Moms When It Comes To The Kids
Here is a list of 10 things dads do better than moms when it comes to the kids.
Giving them shoulder rides: Most kids would say that their best seats are on their dads' shoulders. Mothers do not mind carrying the kids on the waist, but for shoulder rides, everyone turns to the dads and they love to hoist their kids without hesitation
Engaging them in sports: There are definitely some moms who ace in sports. But in many houses, sports is dad's forte. They know the game, they watch the game, they play the game and hence they become naturally their kids' first sports coaches! Moms, hence, need not worry about sports, but they need to worry about the house being turned into a football ground
Doing some rough play: Perhaps because we mommies don many hats, we lack the stamina and will to get into physical play inside the house. Somehow, dads are great in this department. They can run around the house for hours. Get into some harmless fist fighting on the bed. Pretend play as police and thief and hide and seek around the house. They could do this for hours and kids love this!
Making them listen: In many houses, moms spend more time with their kids than dads. And in such houses, it is more likely that kids end up listening more to their dads than moms because they are used to seeing their moms all the time and are habitual to moms getting angry with them
Telling them "it's not a big deal": Mothers usually tend to worry, be anxious and at times even freak out about even small things related to their kids. Dads are usually cooler in these matters. A bad feedback from school? Dads shrug it off. Cuts and bruises when playing sports? Dads say it is part of the game. Child not eating for days? Dads would believe they will eat when hungry. In short, dad is Mr. Cool

Taking them on adventures: Kids usually love the idea of going on an outdoor adventure with their dads. A small trek, or cycling trip to a nearby park or even some nature watching, they think dad do it the best!
Digging in the sand: Dads pretty much own any trips made to the beach. Be it scaring away the crabs, digging in the sand, getting buckets of water for sand play or even making the sand castle itself, dads are the heroes. None of these are enough to make the child happy? No problem. Dads would lie down on the sand and let the kids bury them for fun!
Fishing: Again, some mommies are excellent in fishing. But just like kids associate outdoor adventures with their dads, they associate fishing trip with their dads too
Reading: In most houses, mommies read their kids to sleep. However, did you know that dads are much better at impersonating characters in a story, making funny sounds, and imitate animal voices? In fact, since most mommies are super tired by the night, the sleep-time reading should be made a dad's thing since they do it so well!
Going off the schedule: This is not really a feather in the dads' caps! While mommies make a list of rules and stick to them, dads are known to break plenty of rules like nap time or food time. Kids love this, mommies don't!
Of course, we are not assuming that moms cannot do any of the above. Moms sure can. Gender discrimination is not the objective here. Now, for instance, can dads braid their daughter's long hair? Sure. Can they do it well? Not really, because dads do not have long hair themselves and hence lack the experience required to comb and braid long hairs. So, to manage time effectively, it is better we divide the tasks in such a way that the parent who can do it well in the least amount of time does the work! Also some studies suggest that when a father is actively involved in their kid's life, the kid is more likely to get good grades at school, enjoy school more and is more socially involved.
So both mom and dad play important roles in a child's development, and both of them rock in their own ways. We have often seen that men make great dads, so let's face it and celebrate the fact that there are certain things that dads just do better.
All the best! Tell us some of the things dads in your family does best!