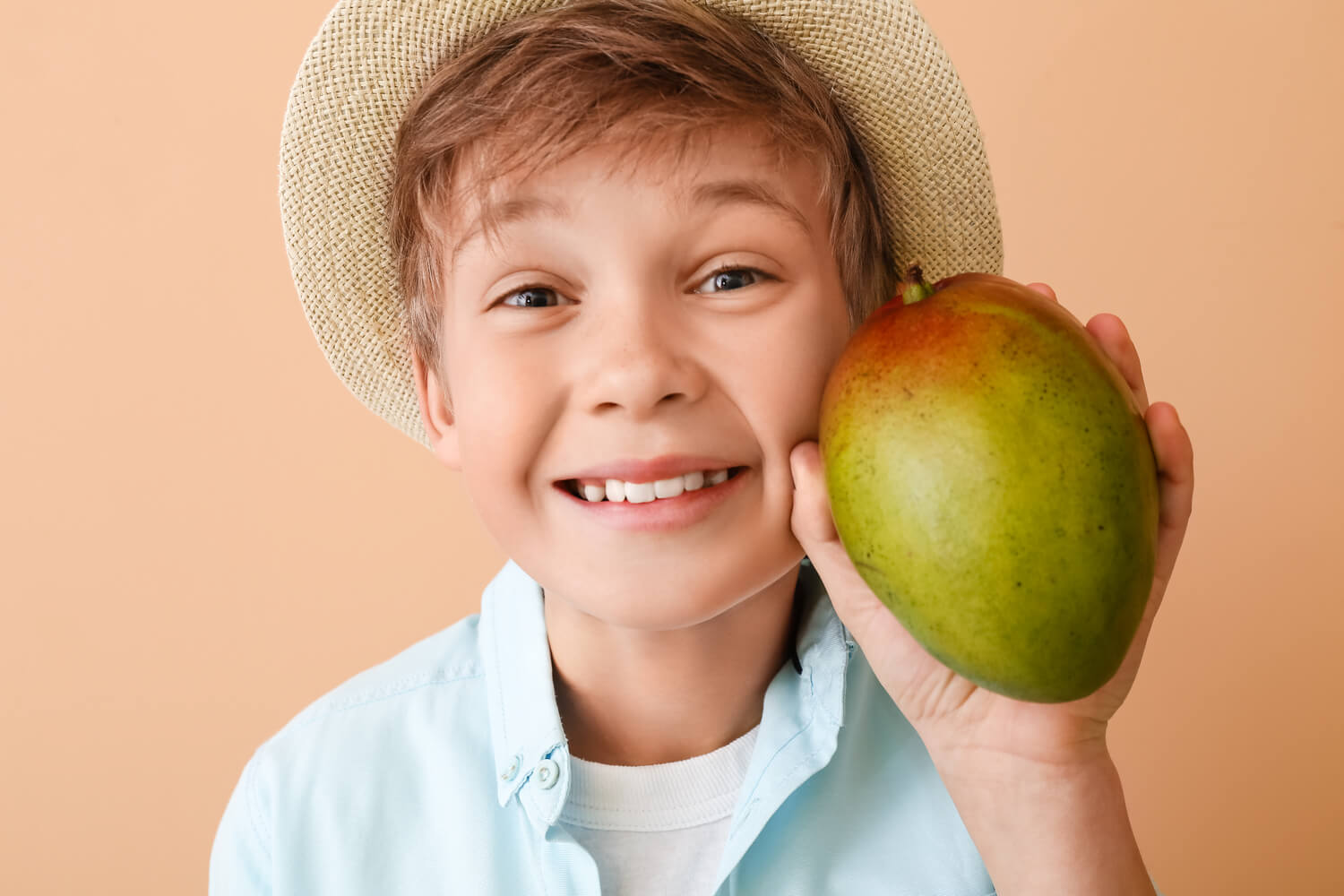 Mango rightly called the "king of fruits", is a tropical fruit that can be incorporated into any savory or sweet dish or makes an interesting addition to any meal. It is one of the sweetest fruits with an amazing taste, unique flavor, and fragrance, and with great health benefits. In this article, you can find 5 yummy mango recipes for kids.
A mango's soft pulp makes it easy to digest and can be introduced as early as eight months of age. This fruit is an instant source of energy and a major source of beta-carotene. Children love the mild and pleasant flavor of mangoes. Mangoes help to strengthen your kid's immune system and keep them healthy and strong.
In This Article
Benefits of Mangoes For Kids
Kids go through a growth spurt period when they require a huge number of nutrients. Mango blended with curd is one of the healthiest probiotic drinks available for kids. Following are some amazing health benefits of mangoes for kids.
1. Helps Fight Bacterial Infection
Mango has the quality of fighting against any kind of bacterial infection. It also helps in the promotion of epithelial function in the body.
2. Promotes Brain Function
Mango helps in the development of brain intelligence and also prevents problems like memory loss as and when we start getting old with age.
3. Cures Dry Skin Problems
A few tbsp of mango pulp mixed with about 6 tbsp of yogurt serves as an excellent face pack. This, when applied to the face and allowed to remain so for about 15 minutes acts as a good natural moisturizer for kids if the skin is extremely dry by nature.
4. Helps in Weight Loss
Mango is low in calories but high in fiber. This aspect helps to burn the additional calories in the body by boosting the digestive system and thereby helping to lose weight.
5. Prevents Heatstroke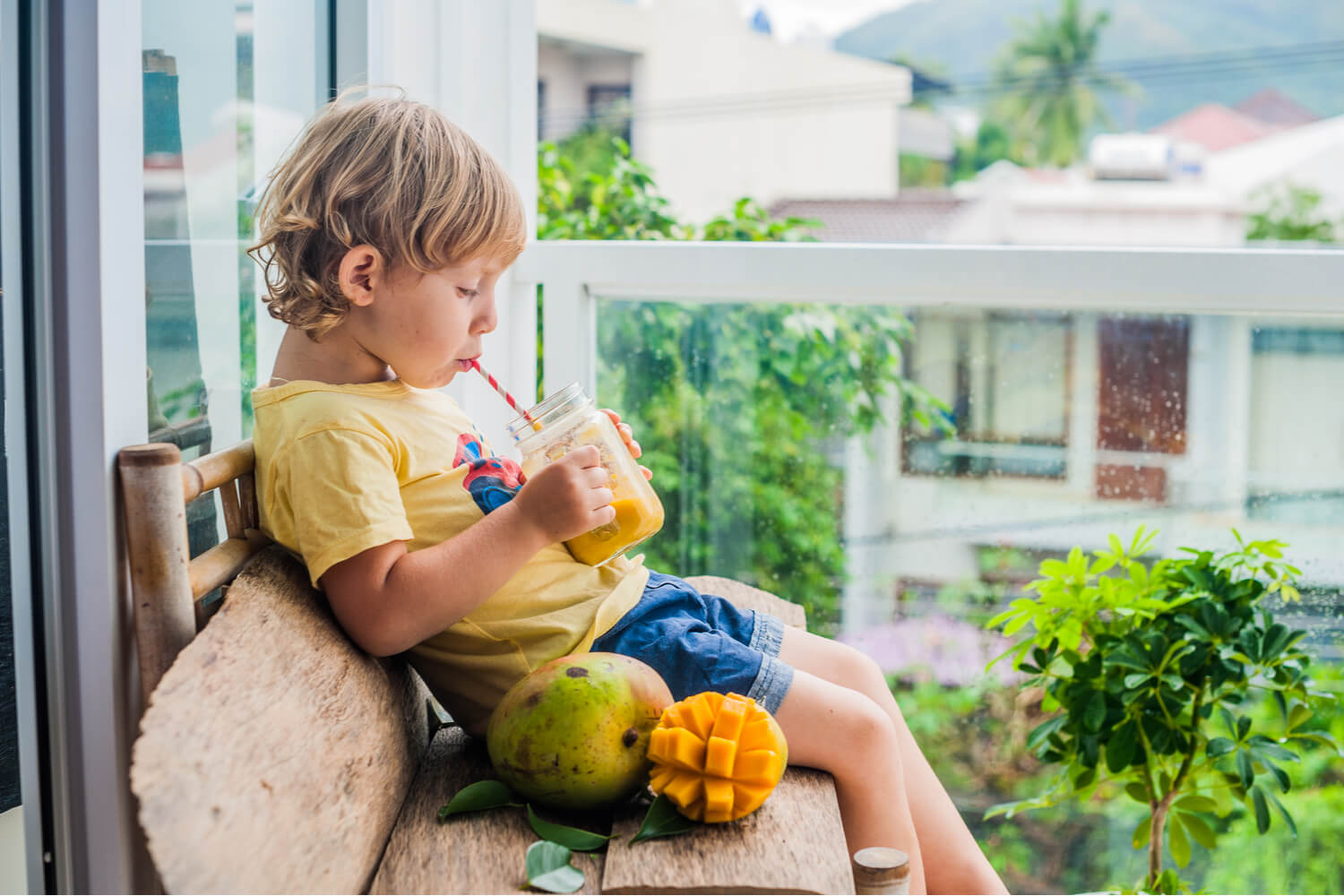 Raw mango is very useful during the summer. This provides the essential nutrients and minerals lost due to heat and thereby it prevents or cures heat strokes in the body which is very common during the scorching summers.
6. Immunity Booster
Mango is rich in vitamin C and vitamin A, with plenty of carotene content that helps to boost the immunity level of young kids and keep their system healthy and strong.
7. Improves Eye Health
The abundance of vitamin A present in the mango helps to improve eyesight and also prevents problems like night blindness and dry eyes.
8. Helps in Improving Digestion
The high fiber content in the mango helps in making digestion easier and also prevents constipation.
[Read: Healthy Snacks for Children Prepared at Home]
5 Yummy Mango Recipes For Kids
Given below are some lip-smacking recipes made using mangoes that you can make for your kids:
1. Mango Yogurt Lollies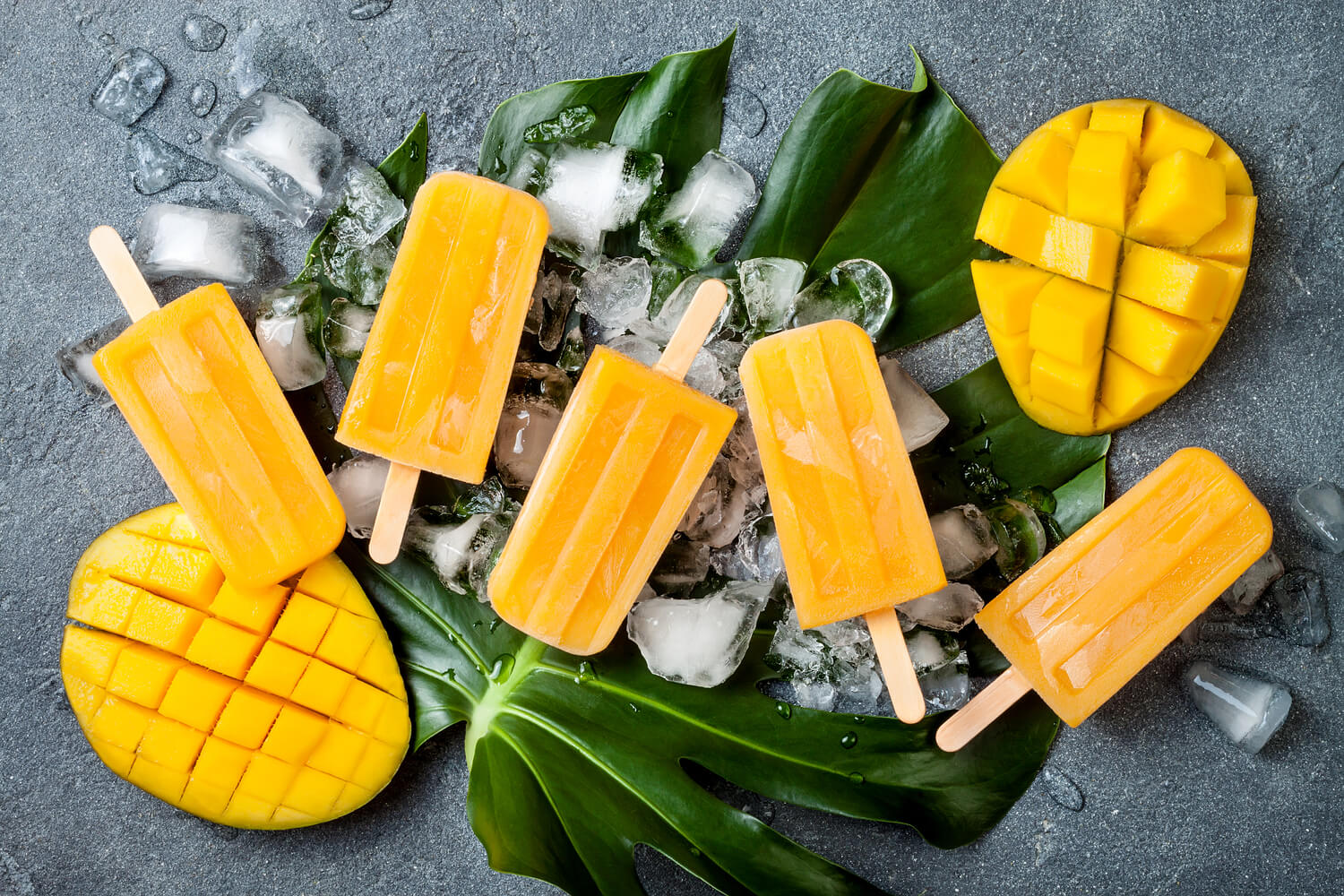 This is a yummy recipe containing fruit and yogurt that are frozen together to make healthy ice cream for your kids who are surely going to relish it.
Ingredients Required For Mango Yogurt Lollies:
1 cup of fresh curd
1 cup mango puree
3 to 4 tbsp of sugar
½ tsp of vanilla essence
Method:
Combine all the above ingredients together in a blender and blend them well till it becomes a smooth paste.
Take plastic lolly-mould or specially designed ice cream moulds and pour the smooth content from the blender into them. Insert ice-cream sticks.
Freeze them for 6 to 8 hours till they become really firm.
Remove from the freezer once they are firm enough.
Serve immediately.
2. Mango Microwave Cake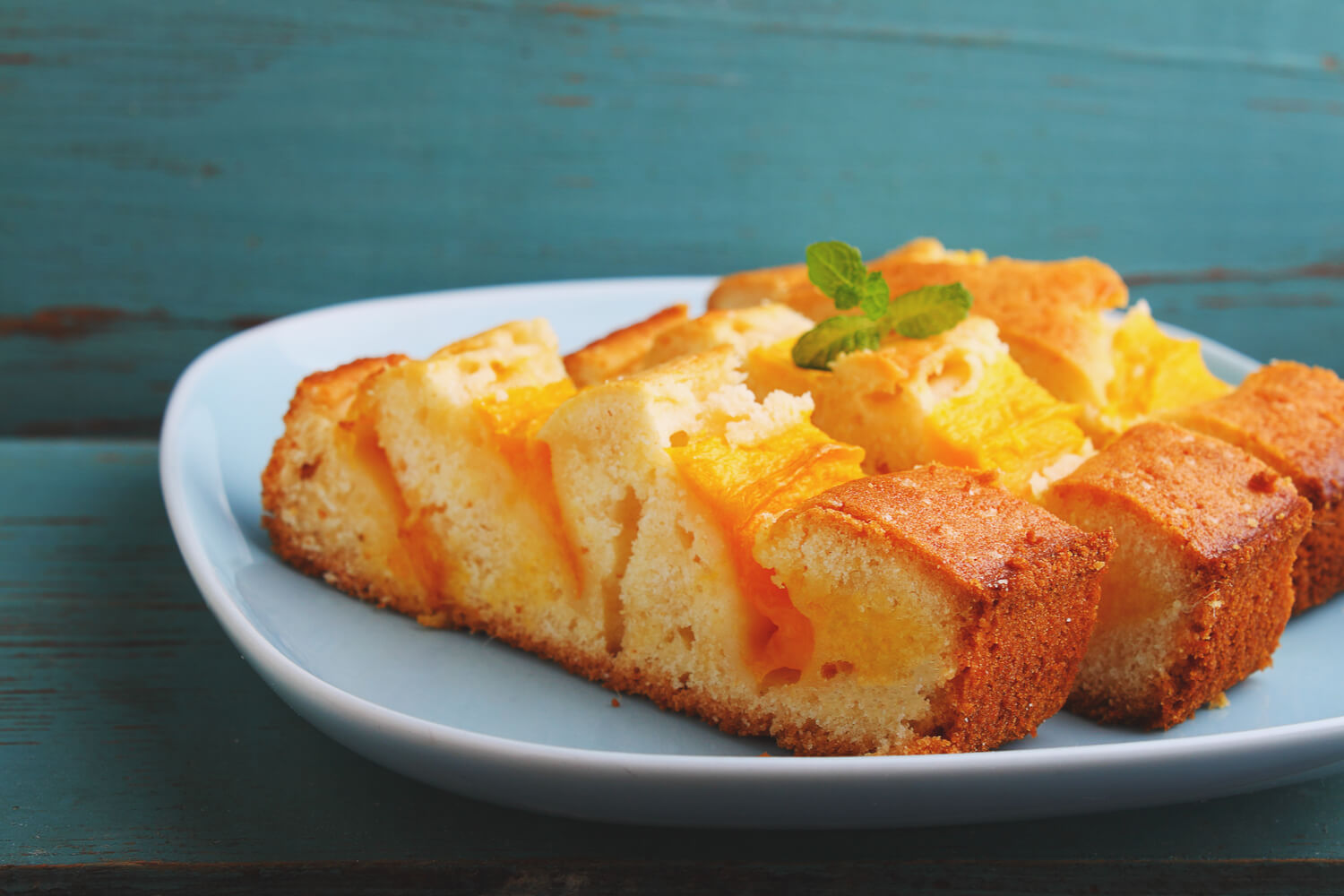 This mouth-watering recipe is prepared with freshly prepared mango pulp and will certainly be a hit with kids.
Ingredients Required For Mango Microwave Cake:
1 cup flour
3/4 cup of sugar
1/2 cup fresh cream
1 tsp butter
1 1/2 tsp baking powder
2 eggs
2 large mangoes
Method:
Grease the micro oven dish and keep it aside.
Extract the pulp from the mangoes and put it in a large deep mixing bowl.
Now add the sugar and the fresh cream to the mango pulp and beat well with the help of a hand blender.
Add the eggs to the mixture and beat again.
Add the flour and the baking powder and mix together till all the ingredients, mix well and blend well.
Pour the mixture into the greased micro oven dish.
Microwave it high for about 10 minutes.
Take it out after 10 minutes and see if it is set well.
Otherwise, it can be kept for another 5 minutes.
Take it out and allow it to cool.
Serve it with vanilla ice cream.
[Read: 10 Quick And Easy Cupcake Recipes For Kids]
3. Baby Mango Kadhi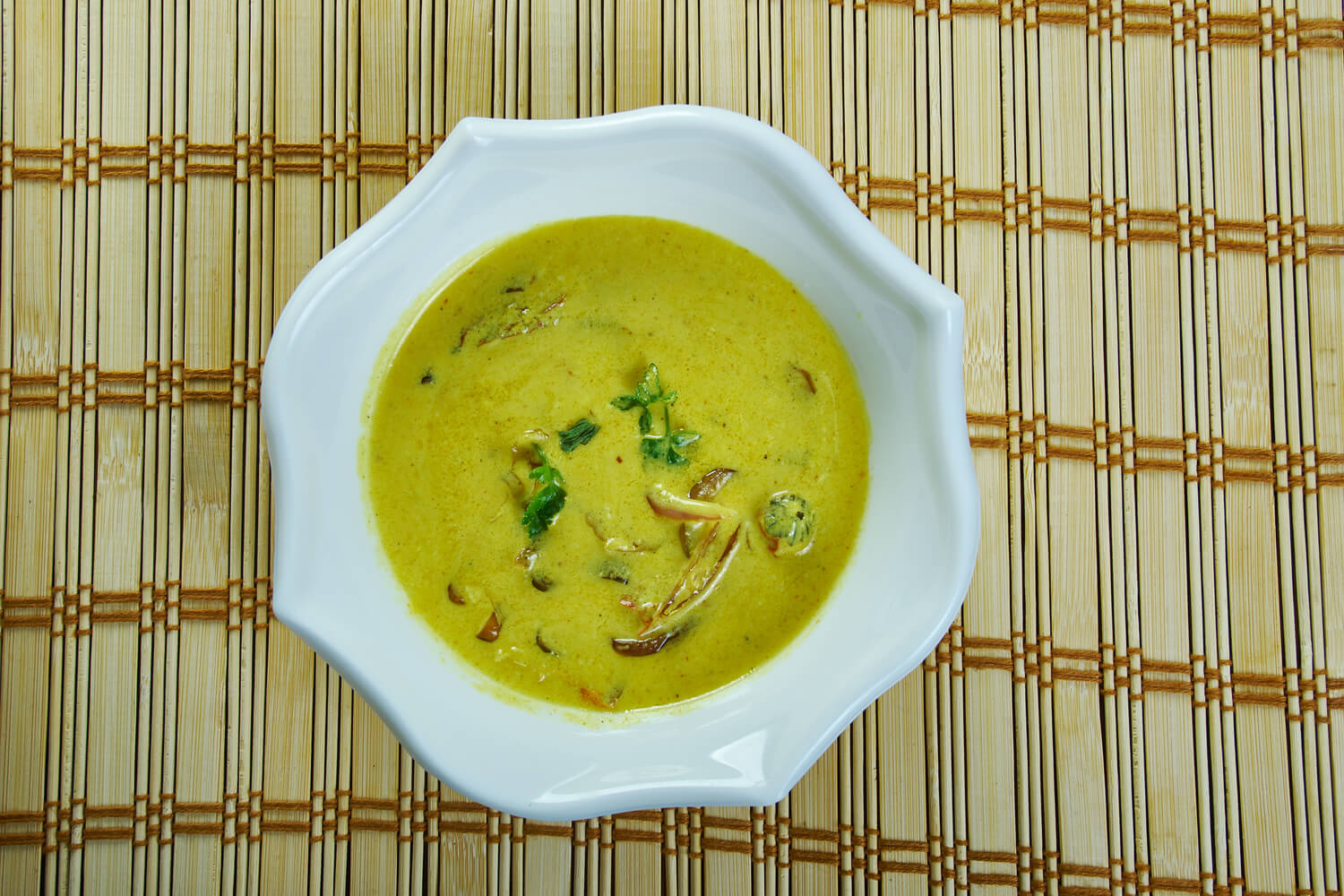 This is a popular south Indian sweet curry that is not only easy to make but tastes delicious too. It would be a real treat for kids to have.
Ingredients Required For Baby Mango Kadhi:
4 baby mangoes
A pinch of turmeric powder
Salt to taste
1 tbsp jaggery
1 tsp oil
1/2 tsp fenugreek seeds
1/4 tsp urad dal
1/4 tsp mustard seeds
A pinch asafetida
A few curry leaves
1 whole dry Kashmiri red chili
Method:
Boil the baby mangoes in 1/2 cup of water till they become soft.
Add salt, asafoetida, turmeric powder, jaggery, and mix well.
Simmer the entire contents for 5 minutes and keep aside.
In a pan, heat some oil.
Put mustard seeds. Once they start to crackle, add the red chili, fenugreek seeds, urad dal, curry leaves, and then add this to the mango.
Cover the entire contents and simmer for about 5 minutes.
Serve it hot with roti or rice.
4. Mango Fritters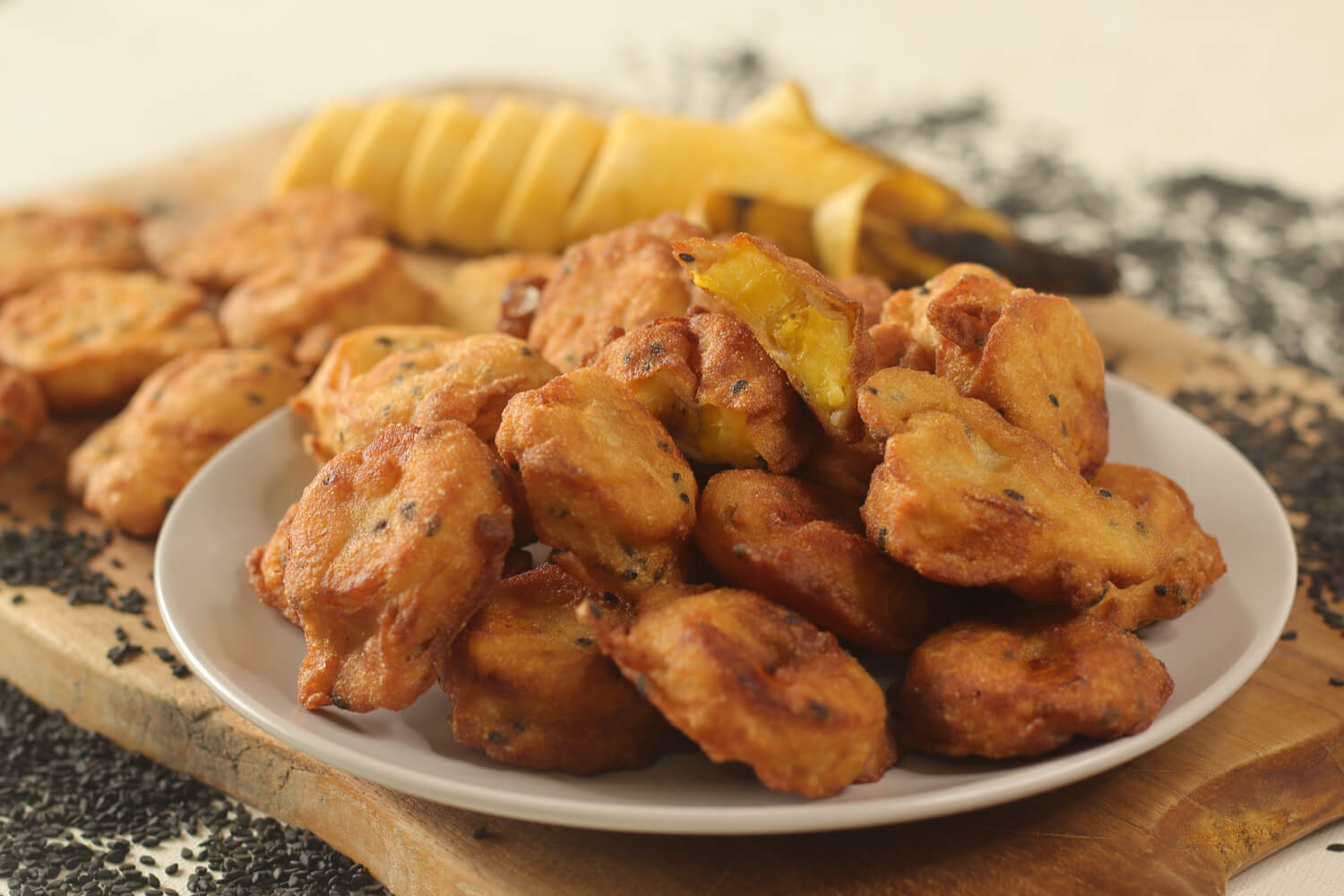 This recipe is an all-time favorite for both kids and adults. It can be served as an after-school snack.
Ingredients Required For Mango Fritters:
1 cup mango slices
1/2 tsp turmeric powder
3/4 cup of gram flour or besan
2 tsp chilly powder
2 tsp coriander powder
1 tsp green chilly paste
1 tsp ginger garlic paste
Salt to taste
Oil for deep frying
Method:
Combine all the above ingredients except the mango slices in a deep bowl.
Mix them all together well.
Make a smooth flowing batter by adding enough batter.
Dip the mango slices in the batter.
Let the slices get covered by the batter.
Heat the oil in a kadhai.
Add the butter- coated mango slices one or two at a time and deep-fry them till they turn golden brown.
Remove and drain the excess oil using absorbent paper and serve hot.
5. Mango-Grape Smoothie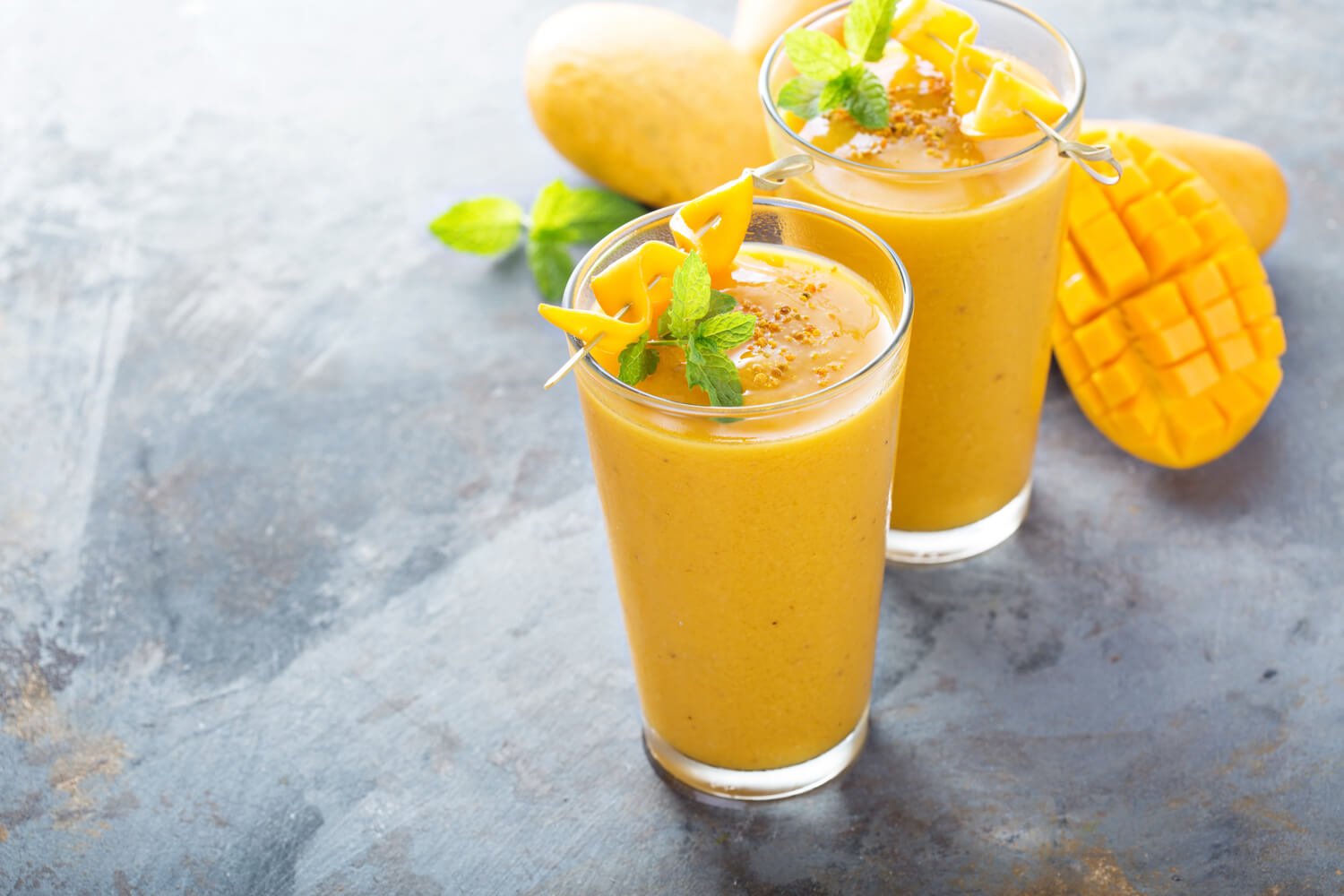 Ingredients Required For Mango Grape Smoothie:
3 tender mango, chopped
3 cups green grapes
1 tsp lemon juice
1/2 cup water
1/2 cup whipped cream
1 tsp sugar
8 ice cubes
Method:
Combine the mango and the grapes in a blender and blend them till the mixture turns smooth and frothy. Keep it aside.
In a bowl, mix water, lemon juice, and sugar, and the whipped cream together.
Pour the juice in long glasses and top them up with a mixture of whipped cream, lemon juice, and sugar.
Add ice cubes and serve.
These are some easy and yummy recipes using mangoes. Why don't you all try them and win your child's heart?
Do let us know in the comments section below about your favorite mango recipe.
Read Also: 10 Yummy Sandwich Recipes For Children