When your pregnancy test turns to be positive, you might be already around two and half weeks pregnant, perhaps more. The stress of trying and fretting over conception are over, though now you may be feeling anxious and utterly confused for a hundred other reasons. It is perfectly normal for a new mom-to-be to be worried and overwhelmed at the same time, and food and diet form one major crux of all this apprehension.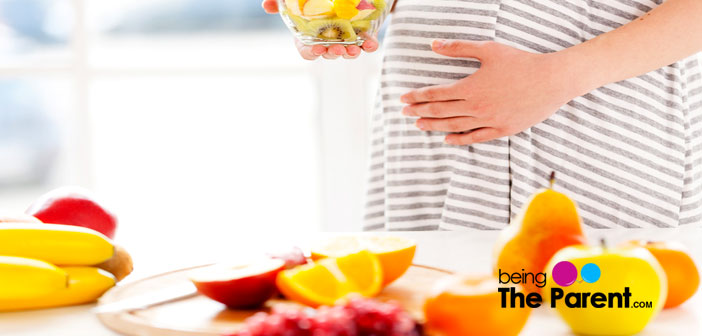 The First Month Of Pregnancy
You must have read and heard a dozen times that the first few months of a pregnancy are quite crucial. When you get to realize you are pregnant, you have already passed two or more weeks with a little life budding inside you, and you were doing everything you should not have been doing. Right? This may send you in a panic mode straightaway. Well, it isn't too late to make up for lost time and there is no reason to get worried and stressed. Fretting too much is a waste of time and energy, and it is best to resort to a healthy eating plan during the first month (or whatever if left of it) And we have it sorted for you.
First Month Pregnancy Symptoms
The first few months of pregnancy are characterized by nausea and vomiting (morning sickness), bloating, tiredness, moodiness, menstrual like cramps, excessive sleepiness and tender and sore nipples. You may actually not have a lot of appetite at times, and this may make eating healthy a challenging task. However, eating poorly during the first month of pregnancy can have a negative impact on the health of the fetus. Now, the question of what to eat and what not in the first month of pregnancy may bother you. Here, in this article, we are attempting to assist you to acquire an idea about the proper diet during the first month of pregnancy.
Development Of The Baby In The First Month Of Pregnancy
During the first month of the pregnancy:
The embryo will be about 1/4 inch long
The placental development begins
Neural tube develops. (It is from the neural tube, the brain, spinal cord and the backbone of the fetus sprouts)
Development of digestive system begins
The heart starts to develop
Therefore, it is significant to maintain a healthy, balanced diet during the first month to sustain the health of the mother and fetus.
What Should Be Included In The First-Month Pregnancy Diet?
Folates: Despite the fact that your specialist may have prescribed you folic acid pills and supplements, it is beneficial for you to incorporate folate-rich food in your eating routine. You require folic acid in the course of pregnancy to guard your unborn child against the neural tube defects, like spina bifida. Folic acid in the food is called folate. Here are some excellent sources of folate to include in your daily menu-

Fortified breakfast: Oats, cornflakes, whole-wheat flakes, whole-wheat bread, and whole-wheat pasta
Green leaves: Fenugreek leaves, radish (mooli) leaves, spinach (palak), coriander leaves, pudina leaves, etc. has a dependable source of folic acid
Vegetables: Cauliflower, broccoli, beans, cabbage, capsicum, carrot, bitter guard, etc. are rich in folate
Fruits: Orange, muskmelon, pomegranate, guava, etc. are rich in folate

Iron-rich food: Iron is an important element in the course of pregnancy as it is associated mainly with the RBC production. As the blood volume starts increase during the first month itself, including iron rich food in the diet is important.

Vegetables: Beetroot, beans, leafy vegetables are a rich source of iron
Iron-fortified cereals: Including iron-fortified cereals for breakfast will help to maintain iron level
Prunes: Prune juice is a dependable source of iron
Meats: Liver of chicken, beef, mutton and goose are rich in iron. However,you should avoid regular consumption as its high level of vitamin A can have a negative impact on the fetus resulting in birth defects
Dried beans: Kidney beans, black beans, red beans, white beans are rich in iron
Seeds: Pumpkin seeds are rich in iron

Vitamin C: Vitamin C is necessary to absorb iron by the body. Citrus fruits, soya, tomato, broccoli, spinach, etc. are rich in vitamin C
Vitamin B6: This specific vitamin is critical during the first month of pregnancy. It can help in preventing nausea and vomiting, which is one of the greatest issues faced by the pregnant women, though the degree of discomfort varies. Rather than taking prescriptions for the issue, it is better to include vitamin B6 rich food in your pregnancy diet

Seeds: 100 grams of Sunflower seeds provides 67% of daily needed vitamin B6. Other seeds that can provide vitamin B6 are flax seeds, pumpkin seeds,etc
Fish: Tuna fish is a good source of vitamin B6. 100 grams of tuna provides 56% of daily needed vitamin B6
Nuts: Hazel nut is a dependable source of vitamin B6
Soya: Soya is rich in vitamin B6

Fruits: Fruits are rich in dietary fiber, vitamins, and minerals and are high in water content. They help in preventing constipation, which is a common problem in the course of pregnancy. Include 3 servings of fruits everyday to gain maximum benefits. Are you wondering if papayas or pineapples are safe during pregnancy?
Eggs and poultry: Eggs provide folate, proteins, fats and a host of other benefits. All types of meats are considered safe except pork, so it should be totally avoided. Remember not to eat half cooked or under-cooked meats
Milk and milk products: Milk is a wonderful source of many essential minerals and vitamins, including calcium and folic acid
What Not To Eat In The First Month Of Pregnancy?
There are foods that should be avoided when you are on your first month of pregnancy.
Soft cheese, that induces gas and increases the chances of food intoxication
Avoid sugary foods like sweets as they contain nothing more than empty calories. Though your need of calories has gone up, but you just need about 300 calories to support your growing baby's needs. Sugars will only accumulate in your body and make you gain weight unnecessarily
Contraction inducing foods like raw papaya, pineapple, etc.
Seafood, which (may) bear an elevated level of mercury, which can affect the fetal brain development
Avoid eating junk food and packaged drinks
Alcoholic beverages and beverages containing caffeine
Though this is a brief list of foods that you should include in your pregnancy diet, yet it is best to take your doctor's advice and plan a healthy diet. We hope you have a smooth journey for the rest 8 months of your pregnancy.
Precautions To Take During First Month Of Pregnancy
The first month of pregnancy brings a lot of anxiety, fears, excitement and anticipation. You want to do everything right and since you have heard it a million times over that the first few months are the most crucial ones, you want to take whatever precautions you can to avoid any untoward incident. Apart from avoiding the foods that can pose a threat to you or your baby, here is a list of precautions you must take to increase your chances of having a healthy pregnancy.
Do not panic: Stepping on that panic button after learning that you are pregnant is not a wise thing to do. We understand you are excited and apprehensive, but take the calmer route to share your concerns and fears. Panic only further creates troubles- and we are sure you'd want none of it. Start meditation, take yoga classes and in case of doubts, seek your doctor's advice
Avoid negative thoughts and people: This is a huge no-no. Many of us would know other women who might have had tough pregnancies or suffered loss. Sometimes, you yourself would have had gone through a loss which could weigh heavily on you. Then there are some people tend to find fault in everything, your best bet is to avoid them or atleast skip those negative conversations. Negativity begets negativity and mishaps. Stay away from them
Do not read difficult birth stories: Some birth stories are difficult- and that is a fact. Do not compare your conditions with those of anyone else as very pregnancy and childbirth experience is different. Be aware of your body and its needs, stay away from horrifying stories pf pregnancy and birth
Avoid tight clothes and heels: Being comfortable, though difficult, is the first step towards enjoying your pregnancy. Wear lose, cotton clothing that is comfortable. Ditch your body hugging dresses and set up the maternity wardrobe to look good yet comfortable during the gestation period. Heels is again best avoided during pregnancy – who wants to trip accidentally during these delicate months?
Yeast infection: Stepping into a healthy motherhood entails that you remain healthy during your pregnancy. Yeast infections during pregnancy are quite common, so take steps to maintain optimal vaginal health